November 24, 2014
Tonight, all but one of Vancouver Park Board Commissioners step down from their elected posts, having performed a service in the public interest that will not soon be forgotten, a service that should both be cherished and celebrated, as well as publically acknowledged on this blog, and elsewhere.
No mean feat placing yourself in the eye of the storm that is elected office, particularly in the maelstrom that is Vancouver politics.
Aaron Jasper — outgoing Chair of Park Board — Sarah Blyth, and Constance Barnes have sat on Park Board since December 2008. Their fellow Vision Vancouver Park Board Commissioners, Niki Sharma and Trevor Loke, joined their Vision colleagues around the Park Board table some three years later, complemented by a contingent of two Non-Partisan Association parks & rec commissioners, John Coupar and Melissa DeGenova, the former of the two of this latter group about to become — as of December 1st — the new Park Board Chair, and the ever-doggedly political Ms. DeGenova on the cusp of joining Vancouver City Council, where she is just as likely to drive her Vision Vancouver opponents at City Hall around the bend as has been the case this past three years at Park Board — with the added delight to those political observers among us who care about such things, where we will see her tear strips off Vision Vancouver city councillors Geoff Meggs and Kerry Jang, in particular, in full public view. Fun times await.
Aaron Jasper. Truth to tell, I think of Aaron as a son, someone I love, and for whom I have the deepest affection. Despite Aaron's deserved reputation as a bully, this past year at the Park Board table, Aaron has impressed, performing his duties as Park Board Chairperson not just with aplomb, but with an unerring commitment to the democratic process, and with a respect for the right — nay, make that obligation — to hold fellow Park Board Commissioners to account. I am not entirely certain that Vancouver Park Board will soon again witness as skilled and compassionate a Chairperson as those of us who have attended Park Board meetings this past year have witnessed this past 10 months, with Aaron Jasper at the head of the table.
Despite the recent provocations of VanRamblings — and this blog's sometime commitment to hyperbole — with Vision Vancouver "in charge" at Park Board this past six years there has been much to celebrate ...
1. Just yesterday afternoon, at the Dunbar Community Centre Vancouver Quadra NDP nomination meeting, outgoing Park Board Commissioner Sarah Blyth was telling those assembled about the pride she felt in moving forward Park Board's "Arts in the Park" initiative, where more than 30 local artists — including internationally renowned visual artist Germaine Koh and composer/double bassist Mark Haney — were selected in 2012 to participate in the Vancouver Park Board's artist studio residency project in seven park locations, taking up residency at field house studios in Hadden, Strathcona, Slocan and Memorial South parks and at the Burrard Marina, in addition to Elm and Falaise parks. Let us all hope this worthy initiative is renewed by the NPA-dominated Park Board that is about to take office.
2. Langara Golf Course. Following a seemingly extemporaneous remark by Mayor Gregor Robertson in the spring of 2012 that he was in favour of "hiving off" half of the Vancouver Park Board-operated Langara Golf Course, so that the land might be sold off to developers for the construction of "affordable condominiums", as so often happened at Park Board, the beleaguered Vision Vancouver Park Board Commissioners found they'd have to deal with the fallout, with much public opprobrium.
There was politics to be played with the issue of the disposition of the Langara Golf Course — "Don'tcha know, those damned elitist golf-playin' richy-riches, they don't deserve no golf-playin' "subsidized" by our parks board" — but, following a heart-rending presentation by members of the under-parked Langara neighbourhood, Aaron Jasper moved a "metrics" motion, and lo and behold, just a few months later when Park Board staff presented the Langara Golf Course Metrics Report, Aaron Jasper moved adoption of the report, and following the unanimous consent of Park Board, work began on remedying field drainage problems, enabling year-round usage of the course by families, teenagers, seniors, and all of the other folks in the city who, just like you and me, are not "rich", but who see the efficacy of enjoying the open air and our green spaces.
3. Hastings Park. In the past three years, never was I more proud of our Vancouver Park Board than I was when Park Board unanimously adopted a motion to seek the return of jurisdiction over Hastings Park to the Vancouver Park Board — where it rightfully belongs — tearing it away from the hands of Raymond Louie, who seems for all the world to view Hastings Park not as a park, but a development opportunity.
Relating to the above, in a special August 1, 2013 meeting of Vancouver City Council, Raymond Louie (Chairman, PNE Board of Directors) led the charge to block Park Board control of all park or green spaces in the 62-hectare Hastings Park site — but not without hearing from an articulate, impassioned Aaron Jasper, and the two NPA members of Park Board.
The Vancouver Park Board's Trans and Gender-Variant Inclusion Working Group
4. Trans-and-Gender-Variant policy. By far, the most moving Vancouver Park Board meeting this past three years, was the late April 2014 meeting of the Board where all 77 recommendations of the Trans* and Gender Variant Inclusion Working Group were unanimously adopted by Park Board. Thank you to outgoing Park Board Commissioner Trevor Loke for having moved the motion one year earlier that resulted in the striking of a Park Board committee that would report out, as Trevor hoped, and serve to "greatly improve the quality of access to recreation and active health in Vancouver, and help make Vancouver the most inclusive city in the world." Mission accomplished, Mr. Loke. Mission accomplished.
5. Local Food Action Plan. The food available at concessions, and on food carts, in Vancouver parks, is of so much better quality than was the case previous to Vision Vancouver assuming control of Park Board in 2008.
Special thanks should go out to of all members of Vancouver Park Board's Local Food Assets Task Force, starting with task force co-chairs, Aaron Jasper, and Niki Sharma, the Board's Commissioner representatives.
Thanks — and a big round of applause — is also due the community members of the Local Food Assets Task Force: Park Board's Lindsay Cole; the ever-wonderful, Trish Kelly, representing the Vancouver Food Policy Council; Ian Marcuse, of the Neighbourhood Food Networks (one of my favourite people in the city); the City of Vancouver's Wendy Mendes; former Vancouver School Trustee, Kevin Millsip (also an amazing person); Ross Moster, Village Vancouver; Jamielee Ong, Rangi Changi Roots, and Kathryn Perkins, Grandview Community Centre Association.
All of our electeds at Park Board, are owed a debt of gratitude from all of those who enjoy the beauty of Vancouver's parks, and the varied services available at our community recreation centres.
Constance Barnes. Consistently the most compelling orator around the Park Board table, a true woman of the people, advocating for families, and working to ensure ready access to all facilities in our parks. Let us hope that the incoming Park Board picks up Constance's cudgel, and works to ensure that more of our parks currently without washroom facilities will have them constructed this next four years.

Trevor Loke. The most sensitive to the public will of all of the Commissioners on the Board, consistently impressive in his reasoned presentation of argument, a first-rate chair of the very difficult to navigate Park Board Committee (where all the real decision-making goes on at Park Board), and quite simply, at 26-years-of-age (Trevor celebrating his 26th just yesterday) the single most impressive young politico in Vancouver politics.

Sarah Blyth: From the beginning, an advocate for skating parks, recreational opportunities for our youth, the most human-scale of all the "politicians" around the Park Board table, a champion of the community, and for each and every one of us, Sarah was always on our side, the Commissioner who always sought the views of the public, arose from the Park Board table at breaks, and engaged with the public. Sarah's commitment to the common weal was, at all times, impressive and demonstrative of a commitment to democracy unequalled among many who practice politics in Vancouver.

Niki Sharma. Wow! What is there to say about Park Board's most thoughtful, incredibly intelligent, best-researched, most articulate before the cameras, reporters' microphones and the print media personage, what a loss of tremendous proportion it was nine days ago that Niki Sharma was not elected to Vancouver City Council, one of my very favourite candidates for Council, a person of tremendous integrity, wit, political acumen, and just an all-around incredible human being.

Aaron Jasper. Much of what I wanted to write about Aaron may be found above. Aaron proved, consistently, to be the best "advertisement" for the many initiatives undertaken by a Park Board of which he has been a member for six years, that commitment a critical aspect of a democratic engagement with the community that elected he and his fellow Vision Vancouver Park Board to two consecutive terms of majority office.

Melissa DeGenova: Killarney Seniors Centre simply wouldn't have happened without Melissa, it's just that simple. Somehow finding a way to put up with the worst treatment of an elected official I've seen in all of my 45 years on reporting out on the political scene, Melissa emerged as a populist, a tireless advocate for the public good, perhaps the most "political" of our Park Board Commissioners, but when being political means that you're committed to achieving much for your constituents ... well, Melissa practices politics, as it ought to be practiced.

John Coupar: My favourite for last? Yes, I think so. By far the most consistently reasoned and non-political voice around the table, the Park Board Commissioner who earned the respect and admiration of all those who sat around the Park Board table, and the many thousands who attended Park Board meetings this past three years, in my three years observing John Coupar and Park Board, and in our many calls and the times we've spent together away from the Park Board table, John Coupar has proved always to be the fairest and most equitable in his judicious and humane commentary about Park Board, and his Park Board collleagues, John's outstanding commitment to the maintenance and growth of our parks and our green spaces, was more acute and impassioned than any Park Board Commissioner I've witnessed in Park Board history dating back decades.
Tonight at Park Board — amidst the hubbub of contention — will be a night for a public display of thanks, well-earned and well-deserving of gratitude, to our outgoing and very, very fine Vancouver Park Board Commissioners.
Thank you to each and every one of you. Job well done.
November 20, 2014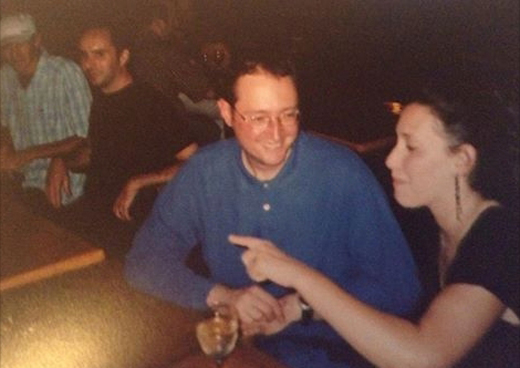 John Skibinski (1956-2014) with a friend. Passed away Nov. 12, 2014. May he rest in peace.
John Skibinski was a great man, one of our city's treasures, widely known among Vancouver's cinema cognoscenti, a longtime manager at Festival Cinemas, and a friend to more people than could possibly be counted.
An attentive and empathetic listener, John had a way of burrowing in and identifying the source of one's distress when a friend in pain came to him for succour and support — in no time at all, John would have you laughing, your desolate melancholy, heartbreak or angst relieved.
John Skibinski was a friend, always on your side, someone who could be counted on, and hold you close — compassionate, non-judgmental and kind. Walter Winchell once wrote that a true friend is someone who walks in when the rest of the world walks out; that was John in spades, courageous and unwavering. "There is nothing I would not do for those who are really my friends. I have no notion of loving people by halves, it is not my nature," wrote Jane Austen in Northanger Abbey — she may very well have been writing of John Skibinski, a great friend who will be very much missed.
Lund, the gateway to Desolation Sound. A view seen by John Skibinski while growing up
John was raised and went to school up Island on the Sunshine Coast, in the tiny rural village of Lund, a small craft harbour and unincorporated village in the Powell River District, and the gateway to Desolation Sound.
Ivana Thulin writes on the Celebration of John Skibinski Facebook page ...
I met the Skibinski family when I was 15, and right from the start they were very special people in my life. So many memories and good times were had by all. We always looked forward to our visits with John when he would come home to Powell River during the holidays ... his visits were never long enough! John was very close to his dad, Bill, and his mom, Ruth, John being the light of his mother's life.
Upon graduation, John — a very good student — moved to our province's capital, to attend the University of Victoria, in the late summer of 1974. On his very first day at UVic, John met fellow student, Karyn Segal, both of whom were enrolled in the theatre department, and both of whom went on to work at Cinecenta, UVic's repertory movie theatre, initially in a volunteer capacity, and then as employees.
In time, John graduated into the position of programmer, taking on a share of the responsibility of booking independent, avant-garde and foreign film fare. By 1994, based on John's work and that of Cinecenta co-founders, Michael Hoppe and Doug Sprenger, the informal film festival hosted annually by Cinecenta, transformed into the beloved Victoria Film Festival.
Although the focus of John's academic work was geared toward acquiring a Bachelor of Fine Arts degree, in fact John never applied for his degree, leaving the university a few credits short of the requirement for graduation.
Instead, John's love of travel and wanderlust took him to Europe, John returning to Canada to care for his father, who had been struck ill. After his father passed, John moved to Toronto for a short while, before returning to Victoria; soon after, in 1989, Karyn and John moved to Vancouver's West End, sharing an apartment until the early 90s. John's soon-to-become best friend, Lisa Doyle — who lived in the same apartment building as John and Karyn — discovered a common interest ... a passion for and love of film, particularly independent and foreign film.
On her Facebook social media page, Lisa Doyle has written ...
I met you at 17. I was young, full of ambition, movie ideas, and you gave me a job as a projectionist. You were patient and bemused by my wide-eyed. We experienced everything life has to offer, often side by side. Laughter, great films, food, the west coast, Victoria, Vancouver, San Francisco, Toronto. You loved life, travel and a good meal.

Films, oh the films you introduced me to: Stan Brakhage, Bruce La Bruce, Ken Loach, that crazy Hungarian landscape filmmaker, Tarkovsky, Gus Van Sant, Ozon, Michael Hanneke, the list goes on ... I do not have enough room on Facebook.

Did I mention the laughter? One of the funniest people I have ever known.

The veiled kindness, masked by sharp wit. The deep devotion to your friends, and the loyal following you had. When you walked into a room, or a movie theatre, smiles lit up, because John had arrived. You were loved, the devotion back to you was 100 times what you could ever imagine.

Oh yes, few people know that he was a sort of dog whisperer. Dogs would come up to him and nuzzle him; somehow they gravitated to him, and knew he was a good one.

I will miss you Skibby. I am devastated, but I can hear you telling me to stop whining. And you are here, because whenever something funny happens in my day, I can feel you close, laughing along with me.

You are in the big cinema now, with the cushy seats, an unblocked view, free popcorn,the lights are dimming and the curtain is about to go up. You have an unlimited supply of films at your disposal. You are in your peaceful place.
It was in late 1991 / early 1992, that John first met Leonard Schein — who in 1977 had founded The Ridge repertory cinema, founded the Vancouver International Film Festival, and in the late 1980s was Director of the, then, Toronto Festival of Festival, also taking on the position of programmer with the Montréal Film Festival.
Upon returning to Vancouver, Leonard Schein converted the old Bay Theatre on Denman, into the newly-renovated Starlight Cinema. Soon after opening The Starlight, John applied for a job as a ticket taker and concession worker — which proved the beginning of a long and successful relationship based on love of cinema. Soon after, John became Manager of The Starlight Cinema, and along with Schein took on a programming responsibility, bringing in Ken Loach's Cannes Fipresci award-winning film Riff Raff, contributing to the financial and artistic success of The Starlight.
Not longer after, with Schein in an expansive mood, a deal was struck with Canada Steamship Lines (owner: Paul Martin, who would two years later would become the federal Liberal Finance Minister), signing a lease for The Varsity Theatre on West 10th Avenue in Vancouver, the Dunbar Theatre, and the Plaza Theatre on Granville Street. Thus Festival Cinemas was born.
John Skibinski became the first Manager of The Varsity Theatre, where he set about to hire a young staff who loved film as much as he (including a young man by the name of Kevin Eastwood, who would go on to become an award-winning Canadian filmmaker).
Neil Jordan's Cannes' Fipresci winner, The Crying Game. Jaye Davidson and Stephen Rea
Perhaps the most famous story involving John occurred in 1992, when John lobbied Leonard Schein to book Neil Jordan's The Crying Game, which months later went on to win an Academy Award for Best Writing, Screenplay Written Directly for the Screen, at the 1993 Academy Awards ceremony, for the film's writer-director, Neil Jordan.
Schein was not confident of the potential for the theatrical success of The Crying Game. After much back and forth, a deal was finally struck: Schein would book the film, but if The Crying Game was not a success, John would tender his resignation, and leave Festival Cinemas.
A resistant Schein booked the film in the fall of 1992, the film opening at The Varsity Theatre. The result? The Crying Game went on to 11 months of SOLD OUT shows, setting an international record for the film's theatrical success, and in some measure creating success for the film's director, Neil Jordan, and sparking the careers of actors Stephen Rea & Forest Whitaker.
Although Schein has dined out on the story of his business and artistic acumen as being responsible for booking the ground-breaking Neil Jordan film, in fact it was John Skibinski's insistence that the film be booked, and his willingness to put his job and his livelihood on the line that was responsible for the film's booking, and its subsequent tremendous success.
A short while after acquiring The Varsity Theatre, Schein closed The Starlight Cinema, singing a lease for The Park Theatre, on Cambie Street.
John Skibinski became The Park Theatre's first manager, a job he held until 1999, when Festival Cinemas was sold to Alliance Atlantis Films. In a shrinking theatrical market, and John not being a particular fan of Hollywood film-oriented cinema chains, Famous Players and Cineplex Theatre, John secured employment at video stores specializing in independent and foreign film, allowing John to share his encyclopedic knowledge of film with grateful patrons, many of whom came to develop a deep love of cinema.
Emily Carr University on Granville Island, in darkness, a memorial to the late John Skibinski
At the time of John's passing, John was working at Emily Carr University on Granville Island, a job he loved, and where his warmth, ready smile, incredible organizing ability and peerless dedication to doing the best job of which he was capable, led to a promotion for John to a job entailing greater responsibility, that was to have begun around the time of John's passing.
As might well be expected, John supplemented his well-paying union job at Emily Carr, with work at Black Dog Video, on Cambie Street, almost directly across from The Park Theatre, now part of the Cineplex chain. John loved his job at Black Dog Video, and owner Darren Gay, the staff of Black Dog Video, and the store's many grateful customers grew to appreciate John's love of film; being around film is what John loved best. Darren and Black Dog Video staff have written a tribute to John, which may be found here.
John Skibinski's Church of Cinema, at his beloved Vancouver International Film Festival
As is true of any cinephile located in the western Canada, or anywhere in the Pacific Northwest, John Skibinski loved film, and never missed a Vancouver International Film Festival, from the time he arrived in the city in the late 1980s through until last month's 33rd annual Vancouver International Film Festival, where his friends were afforded the opportunity to share the sacred experience of the church of cinema, and the eternal and near invisible world that is all around us, that together as whole we sat with rapt attention in one or another of the festival's venues, becoming one, and allowing us in the church of cinema to transcend the troubles of our lives.
For John Skibinski, as it is for many of us who love film, cinema delivers access to the new spiritualism, a place where we experience not merely film, but language, memory, art, love, death, and spiritual transcendence.
John was an erudite and a very, very charming man, possessed of a considerable, and conspiratorial wit, just one of the many salutary and welcome traits John shared with the world.
John's encyclopedic knowledge of cinema history was easily the equal of the most learned professor, he knew every foreign, international and independent film worthy of attention — and they were varied, idiosyncratic and of great volume — every director of consequence, and every actor, actress and cinematographer, all of which knowledge he contextualized, and had at the ready to regale the anticipatory and enthusiastic cinéaste.
John will be very much missed. There was never anyone like John Skibinski, and we will never know his like again.
A humble man, a hero, a man who gathered friends around him like children run toward a puppy. John Skibinski may have been a dog whisperer, as Lisa Doyle writes, but he was as well a people whisperer, a loving, generous and kind-hearted man of the universe, once ours and now gone.
John Skibinski, may you rest in the warm embrace of eternal peace.
November 19, 2014
Ever watch the Academy Awards, or maybe the Golden Globes, or Emmy's?
Do you recall, that as the winner of the Academy Award approaches the stage, and finally makes her or his way to the microphone, staring out at the crowd, what happens next? That's right — the winner thanks everyone who got her there, usually starting off with the four other actors in the category with whom she was competing for the Oscar, everyone who starred in the movie with her, her beloved spouse and children, her parents, all the teachers who encouraged her, her agents and manager, and everyone in the crew on the set of the movie she's just worked on that helped her get to the moment where she stands before you on the stage accepting an award that was but a distant dream of her youth.
Thank everyone? An acknowledgement the 'winner' did not get here on her own, that it took a team of supporters and managers, the media, & more.
In the political sphere, as you might well imagine, the candidates on the campaign trail who challenge for office depend on the support of an army of volunteers and supporters, as well as the campaign team proper.
If I might point out one instance in particular, the John Coupar win at Park Board, whose candidacy I and many others encouraged and supported, as well as all the other Commissioners who were elected to Park Board this past Saturday, would acknowledge that theirs was not a "singular victory", but a collective win, arising from the work of a great many people.
In politics, how does one go about thanking all those who played a role in helping her or him secure victory at the polls? Well, one becomes a mensch.
Allow me to illustrate what I mean.
On election night, one of the winning candidates who just barely managed to sneak into office, set about to telephone each and every one of the candidates who had challenged for the position that my friend had just barely won, save the other 'winners'. My friend the candidate thanked the candidates who'd come forward, thanking them for their civic engagement, their challenging of all the other candidates on the campaign trail (including my friend), told them that he hoped they might run again, and finally said to them that he would be available to them should they wish to speak with him about presenting their issues before Vancouver School Board.
On post-election Sunday, my friend made a point of either visiting the homes of, calling or e-mailing or texting each and every candidate who would sit across the School Board table with my friend over the course of the next four years. In addition, my friend called, visited, e-mailed or texted every campaign volunteer, member of the media, member of the campaign team, and supporter my friend had met at all-candidates meetings, and on the campaign trail that could be reached — promising a thank you celebration during the upcoming holiday season. In addition, my friend is preparing hand-written notes, on specially-made cards, to be mailed out.

As you might imagine, following five months of campaigning, my friend was bushed — still, it was necessary my friend felt, to reach out. During the course of the campaign, I wrote about the nascent 2005 candidacy of Spencer Herbert-Chandra (who since has written to thank to your humble correspondent — would we expect any less from Spencer), writing ...
In the 2005 COPE campaign, at the tender age of 24, Spencer Chandra-Herbert first ran for political office, as a Park Board candidate. Everyone in the campaign office hated him, his fellow candidates, the campaign team, everyone. Everyone that is except the voters, and me — I loved Spencer, and the energy he brought to his campaign for office.

Spencer was the only candidate with his own website — which drove all the other candidates nuts. Spencer posted to his fairly rudimentary website everyday. Facebook was a new-fangled social media tool — Spencer had a Facebook account, to which he posted several times a day (remember now, this is just months after Mark Zuckerberg had taken Facebook live). Spencer didn't sleep, he was everywhere all the time, nattily dressed, with his every present chapeau, a big grin, a hand outreached to shake yours, looking right at you, deep into your soul.

Spencer remembered the name of every person he met on the campaign trail, and not just their names, but some detail about them, their family, or an event of consequence that had occurred in their lives. I am often surprised when I run across Spencer, not having seen him for a year or 18-months, that he comes up to me, shaking my hand, saying, "Ray, it's so good to see you. How have you been?" And you know, he means it, he wants to hear about you, what's going on in your life.

The secret to political success, and to getting elected, and re-elected again and again? Spencer Chandra-Herbert has written the book.
Spencer is a mensch, the friend of whom I've written above: a mensch.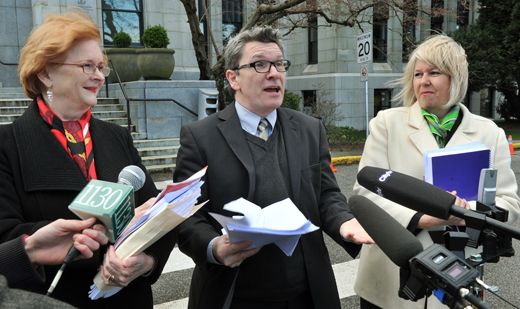 Elizabeth Ball, George Affleck, and Adriane Carr Working Together For The Benefit Of All
Last evening, I received a note from newly re-elected to a third term Non-Partisan Association city councillor, Elizabeth Ball, who wrote ...
Dear Raymond,

Weep I did at my victory on Saturday night, and send so many thanks for your kindness. I always enjoy your company and look forward to a chat soon.

Am having a wild fling with an end of campaign cold, so have no voice but should be back next week.

Isn't it great to see so much good and interesting theatre and music in town! Am looking forward to all the holiday shows, and then PUSH in the new year. Amazing growth eh?

Wishing you all the very best,

Elizabeth
As busy as you might imagine our third term city councillor to be, and given the travails of a campaign cold, Elizabeth Ball still found time to reach out.
Amazing!
On Tuesday evening, I asked newly-elected Vancouver Park Board Commissioner Stuart Mackinnon to reach out to a person with whom a great many of us had worked, on the Save Kits Beach coalition. About half an hour after receiving my brief note, Stuart wrote back to say ...
All things calm.

All thing bright and beautiful.
Among other thoughts that ran through my head, upon receiving Stuart's note, were, "Thank God we've got someone possessed of wit and intelligence, and a warming sense of humour (Vision Vancouver's Catherine Evans, as well, unless I miss my guess) in our civic life in Vancouver.
Over the course of the recent election campaign, COPE School Board candidate Diana Day reached out to me each day she was on the campaign trail; we ended up corresponding regularly, as we do to this day.
You know, Raymond, I hope the newly-elected School Board Trustees have the political will to do the right thing by the Aboriginal students — it's just heart breaking that there are no mini schools for vulnerable aboriginal youth to attends — but I am glad that newly-elected Green School Trustee Janet Fraser spent some time with us at the Aboriginal Mother Centre, and heard first hand about the racism and discrimination that exists, and is directed towards not only aboriginal students but staff as well.
On election night, Diana Day contacted me to thank me for endorsing her candidacy — we've corresponded every day since.
Next time, in 2018? I'll move the sun, the Earth, the moon, the stars to work towards a victory at the polls for Diana Day. We need a voice at the Park Board table to represent vulnerable aboriginal youth.

My neighbour, David Cubitt wrote to me last evening, writing, "Thank you, Raymond, for your untiring efforts to bring about change, and for the useful / invaluable information you have provided to me, and to all who read your informative blog during the recent civic election campaign."
As I've written on social media — politics is a people business.
Beginning in 2005, with the election of Sam Sullivan as our Mayor, a new, meaner, confrontational and less humane era began in Vancouver civic politics — utterly unique, and regrettable, the level of civil discourse reduced to an all-time low, with little civility shown for the opposition councillors.
The level of discourse at City Hall has not improved since.
Today, on VanRamblings, I call for a return to civil municipal government.
In 2014, let us enjoy a renewed civic discourse.
To our elected politicians in Vancouver municipal government, a plea: please, reach across the table to members of all the parties on the body on which you sit, who were elected to office and who are not your own, so that together you might work in the interests of all those who elected you, let us witness a return to an approach to civic government in Vancouver that once was, and can be again, an achievable and necessary goal.
Of course, there will be disagreements on policy — that is to be expected, and desirable. Socratic discourse, the exchange of ideas in service of the public good is a necessary component of a thriving and vital democracy.
Today, I call on John Coupar, a friend and one of the most humble and good men of my acquaintance — who soon will lead one of the two civic bodies where a civic party holds a majority — to reach out to the newly-elected Green members of Park Board, Stuart Mackinnon and Michael Wiebe, and to Vision Vancouver newly-elected Park Board Commissioner, Catherine Evans, and assure them your administration will dedicate itself to a civil discourse, and respect for the opinions of all Park Board Commissioners who will sit around the Park Board table this next four years.
Let the divisiveness of the past be just that, in the past.
John Coupar: Ensure that your message of a new era of co-operation is a clarion one, one that safeguards against the utterly regrettable, perceived arrogance and meanness that for many defined the previous Vision Vancouver Park Board civic administration, that in the forthcoming John Coupar-led Park Board administration, all the elected NPA Park Board Commissioners will work towards a new era of co-operation and accommodation around the Park Board table, in the interests of all Park Board Commissioners, and in the interests of all the citizens of our city.
November 18, 2014
On December 1st, a new Vancouver Park Board will take office.
The Non-Partisan Association, with the support of VanRamblings and in support of incoming Park Board Chairperson, John Coupar, with a goodly number of the public, were elected to a majority position around the Park Board table: second-term Park Board Commissioner, John Coupar, will be the individual his majority NPA party colleagues — Sarah Kirby-Yung, Erin Shum, and Casey Crawford — will choose to lead them over the next year.
The remaining, newly-elected members of the Vancouver Park Board include the Green Party of Vancouver's Stuart Mackinnon, who held office on Park Board from 2008 til 2011, his fellow Green Party elected, Michael Wiebe, and lone Vision Vancouver Park Board elected, Catherine Evans.
The most politically astute politicos sitting around the Park table are Stuart Mackinnon and Catherine Evans, both veterans of the political wars, savvy, extremely bright, community-oriented politicos, Stuart Mackinnon's claim to fame his dedication to democratic governance and community involvement in Park Board decision-making, and Catherine Evans — appointed to the Board of the Vancouver Public Library in 2009, and most recently, Chairperson of the Board, and more than any other of the newly-electeds, an individual who throughout her adult life has dedicated herself to building consensus, in the community, as a member of Boards on which she sat, and in every other endeavour in which she has engaged, where it was necessary to move forward collectively, wholly, in the best interests of all.
Needless to say, Vancouver voters were wise to elect Catherine Evans — who topped the polls this Saturday evening past, with 64,707 votes, quite clearly, the consensus choice of the people — and Stuart Mackinnon (56,406 votes), the Green Party running their 2014 campaign for office on a shoestring budget, approximately 5% of that of the two mainstream parties, Vision Vancouver and the Non-Partisan Association, to Park Board.
As anyone who reads VanRamblings on a regular basis is aware, we are more than a little over-the-moon about the Non-Partisan Association's incoming Chairperson, John Coupar, for most assuredly, one of John's NPA colleagues will nominate him for the position of Chairperson of Park Board.
John Coupar Wins Re-Election | Photograph by: Wayne Leidenfrost , PNG
VanRamblings had hoped for a unanimous vote of support for the principled & utterly humane Mr. Coupar, a defender of Vancouver's parks system like no other — you may wish to read VanRamblings' profile of Mr. Coupar, for an insight as to why we have written so generously about the man, about his character and integrity, and commitment to public service.
As of Monday, November 18th, the prospect of John Coupar's ascension to the role of Chairperson, Vancouver Park Board, receiving the unanimous consent of all of his Park Board Commissioner colleagues sitting around the Park Board table would very much seem to be in doubt.
When John Coupar was running for a second term at Park Board, his platform was a simple, but transformative: restoration of a parks system that had been desecrated and allowed to fall into abandon under an overly politicized Vision Vancouver Park Board, and an early resolution of the almost two-year-old dispute between six of Vancouver's community centre associations, and the previous Park Board and City of Vancouver, the latter charge led by the — it has always seemed to VanRamblings — none-too-psychologically stable City Manager, Dr. Penny Ballem.
On this Sunday past, on the day following Saturday's surprising, and not-so-surprising, Vancouver civic election vote, VanRamblings had contact with Stuart Mackinnon, who indicated he was in partial agreement that ...
A majority Vancouver City Council will subvert everything that Park Board will attempt to do — which, of course, doesn't meant that a Park Board led by John Coupar and Stuart Mackinnon won't be a strong defender of our beleaguered parks and recreation system, but rather that Vision Vancouver will attempt to starve the Park Board of funds, and go to war with a Park Board no longer under its control, employing the ugliest of tactics, while undermining their own elected, Catherine Evans, who is a good person, and someone the entire Board will both enjoy working with, and from whom the Board has much to learn.

To be perfectly frank, Stuart, I have concerns in respect of John Coupar's fitness to lead the fight, and the possible consequences for his health. John's goals as a Park Board Commissioner have been simple ones, and are what brought him into public life: John Coupar wishes to serve the public, and to protect the integrity of our parks.

Certainly none of the other NPA elected are capable, or possess the political sophistication necessary to take the fight to Vision (at least not yet). In fact, it very well may be you, Stuart, who in the coming years emerges, at some point in the future, both as the Chair of the Park Board, & the public face of the defense of the interests of all of us who have a deep caring for our Vancouver parks and recreation system.

I have no doubt that you are up for the fight, if it comes to that.

I am concerned, at present, for the employment of Park Board General Manager, Malcolm Bromley, with whom I have very much been impressed since his arrival from Ontario, in 2010. At the time Malcolm was hired, City Manager, Dr. Penny Ballem, changed the terms of his employment contract, such that as had always been the case previously, and was the case with the outgoing Park Board GM, Susan Mundick (who was "dismissed" in 2010), the incoming PB GM would report not to the Park Board Chair, but to her — creating divided loyalties for Mr. Bromley.

Malcolm Bromley has proven in his short time at Park Board to be a forward-thinking, dedicated public servant, who has well-served the public interest, a person of integrity and character who in the most difficult of circumstances, has somehow managed to troll the roiling waters of discontent between the City Manager's office, and Park Board — even during the tenure of the Vision Vancouver-led Park Board — that did not always do the bidding of the notoriously demanding, brooks no dissent, it's my way or the highway, City Manager.

I believe that Vision Vancouver will almost certainly move to make application to the provincial government to change the Vancouver Charter, to convert the independently-elected Park Board into a Committee of Council, employing an argument of citizen indifference (bordering on hostility, among some members of the public, they will say) to Vancouver Park Board, the Park Board as just another level of government that "drains the taxpayers' pocketbook."

In such a scenario, Vancouver Park Board would certainly mount a vigorous defense of the interests of Park Board and all it represents, no doubt reminding Dr. Ballem and the members of Vancouver City Council that the Vancouver Charter clearly stipulates that dissolution of Park Board requires a 2/3 majority vote of Park Board Commissioners — to which Vision Vancouver would almost certainly reply, "Application has been made to repeal that particular section of the Charter."

Clearly, an action in Supreme Court would ensue, which would be funded out of the public purse. As anyone who has followed the decision-making thought processes of the estimable Dr. Ballem, and the elected Vision Vancouver members of Council, the office of the City Manager, with the full support of the Vision councillors, would move to deny Park Board the necessary funds to mount a legal defense of the position of Park Board, before the Courts.

Make no mistake: the next four years at Park Board may very well prove gruelling, indeed. Park Board Commissioners will have to keep a wary eye on those persons at City Hall who, to the public detriment, would use Park Board as their political whipping boy.

Job number one for the incoming Park Board must be to seek the support of the broadest coalition of members of the public, and to maintain and build on that public support for one of Vancouver's most cherished instituitions.

Now is not the time for division on Park Board, nor among members of the public who present to Park Board, and whose interests are many and varied. Park Board, with the generous support of the citizens of Vancouver, must become a united force in defense of Vancouver's much-beloved — and, perhaps, imperiled — Vancouver parks and recreation system.
Given the potential for a circumstance such as the one described above to unfold, VanRamblings was surprised and very disappointed to read of incoming Park Board Chairperson John Coupar's decision to, as his first order of business around the Park Board table to reverse a motion passed by the outgoing Vision Vancouver Park Board, to ban the breeding of cetaceans in captivity at the Vancouver Aquarium, perhaps the single most divisive issue he might have chosen to engage as he and his Park Board colleagues undertake a restorative programme of change at Park Board, in defense of Vancouver's very much untended to and beleaguered parks system, and in defense of Vancouver's beloved community centres, which have suffered from the hostile actions of City Manager, Penny Ballem, and the Vision Vancouver majority administration at Vancouver City Hall.
VanRamblings posted the following to Facebook last evening ...
[Update: Apparently, John Coupar has left the employ of the company which put him into conflict. The NPA's reverse motion will pass 4-3]
Green Party of Vancouver Stuart Mackinnon's first public pronouncement related to the Supreme Court action this upcoming Thursday, as Mr. Mackinnon mounted a vigorous defense of Vancouver's community centre associations — one expects because it is the most important issue that should be of concern to the incoming Park Board Commissioners, an issue on which all Vancouver citizens are united, and one of the primary reasons there remains on the Park Board, only one lone member of Vision Vancouver, and the least partisan member of Vision Vancouver, at that — John Coupar, in all his infinite wisdom and lack of political astuteness — expounds on the single most divisive issue that has come before Park Board in 2014, an issue that reached compromise resolution this past July, following the presentations of more than 90 members of the public — and many, many more protesting outside — who expressed their reasoned opposition to the continued containment of whales, and other cetaceans, at the Vancouver Aquarium.
In respect of the about-to-become newly-elected Chairperson of the Vancouver Park Board, the estimable John Coupar, VanRamblings does not express concern that Mr. Coupar would act to fulfill a campaign promise that was made by NPA mayoral candidate, Kirk LaPointe, in the early days of his campaign for office — and a platform tenet about which VanRamblings expressed deep concern to Mr. LaPointe, as a divisive issue, and one that was ill-suited to a candidate for office who was attempting to present himself as a mayoral candidate for "all the people".
Ainslie Kwan, President, Killarney Community Centre Society, in Supreme Court Thursday
Rather, VanRamblings' concern relates to the inadvisability of John Coupar choosing as divisive an issue as reversing the motion on the ban of the breeding of cetaceans in captivity, as an issue of primary concern that he would express to the public (in a most unfortunate joking manner on Global TV last evening), as his first order of business at the Park Board table.
Surely, Mr. Coupar, the pending court case on Thursday must be of greater concern to you, and to your Non-Partisan Association colleagues, more deserving of your collective attention, and deserving of an outreach to the incoming Green Party of Vancouver Park Board Commissioners than moving forward a reversal of a motion — that had you left it well enough alone — would simply have died on the order paper. You should know better.


November 16, 2014
There was so much that was not published on VanRamblings in the lead up to Decision Night 2014, on issues involving the Mayor's personal life, the details of which we found to be sordid, and in consequence had decided some while ago not to publish or speculate on, despite many entreaties to do so, even by members of the mainstream media — and, quite honestly, if publishing allegations of moral wrong-doing, and an attack on the Mayor's character was to be a determinative factor in how voters were to decide on how to cast their ballot for a Mayoral candidate, while not focusing on the issues of the day, the primary focus of VanRamblings, then, this past five months, the raison d'être of this blog, would come to mean nothing more than VanRamblings as a disquieting, scandal-mongering tabloid, full of rumour, speculation and innuendo. Not for me, thank you very much.
Anyone who reads VanRamblings on a regular basis knows the site means to inform — and entertain — that while creating content and writing in what it is hoped you find to be a "readable form," there is quite often contained in the words before you, a tendency to employ hyperbole, which is done for effect, so as to engage the readers' attention on matters of import.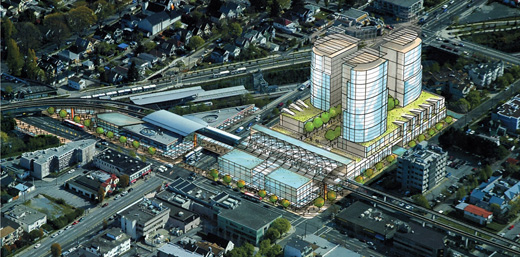 The 'reduced' Commercial & Broadway 'plan', to get MUCH 'towier' with Vision back in power
For weeks, there's a "story" that's been making the rounds that, pre-election, Vision Vancouver had cut a deal with Christy Clark's provincial government, and the feds, for the subway down the Broadway Corridor, which would involve developers contributing half the cost (about $1.92 billion), through Community Amenity Contributions, which would be put towards the costs of the construction of the subway line down Broadway out to UBC, a "deal" that was allegedly brokered by Bob Rennie — real estate broker extraordinaire, and both Christy Clark's and Gregor Robertson's best friend — that would serve the interests of Clark's and Robertson's developers-friends and funders, at the expense of the interests of residents in neighbourhoods all along the Broadway corridor.
The deal wasn't announced because there was an election going on.
Vision Vancouver was concerned proclamation of the deal would incite the residents of Grandview-Woodland. Leave well-enough alone until after the election, when Mayor Gregor could announce that he had secured the funding to build the subway, and out to UBC, at that! There would be rejoicing throughout the city, Mayor Gregor would fulfill a campaign promise central to his re-election bid, and all would be right with the world.
In the Kitsilano neighbourhood where I have lived for thirty years, 52.8% (6,018) of residents voted Vision Vancouver, while 37.9% (4,319) voted for Kirk LaPointe and his Non-Partisan Association candidate team.
VanRamblings has a question to ask the residents of Kitsilano ...
What part of, "If Vision Vancouver is elected to a third term of majority municipal government, a deal will be struck with developers for construction of a subway line, and stations, all along the Broadway Corridor — on the west side, in the Kitsilano neighbourhood, Oakridge Centre-style developments will be imposed at Arbutus, Macdonald and Alma, where developers will move into the neighbourhood to purchase properties at double the assessed market value, and for those business or homeowners who won't sell, the municipal or provincial government will expropriate properties on each of the four blocks surrounding the proposed subway stations," did Kitsilano residents not understand?

What part of, "When the developers build the massive four-square-block-radius, greenhouse gas consuming, neighbourhood-isolating, junctions at Arbutus, Macdonald and Alma, in our Kitsilano neighbourhood — that will consist of 40, 50, 60 and 70-storey highrises in Oakridge Centre-style like developments at each of the station junctions, the massive, out-of-scale to the neighbourhood "town centre" towers will cast a permanent shadow over single family and multiple-dwelling apartment buildings throughout Kitsilano, in the process creating a permanent, overshadowing darkness for nearby residents," did those Vision voters in Kitsilano not understand?"
Neighbours and friends look at me like I'm crazy when I say things like the above — and I say, "Come back to me in 10 years, and let's talk again."
Progress? Neighbourhood friendly? 11 'tower centres' planned for the Broadway Corridor
The difference between a Vision Vancouver civic administration, and the one that Non-Partisan Association mayoral candidate Kirk LaPointe would have led, is that a Kirk LaPointe administration would consult with residents before taking a decision about development in a community, and act on the developed consensus of the neighbourhood's residents, ensuring a form of responsive democracy that would prove satisfactory to residents.
Vision Vancouver, on the other hand — and all you have to do is speak with anyone who lives in the Grandview-Woodland neighbourhood, or Mount Pleasant, the West End, Dunbar, Marpole, and listen to their experience of "working with" Gregor Robertson and his Vision Vancouver colleagues ...
"We worked on a community plan for two years, met regularly with city planning staff. When the community consultation had drawn to a close, and we had signed off on a visioning plan for our neighbourhood, the consensus plan was submitted for review to the Director of Planning, Brian Jackson, and to Vancouver City Council. When those of us who had worked on the community visioning plan appeared before Council to speak in support of the developed-consensus plan, rather than the neighbourhood development plan we had so painstakingly worked on over many, many, many months, what we heard and saw presented was arbitrary, unilateral, dramatic and disturbing changes made to our much-beloved community plan, a "new plan" that bore virtually no relationship to the plan we had carefully developed and signed off on."
However you felt about Kirk LaPointe, and those who ran with him on the Non-Partisan Association ticket, Kirk LaPointe would have listened, and acted on the community consensus, as would have his colleagues.
In municipal politics, we call that democracy.
Vision Vancouver, on the other hand, never listens, or adopts the community plan developed by residents in neighbourhoods across the city, and doesn't feel it has to, or as Geoff Meggs is so often wont to say ...
"After all, a majority of Vancouver residents elected Vision Vancouver to consecutive terms in office. We must be doing something right. Why change a good thing? Residents don't really want to be consulted, they know that our Mayor, Gregor Robertson, and our committed, hard-working Vision Vancouver councillor team, are better-informed than ill-informed, uneducated, visionless residents. That we're better able to make appropriate decisions on the residents' behalf, that to listen to residents would be to give away our power.

The residents of Vancouver voted for the Vision Vancouver team so that we could exercise our power, even if some residents across the city accuse us of abuse of power. What do they know, those whiners & complainers, that rent-a-crowd bunch? We'll do what we think is best, and damn those ill-informed, unsophisticated and uneducated residents, those NIMBYs who don't have the best interests of the city at heart. We're the electeds, don'tcha know — we'll do as we damn well please!"
And so it goes. Given all of the above, given that the Vision Vancouver administration will not consult, given that Vision Vancouver knows what is best, given that a subway line will be built no matter what the residents want, no matter the protests, given that businesses and family homes will be expropriated, given that residents don't know what they want, and Kitsilano residents voted in overwhelming numbers for Vision Vancouver — damn the consequences to the livability of the Kitsilano neighbourhood.
With an arrogant, newly-elected Vision Vancouver civic administration in office for a four-year term, with the prospect of a subway line cutting through Kitsilano's tree-lined neighbourhood, residents are well on their way to living the nightmare scenario of a DC Comics-style, Vision Vancouver dystopia, through and across the very heart of the Kitsilano neighbourhood, where residents in the future can all look forward to our Vision Vancouver civic administration spinning the line to us that ...
"Your children will do fine growing up in the darkness. Sun causes melanoma. We're your elected civic government. We're just trying to help them, to keep them safe. And to create a better tomorrow."
All together now, let us sing in chorus as we salute the gigantic wall mural of our once and forever leader, the one true profit, Gregor Robertson ...
The sun won't come out tomorrow

Bet your bottom dollar that tomorrow
there'll be darkness
Just thinkin' about tomorrow
Don't clear away the cobwebs and the sorrow 'til there's none

When I'm in luck and there's a day that's grey and lonely
I just stick up my chin and grin and say, oh ...

The sun won't come out tomorrow
So why wait to hang on
'til tomorrow, come what may!
Tomorrow, tomorrow, I love ya, tomorrow
You're only a day away!

Tomorrow, tomorrow, I love you tomorrow
You're always a day away.
Soon enough, and not so long into the future, Vision Vancouver will move to rename Vancouver, Gotham City. The difference between the newly-renamed Vancouver version of Gotham City, and the DC Comics version of Gotham City is that, unlike the comic and the Christopher Nolan movies we have all come to love so much, in the renamed Vancouver version of Gotham City, there will be no Batman-like figure to come to our rescue.
Alert, people of Vancouver! Batman will not come to rescue us from Vision Vancouver
No, Vancouver residents, given that you did not awaken from your Vision Vancouver, cult-like, drug-induced slumber we are, all of us, doomed to live in the forbidding and ominous gloom to follow, a creation of a once-and-forever Vision Vancouver, with no prospect of any help on the distant horizon, a hero-like figure who might rescue us from ourselves, and the decision we took last evening to vote Vision Vancouver back into power.
Forgive us, dear Father, we did not know what evil lurked. Please save us!
Soon, the wise ones will look around them, and in time to rescue themselves and their families, they will seek to leave the city, to find order and something akin to a quality of life that was once available to all citizens of Vancouver, for such no longer will exist in the city we once called home.
LEAVE NOW: The dystopian future with Vision Vancouver elected to a third term in power
In electing Vision Vancouver last evening to a third consecutive term of majority power in city government, we have consigned ourselves to the torment of the dystopian nightmare that will come to pass, a permanent, perpetual, gloom-filled agony that will become the Vancouver that we once loved so much. For its has come to pass that thoughtless, uninformed, if well-intentioned citizens of good-heart, voted for a Vision Vancouver civic administration to a determinative, destructive and ultimately city-destroying third-term in the seat power where all decisions, mostly bad, are made.
VanRamblings will provide an analysis of the Vision Vancouver win at the polls, where it really counts — at Vancouver City Council — John Coupar's and the Non-Partisan Association win at Park Board, which will see John become the Board's next chair, and a reflection on the "loss" of Vision Vancouver at School Board, the latter which election result saddens us.
2014 Vancouver Civic Election Election Night Results
We'll see you here later this afternoon — in some ways, the election night results are devastating. Treat yourself — life goes on. At least we can celebrate the heartening victory of what will be a John Coupar-led Park Board, each one of the Commissioners (including Catherine Evans, by far the least partisan of the Vision Vancouver candidates for Park Board who ran for office), who have the best interests of our parks and rec system at heart — even if the Board will be starved by a Vision Vancouver majority Council, forcing the Park Board to go to war with Vision Vancouver.
Let's face the reality of the new majority Vancouver Park Board of staunch defenders of our beleaguered, under-funded parks and recreation system vs Vision Vancouver, in a few words — it just ain't gonna be pretty, folks.

November 14, 2014
VanRamblings' Vancouver Park Board Endorsements may be found here.
VanRamblings' Vancouver School Board Endorsements may be found here.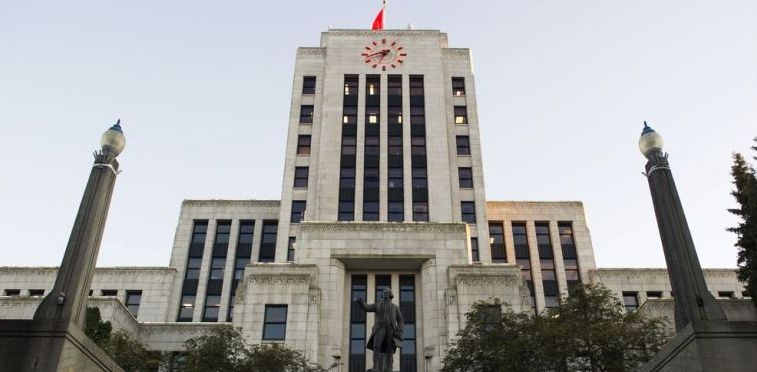 Polls open at 8am Saturday for the 2014 Vancouver municipal election.
Most voters will likely be taken aback at the 121 names on the civic ballot, the 29 contenders vying to fill nine slots on Vancouver School Board, the 31 contenders who want to fill one of seven vacant spots around the Park Board table, or the 48 Council candidates who fancy a job at City Hall.
As a service to readers, VanRamblings today will present a truncated Vancouver City Council Endorsements Rationale, the third and final in a series, that started out with VanRamblings' choices for Park Board, and went on to explore VanRamblings' choices for Vancouver School Board.
Vancouver City Council is the place where decisions will be taken over the next term of government at City Hall that will impact on the quality of life of every single citizen across every neighbourhood in our city, for whoever holds office and the seat of power in the upcoming four-year term of office.
For the past five months, VanRamblings has argued long and loud that Vision Vancouver has abrogated its right to a third consecutive term of office at City Hall (and Park Board), as perhaps the most developer-driven, dismissive of community concern, aggressively tyrannical civic administration since the hoary days of Mayor Tom Campbell, in the late '60s & early '70s.
Sign idea by Outdoor Pools advocate Margery Duda - sign construction by Andrew Schmitz
In it's last-minute bid for a majority Council at City Hall, Vision Vancouver has ramped up their fear-based campaign against Kirk LaPointe, pointing out his non-existent ties to The Fraser Institute — the totality of the allegations so off-putting and egregious they hardly warrant a repeating in today's VanRamblings endorsement post for Vancouver City Council.
Quite franky, VanRamblings finds Kirk LaPointe to be a gentleman of the old school, and a thoughtful man of integrity and character — traits that are sorely lacking in our current Mayor.
Vision Vancouver's 2014 campaign of character assassination and their dedication to the politics of personal destruction are little short of despicable. Vote for Kirk LaPointe, if for no other reason than the discomfort you feel in the pit of your stomach when you hear terrible things being said about him, a decent person — as you've probably assessed for yourself — a loving husband and father, a well-educated man of great experience and accomplishment, who has in some great measure created his own success through hard work and determination, the love and support of those around him, and a dedication to making a difference.
When you go to the polls on Saturday, you will want to make sure that Gregor Robertson, and his Vision Vancouver team, hear the message loud and clear: enough is enough, we are not fools, we don't believe your last-
minute mea culpa — so many crocodile tears those, a mean and dishonest tactic designed to create sympathy for an administration that has, more wholly than any civic administration in a generation, given itself over to the interests of greedy developers, than any reasonable person could possibly have thought imaginable. We want a City Hall that will govern for us.

BC Liberal Party Exec. Dir. Laura Miller tweets out about a night out with Vision Vancouver
Vision Vancouver has painted the Non-Partisan Association as the BC Liberal farm team, died-in-the wool right-wingers who will turn the city into some kind of romantic, Benzedrine-popping Ayn Rand, survival-of-the-fittest, dystopian nightmare. Thus the dozens of fear-mongering, we're oh so sorry, we're bad but they're worse, telephone calls you've received this week that have invaded your home like so much acid rain.
Do you see the picture above? You're looking at BC Liberals' Executive Director Laura Miller's tweet of Vision Vancouver's very own Director of Communications, Marcella Munro, sitting right beside Laura's good friend, Don Millar, Vision's head of for-profit flack company FD Element, the guy who "manages and promotes" Mayor Gregor Robertson whenever he can.
And that @diamondisinger mentioned in the tweet? Could that be the very same Diamond Isinger who was Christy Clark's key online strategist in the Premier's bid for office last year who, don'tcha know, is now working for Clark's best friends, Vision Vancouver, performing the very same function?
And wasn't it former Non-Partisan Association President, Michael Davis, a spin doctor for big oil who was endorsing Gregor Robertson last week?
Let's see if we can make sense of all this: almost the entirety of Vision Vancouver's 2014 campaign strategist team are performing identical roles to the ones they played in Christy Clark's bid for the Premier's office in last year's British Columbia provincial election. Strange "coincidence", huh? Make no mistake, Vision Vancouver have painted themselves as the anti-tanker defenders of the environment. What utter nonsense: it's Vision Vancouver who are the BC Liberal farm team, all dressed up in 'green liberal', progressive New Democrat Party clothing. Just look at the picture above.
VanRamblings Enthusiastically Endorses Kirk LaPointe for Mayor

As Grandview-Woodland's respected community activist Jak King wrote in his endorsement today, "Kirk LaPointe represents a return to the glory days of the NPA, the days in which the NPA introduced both CityPlan and the Four Pillars strategy. By his very public endorsement of the Principles & Goals planning document of the Coalition of Vancouver Neighbourhoods, LaPointe has grasped the future of collaborative planning. LaPointe's demeanour and quick intelligence on the campaign trail and in smaller meetings leads many of us to believe that he is a man one can work with."
VanRamblings could not agree more with Jak King's expressed sentiment.
Kirk LaPointe could very well become the Vancouver Mayor of a generation. Meeting the needs and serving the interests of a broad cross-section of the community in every neighbourhood, addressing social issues like child hunger, focusing on the economy and a jobs strategy to strengthen Vancouver's economy, restoring civic government based on openness, transparency and intent of purpose, consulting with the public and acting on the developed community consensus, a Kirk LaPointe-led administration would restore public confidence and lustre in Vancouver civic government.
Tomorrow, at the polls, vote Kirk LaPointe and a majority Non-Partisan Association Vancouver City Council and Park Board, as well as a significant contingent on School Board. Create the conditions to allow Kirk LaPointe and his Non-Partisan Association team to begin the transformation of our city in order that civic government be placed in the hands of the people.
VanRamblings' 2014 Vancouver City Council Endorsements
Along with Adriane Carr, George Affleck is the conscience of Council, a tireless advocate for the people's interest, a Councillor who puts in 60 hour weeks and still finds time for his beloved wife and the children he loves so much. George Affleck is a gift to our political landscape, devoted to public service and to furthering the interests of the community, in every neighbourhood across our city. In the 2014 civic election cycle, George Affleck was the star of the all-candidates meetings, and flat-out the most sympathetic and compelling presence on the dais, week-in and week-out. There's a cynicism among some about politics and politicians — if you knew George as I and thousands of others have come to know George Affleck, the City Councillor, all doubt there exists a shining star in the maelstrom that is Vancouver politics would be erased, for George Affleck is a city councillor who knows in his bones what it is to be a democrat, to live it, to feel it, to practice it — and to do it all in service of the community, and for you.
Elizabeth Ball has, in two previous terms, gained the confidence of voters. First elected to Council in 2005, when she is re-elected to a four-year term on Saturday evening, she will embark on her seventh year of service to the people of Vancouver. I came to know Elizabeth Ball in the 1990s when I was an arts reporter and she was the Managing Director of the Carousel Theatre — which she had founded some 20 years earlier. Always ready with an open smile, Elizabeth was a fount of information — there wasn't anyone, or anything, in the theatre world with which she wasn't familiar. The same dedication to task that she brought to the management of the Carousel Theatre, and the mounting of my very favourite productions over the many, many years I visited Carousel, has been matched by Elizabeth Ball's dogged work on Council, her ability to get to the heart of any matter, her peerless research skills, her advocacy for the public unmatched by anyone other than her NPA Council colleague, George Affleck. Chair of the NPA caucus, it was Elizabeth — working with Fraser Ballantyne and Rob McDowell — who spear-headed the expulsion of Ken Denike and Sophia Woo from the NPA caucus, and from any association with the Non-Partisan Association.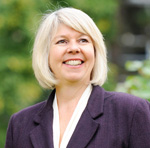 If you go to your dictionary and look up the word democracy, you will find Adriane Carr's picture next to the word — because Adriane Carr has come to define responsive, always on your side, honest, sincere, fight for what is right, democratic engagement in Vancouver municipal politics, her time on Council in her first term (when she squeaked in — I predict that she's going to top the polls in 2014) the most salutary manifestation of Abraham Lincoln's precept, as applied to our little burgh (with just the slightest change in wording) that in Vancouver "civic government is of the people, it is by the people, and it must always be for the people." Adriane Carr lived that axiom every single day of her first term of office, as she does each and every day of her life. You know it, I know it — Adriane Carr is the most beloved political figure in the Metro Vancouver region. How fortunate we all are to have Adriane Carr — a person of character, a person of integrity, a person of wit and intelligence and passion and reason, a tireless advocate always, representing each one of us, and ... within our midst. Vote Adriane Carr.
Nicholas Chernen has the royal jelly. In the 2014 vortex that was the run to secure office on our city's highest elected body, Vancouver City Council, onto our civic political scene there arrived a guileless, astute, sturdy and staunch, perceptive and charmingly innocent philosopher king, a dreamer who dreams as did Robert F. Kennedy that, kissed by the wind & good fortune, a boy who over the past twelve months was transformed into a formidably inspiring man of impossible grace and principle, looked around him & asked, "Why," and dreamed a dream of a thing that never was with Vision Vancouver holding the seat of power in our municipal government, and asked himself another question, "Why not," which, perhaps, in the fullness of time became less a question than an instruction, a call to duty, a re-awakening in him a long suppressed democratic commitment to the his family, and to our community. In 2014, Nicholas Chernen is one of two nascent political figures to emerge on the political scene whole (the other? the Greens' must-elect, Pete Fry). Nicholas Chernen: a leader, a future Mayor and Premier (as is the case with Pete Fry), brother to Glen, who arrived on the political scene in Vancouver and wrote the story of Campaign 2014.
Over the course of the past three years, working with her Non-Partisan Association colleague, John Coupar, in her role as a Vancouver Park Board Commissioner, Melissa De Genova emerged as the hardest-working, most dedicated to democratic engagement and populist political figure to emerge on British Columbia's tumultuous political scene in more the 40 years. If not for Melissa De Genova, there would be no Killarney Seniors Centre, if not for Melissa De Genova's tireless advocacy for the public interest, the voice of the people would not have been heard at the Park Board table — and our city, and parks and recreation system in Vancouver would be worse for the lack of Melissa De Genova's hourly, daily commitment to making our home the most livable city anywhere on this planet; which is not rhetoric, but rather a reflection on the efforts of a dogged and sincere public figure who aims to, and has, made a difference. Please, save a vote for Melissa De Genova at the polls.
The Green Party of Vancouver's Pete Fry has the best chance of any new candidate seeking the position of Vancouver City Councillor of any who have offered themselves for elected office in the 2014 Vancouver civic election. Pete Fry is the single most intelligent, pioneering, committed to democracy, engaged, generous, on your side political figure to emerge on Vancouver's political scene since ... well, since the emergence of his Green party running mate, Adriane Carr — what a duo they will make sitting on Vancouver City Council together, how fortunate we all will be to have two elected representatives in Pete Fry and Adriane Carr, whose dedication to our democracy is unparalleled in our city. Voting the Green Party of Vancouver's Pete Fry is not something you should just consider, voting for Pete Fry is an absolute imperative when you head to the polls in this, the most important civic election in more than 40 years. A vote for Pete Fry will be the single most important decision you will make in this election.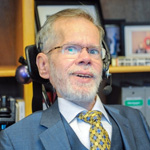 Tim Louis is the most important must vote in the 2014 Vancouver civic election, as the single candidate with the most wit, the candidate most committed to a fairer and more just city for all, the candidate who doesn't just argue for a better city, better transit, the construction of more affordable housing (and he means, non-market affordable housing, which is our only way out of our present affordable housing morass), the candidate most committed to social justice, and the only 2014 Vancouver municipal election candidate for office with a well-thought-out plan on how to get us there, and the candidate who will best hold his Vancouver City Councillors' colleagues feet to the fire — and always, always, a peerless advocate for the public good. Please, please save a vote for my friend, the most generous and thoughtful person of my acquaintance, the incomparable Tim Louis.
Involved in community services across the Metro Vancouver region for more than four decades, a now retired professional engineer who worked for the City of Vancouver, the senior city of Vancouver manager responsible for Chinatown's innovative Millennium Gate project, and a key member of Vancouver's Transportation Planning Team for the 2010 Olympics, Ken Low knows how things work and how to things done at City Hall. A husband and father dedicated to his two children, Ken Low is the legacy candidate in the 2014 Vancouver civic election, a reasoned, achingly intelligent and fit athletic figure who — more than any other candidate running for office in our current Vancouver civic election — possesses the skills and the ability to hit the ground running in the hours following his election to Vancouver City Council, to begin the process of change that will help to build a better Vancouver for you and for your family, and all your neighbours and friends.
Rob McDowell is, by far, my favourite new candidate for Vancouver City Council in the 2014 Vancouver civic election, the most articulate, generous, thoughtful, progressive new candidate on Vancouver's civic scene — and endorsed everywhere, by every one, across the political spectrum — the one candidate for Vancouver City Council who has built a broad, public consensus for his election to Vancouver's senior decision-making body, a person who would be a mediating force on Council who, having gained the confidence of his peers, would work to create the conditions necessary to move our city forward. A vote for Rob McDowell is a vote for change, a vote for reason and a vote for a better, and more equitable Vancouver. Vote Rob McDowell when you mark you ballot — and in doing so, you will have voted for the best new candidate seeking office as a Vancouver city council councillor, in the 2014 Vancouver civic election.
Ian Robertson is the most able new candidate running for office as a Vancouver city councillor, the smartest — going to get things done — political figure on Vancouver's civic scene, the candidate most committed to our democracy and to a generous outreach to the community, and as is true of the candidates written about above, committed to a fairer and more just Vancouver, a Vancouver that will serve the needs of all. As a two-term Park Board Commissioner, Ian Robertson proved day in, day out that he was a tireless, hard-working, consensus-building advocate for the public good, who in his years of service to the people of Vancouver earned the respect of his peers, and a broad cross-section of our city's always wise voting population. Along with the other new candidates for Vancouver city council written about above, Ian Robertson is the most important vote you will make when marking your ballot. Vote Ian Robertson for a better Vancouver.