September 19, 2014
The past 36 hours has proved to be busy in the Vancouver civic election campaign, as COPE, the Green Party and the NPA are front and centre making game-changing campaign announcements, while lawyer Bob Kasting announced his candidacy for the Mayor's chair, and the Cedar Party issued a press release on a major campaign announcement, for Friday at 1pm.
In the coming days, VanRamblings will provide coverage of COPE's absolutely necessary $15 an hour minimum wage proposal (which we wholly support, we believe is entirely do-able, and has worked in Seattle), the Green Party of Vancouver's platform and proposals for good government, and the Non-Partisan Association's humane "no child will go to school hungry" campaign announcement (the one thing you know about the NPA is that when they make a campaign promise — all of their campaign commitments are eminently do-able — they will keep that promise).
In today's post, we'll focus on Bob Kasting — Vancouver-based lawyer and community leader, winner of the bronze medal and carrier of the Canadian flag at the 1972 Munich Olympics, adjunct business law professor at BCIT, and administrative law at UBC's Faculty of Law, architect and hero of the triumphant win that halted construction of a 12-foot-wide asphalt bike path through Hadden and Kitsilano Beach parks, and currently the legal counsel for the False Creek Residents Association, who are battling Concord Pacific over commercial use — a sales centre — of land zoned for park space.
Vision Vancouver, you ask? Well, they've been quiet on the campaign trail, the Mayor mute, the campaign seemingly in hiding — Vision's campaign honchos seem to think that remaining quiet, hiding the Mayor and Council, not agreeing to debates, and relying on the $800,000 in happy face television ads they'll run in the final 2 weeks of the campaign will win them the election. Cynical Vision electioneering — par for the course with them.
Bob Kasting announces his candidacy for Mayor of Vancouver

At 5pm Wednesday afternoon, lawyer Bob Kasting announced he will run for Mayor, as an Independent candidate in 2014's Vancouver civic election.
From Emily Jackson's Vancouver MetroNews story ...
"The lawyer who helped two neighbourhood groups launch legal action against the City of Vancouver over the past year is officially vying to become the city's next mayor. Kasting believes the two major parties, Vision Vancouver and the NPA, are both too attached to developers and wants to bring a focus back to neighbourhoods."
Make no mistake, Bob Kasting will perform a forensic audit of Vision Vancouver's six sorry years in power, as only a powerful municipal affairs barrister is capable. Members of the Kasting campaign team have told VanRamblings that by the time a dogged, investigative Bob Kasting is done with Vision Vancouver, Vision will be left bloodied and begging for mercy.
Perhaps the definitive perspective on the Bob Kasting for Mayor candidacy comes from respected writer, historian, and longtime Grandview Woodland community activist, Jak King, who writes of Bob Kasting ...
Yesterday afternoon, lawyer Bob Kasting announced his run as an independent candidate for Mayor of Vancouver. I had rather hoped he would announce many months ago in the hope that he could corrall behind him some of the seven or eight parties running for Council in November, But he is in now, and that's good, especially as he is a great supporter of the Coalition of Vancouver Neighbourhood's Principles & Goals document that outlines a much improved community engagement process for our growing city.

I support Bob Kasting as Mayor of Vancouver. He is a man of extraordinary learning and intelligence, he understands the nature of the City as a collection of definable neighbourhoods, he is willing to listen to a range of ideas for dealing with our Vision-generated affordability crisis, and I believe he has the ability to mold an "independent" Council into a tool for burnishing Vancouver into an even greater future. If we are ever to move Vancouver away from the idea of political parties in municipal politics (we are one of the last holdouts for that corrupting system) then having an Independent Mayor is a damn good start.
In supporting Bob Kasting for Mayor, Jak is clear that "four or five different parties vying to put together issue-based solutions" is his preferred option for the 2014 - 2018 Vancouver City Council.
In saying so, Jak supports the Council candidacies of the Green Party's Adriane Carr and Pete Fry, and the Vancouver Cedar Party's Nicholas Chernen (VanRamblings couldn't agree more with Jak's top three picks for Council!), and an amalgam of candidates from the NPA and COPE.
Time will tell as to who, come election week, will emerge as the most viable anti-Vision-Vancouver candidates.
Make no mistake, there are no circumstances under the sun in which the citizens of Vancouver should give even a passing thought to electing Vision Vancouver back into government for a third term.
For now, VanRamblings is pleased as punch with the candidacy of Bob Kasting for Mayor — we know him to be a fine man, and incredibly bright. Bob's voice can only add to the din of criticism against the viability of another majority Vision Vancouver term at Council, and for that we are grateful for his candidacy, his wit, his integrity, and his commitment to the people of Vancouver, and to a fairer and more just city for all of us.
September 17, 2014
Join the Meena Wong for Mayor campaign — the Meena Wong for Mayor Facebook page
In 2014, longtime COPE member Meena Wong has come to the rescue of a beleaguered Coalition of Progressive Electors in announcing her candidacy as COPE's Mayoral hopeful. COPE is fortunate, indeed, to have identified a hard working and well-respected member of the party to step forward, to lead them into what could be a treacherous 2014 Vancouver civic election.
COPE member Michael Stewart writing on rabble.ca suggests that Ms. Wong offers a strong alternative to Vancouver's blancmange mayoral race (by the way, for those not in the know, blancmange is defined as "a sweet opaque gelatinous dessert made with cornstarch and milk" — take that you angry old white men of privilege, Gregor Robertson and Kirk LaPointe!) ...
"The Coalition of Progressive Electors (COPE) attempted to offer an alternative today to the blancmange buffet currently masquerading as Vancouver's municipal election — in which two wealthy, pro-developer, white, male candidates vie for the mayoral seat.

Wong, fluent in Mandarin, Cantonese, Shanghainese and English, frustrates this mano à mano narrative crafted by Vision and the NPA. With connections to activist, immigrant and progressive communities as well as her involvement with the federal and provincial NDP, Wong has the capacity to build a robust left-wing opposition to the false choice of this or that real estate speculator.

"COPE has helped to shape the Vancouver that we love today," Wong said at her press conference on the steps of City Hall, flanked by about two-dozen supporters and attended by English, Mandarin and Cantonese media. "Since 1968, COPE has fought for a just city that is based on compassion, respect and duty to all."
Only one week into the campaign, and Wong has already registered on the civic election radar, raising an issue that other mainstream Vancouver civic parties, previous to Ms. Wong's ascension to becoming COPE's mayoral candidate, wouldn't have touched with a 10-foot barge pole: the hot-button issue of foreign ownership of Vancouver real estate.
From a Barbara Yaffe story published in the Vancouver Sun on Monday, titled Absentee homebuyers targeted by mayoral candidates ...
"The push for a tax on vacant housing units was introduced recently by Meena Wong, the mayoral candidate for the Coalition of Progressive Electors, reflecting the first time a candidate has made a campaign pledge aimed at dampening speculation in Vancouver's increasingly unaffordable property market. Wong, an unsuccessful federal NDP candidate in Vancouver South in 2011 who is unlikely to win the November election, has touched a local nerve as the need for housing grows and prices continue their upward trajectory.

Wong would use the tax revenues generated for affordable housing.

Taxing owners for their vacant properties could become a prominent issue in the civic election if embraced by other candidates. That Wong herself is ethnic Chinese — she emigrated to Canada from Hong Kong 34 years ago — will dampen any chatter about racism, or anti-immigrant overtones.
Strange that, because only 17 short months ago, activist COPE member and editor of the left wing online journal, The Mainlander, Nathan Crompton, was issuing cries of racism and political scapegoating when local columnist Mark Hasiuk and political observer Sandy Garossino sought to tackle the issue of foreign home ownership in Vancouver head on. Hmmm.
For the indefatigable Ms Wong, it is unfortunate too that she is saddled with an unpalatable & politically inept Left Front-developed electoral platform that, when the media finally gets around to taking a good hard look at its central tenets, could flatten her candidacy (hint: read COPE's 'out in space' policing platform), an unsalutary development that could take her out of the race, and any serious consideration as a candidate for the Mayor's chair.
Not to mention that COPE is nearly broke and on the verge of bankruptcy.
If nothing else, the optics look bad. Sure, COPE brings in $2000+ each month in PAC money (automatic monthly donations), but for a party that spent more than $1 million in the 2002 municipal election campaign, and between $360,000 and $650,000 in each of the 2005, 2008 and 2011 electoral campaigns, borrowing money from the bank (which they've been doing all summer to keep the party afloat) to fund a near bankrupt campaign hardly suggests that COPE could reasonably be considered by potential voters as good fiscal managers and protectors of the public purse.
Thank goodness that COPE has Meena Wong heading up their campaign, and credible COPE stalwarts like Tim Louis, Gayle Gavin and Sid Chow Tan heading up their Council slate (word is also very positive on Keith Higgins and Jennifer O'Keefe), and former Park Board Chair, Anita Romaniuk, heading up an otherwise undistinguished COPE Park Board slate.
Even COPE's co-founder, the Vancouver District and Labour Council (VDLC) has abandoned the party, endorsing all Vision Vancouver candidates, but offering support only to COPE Council candidate Gayle Gavin (who was not one of the candidates endorsed by the Left Front), and COPE Park Board candidate Anita Romaniuk — an unprecedented decision by the house of labour that only adds to COPE's innumerable woes. Labour not supporting COPE for the first time in the party's 46-year history — it beggars belief!
COPE. A website that is near dead. A dearth of press releases issued by the party. No videos. No ads. Virtually no public political presence in the electoral campaign (save coverage of Meena Wong), online or elsewhere, an electoral party that is so hamstrung it can't even get around to making a decision as to who the 8th candidate on their Council slate will be (John Yano and Wilson Munoz tied at 116 votes apiece) — some 11 days after the nominating convention! — a civic electoral party that has virtually no presence in neighbourhood activist groups across our city ("NIMBY issues", according to some not-so-good folks in COPE, don'tcha know).
Ticket sales for the Kshama Sawanta forum later in the month looking at best forlorn (with half the money raised going to Ms. Sawant, and $1000 to be paid to the Maritime Labour Centre for rental of the hall — with COPE, if it doesn't rain, it pours), a party that for all intents and purposes looks like a meaner version of Vision Vancouver (now, that's going some), the only political party not to take Vision Vancouver to task for dropping top-vote-getting candidate Trish Kelly from their Park Board slate (note that there is no mention of Vision Vancouver in COPE's press release — maybe the rumours are true, that COPE has been bought-and-paid-for by Vision Vancouver, now that would be a fine kettle of fish), while Vision placed the 6th and 7th ranked candidates on the parks slate six weeks later. Tim Louis thought that David Chudnovsky sold the party out to Vision Vancouver — David couldn't hold a candle to the damage that's been done by the current group of Vision appeasers in control of the COPE political apparatus.
Migawd, you'd have to be dead not to realize that the morally and financially bankrupt Coalition of Progressive Electors is in dire straits, indeed.
September 16, 2014

The criteria that cinephiles set for which 40+ films they'll take in at our annual autumn Vancouver International Film Festival varies.
Some folks want to make sure that they see every one of the films that took the 2014 Cannes Film Festival by storm, while other folks feel that taking in all of the screenings of award winning films arriving from festivals that span our globe — Sundance, San Sebastián, Tribeca, Instanbul, Seattle, Shanghai, Karlovy Vary, Berlin, Newport Beach, and Venice, just to name a few — rank as must-sees at our beloved festival by the sea.
Others, looking ahead to the 2015 87th Academy Awards — set for Oscar Sunday, February 22, 2015 — want to ensure that they're part of the "in crowd" that has seen more than a handful of the films that have been nominated by their respective countries for the prestigious Best Foreign Language Film Oscar. And thus we set our VIFF task for the day ...
Best Foreign Language Oscar Contenders Screening at VIFF 2014
Corn Island (Georgia)

A virtually wordless, elegant tone poem — and all the more captivating for its quietness — Georgian director George Ovashvili's top prize winner at Karlovy Vary is, as Variety's Peter Debruge suggests, "an astonishing feat of cinema", a life and death fable that tracks the lives of an aging Georgian farmer (Ylias Salman) and his innocently flirtatious granddaughter (Mariam Buturishvili), who work together to build a rudimentary wooden shack and plant a crop of corn on a temporary island in the middle of the Inguri River, amidst the warring factions of Georgia and the republic of Abkhazia. Audacious, powerful, utterly compelling, and melancholy, Corn Island represents the best of foreign language film at the 2014 Vancouver International Film (we saw it in preview), and is a must-see at our festival.
Winter Sleep (Turkey)

Palme D'Or winning Turkish photographer, screenwriter, actor, and film director Nuri Bilge Ceylan can do no wrong, his latest — Winter Sleep — masterful and multi-layered, inspired by a Chekhov short story, the film — at three hours and sixteen minutes (not an unusual length for a Bilge Ceylan film) — offering a richly detailed, subdued and mesmerizing depiction of the full spectrum of the human condition.
Novelistic in structure, Winter Sleep revolves around Aydin, a retired stage actor (Haluk Bilginer) — a bearded, middle-aged grouch who operates a hotel in Cappadocia, high on a hill above inherited land owned by his late father — and his much younger wife, Nihal (Melisa Söezen), who spends her days gazing out the window, bored with their empty, privileged lives.
From Eric Kohn's review on Indiewire ...
Winter Sleep contains a few surprising moments of levity, from scenes of drunken men dueling with Shakespeare citations, to the peculiar nature of Aydin's relationship with a disadvantaged horse. At one point, a rabbit-hunting session leads to one of the movie's darker signifiers, while conveying a strange feeling of existential uplift on the character's terms. Such signifiers are never forced, however, as each telling moment arrives in the context of the movie's enthralling pace.
In its broadest terms a character study, as Ben Croll writes on Twitchfilm:
The film can be easily criticized as being too talky, overlong and a tough sit. All of which is entirely true! But there is some kind of cumulative value in the stacks of minutes and words that pile up and topple onto each other. Something that is also reflected in Ceylan's rather agoraphobic decision to keep things mostly indoors for the duration of the film. Twisting the familiar, a simple interaction or the inside of a living room, into something heightened and uncanny highlights the film's final verdict on Aydin. To turn the idiom around, he is proof of the evil of banality.
Winter Sleep. Another can't miss at our Vancouver International Film Fest.
Beloved Sisters (Germany)

An exquisitely detailed period piece, as Variety's Scott Foundas writes ...
An enthralling, gorgeously mounted depiction of the complicated relationship between the post-Enlightenment writer and philosopher Friedrich Schiller and the sisters Charlotte von Lengefeld (who would become his wife) and Caroline von Beulwitz (his eventual biographer), Beloved Sisters maintains novelistic narrative density in its enveloping canvas, as director Dominic Graf sets about to create an unusually intelligent costume drama of bold personalities torn between the stirrings of the heart and the logic of the mind, all the while casting his revealing gaze upon Western Europe's bumpy transition from the 18th to 19th century.
Be forewarned: another long sit (171 minutes), but very much worth it.
Force Majeure (Sweden)

One of the key films about which VIFF's Director of Programming, Alan Franey, waxed poetic at the opening press conference of the 2014 Vancouver International Film Festival, as Boyd van Hoeij writes in The Hollywood Reporter, "An avalanche does no bodily harm but leaves a Swedish family entirely wrecked nonetheless" in Force Majeure, an ice-cold Swedish drama about a family torn apart by cowardice. Director Ruben Östlund's new film comes across like Ingmar Bergman with a wicked streak.
Writes Peter Debruge in Variety ...
In its very calculated way, the film serves to document all that will inevitably be omitted from the family's official record of their five-day ski vacation, as suggested from the first shot, in which this seemingly perfect clan — father Tomas (Johannes Bah Kuhnke), mother Ebba (Lisa Loven Kongsli), son and daughter (real-life siblings Vincent and Clara Wettergren) — poses for a contrived group portrait on the slopes. Whereas they self-edit their memories to fit their own narrative, Östlund observes the minutiae, right down to the bathroom breaks.
The film uses the daily structure of life on vacation to show us small variations in how things work between Tomas and Ebba. Once the fractures begin to appear in their marriage, things fall apart very quickly over the five-day skiing holiday in the French Alps, a pricey-looking getaway for a well-heeled couple.
Theatrically structured, yet a bracingly cinematic film, Force Majeure takes the family, and us, on a ski trip down a black run into a blacker chasm.
Have we mentioned that the film festival is not about force-fed, mindless Hollywood pap, but is rather all about offering an honest reflection on the human condition (ain't no passive-aggressiveness goin' on here), and that chances are the films screening at VIFF are likely not to be an easy sit?
Bottom line: either you love film, or you don't. Either you're willing to confront your demons (the characters on screen often represent a disturbing, and often unexplored, aspect of the deepest, inner core of your being, your id), or you're not. VIFF as therapy: you better believe it.
Final note: we'll update the list of Best Foreign Language Oscar nominees screening at VIFF 2014 as the information becomes available, and point you back in this direction periodically over the course of the next four weeks.
September 15, 2014
The Non-Partisan Association Facebook page — https://www.facebook.com/npavancouver
The folks who are seeking political office as members of the Non-Partisan Association, and have put their names forward in this 2014 Vancouver civic election campaign to garner your vote, constitute a retinue of decent, humble, and very bright, publically-minded servants of the public interest.
From the outset of the current Vancouver civic election campaign, NPA mayoralty candidate Kirk LaPointe made it clear that his party would run a "clean campaign". All NPA candidates would be required to sign (and did so) an "issues not insults" code of conduct pledging that there would be no personal attacks by members of his party that would be directed to their "political foes". As LaPointe stated when signing the pledge, "There is a very clear intersection with your conduct and your ability to perform your duties. All of us feel quite comfortable in the idea we've got rich, fertile territory to criticize policy, we don't ever have to go into personal lives."
In this 2014 Vancouver civic election campaign, mayoral hopeful Kirk LaPointe has made liberal use of a withering line about Vision Vancouver's wrong-headed six years in power: "Vancouver is a great city, badly run."
Who knows where the NPA grabbed that tag line — it's effective, though.
On the face of it, "Vancouver is a great city, badly run" would seem to suggest that those running with the Non-Partisan Association would be better city managers, and more astute protectors of the public purse.
In practice, though, "Vancouver is a great city, badly run" serves as a reminder to voters, who have repeatedly taken Vision Vancouver to task for their egregiously "bad", anti-neighbourhood, tower-driven, anti-park decisions. "Vancouver is a great city, badly run" implores us not to forget about just how unhappy we've been with Vision Vancouver in power.
Those living in the Langara neighbourhood were apoplectic about Mayor Robertson's proposal to hive off half of the Langara Golf Course to sell to developers, while turning the other half of the golf course into a "park".
A bad proposal with no support from neighbours of the golf course, and the residents of Langara, who saw through the sham, and realized that Vision's actual intent was to diminish already scarce green space in their under-parked neighbourhood. Women who spoke up at Park Board were adamant that the trails around the golf course were safer as a consequence of the eyes of golfers on the runners and walkers. There was even a young Olympic medalist who told Park Board she trained on those trails as a child.
In this instance, as will be the case in so many other neighbourhoods across our city, "Vancouver is a great city, badly run" only serves to remind Langara residents about the anti-neighbourhood, anti-park policies of the Vision Vancouver civic administration, and the resource they could very well have lost, and might still lose if rumours of Vision's intent to follow through on their original plans prove to be true, should Vision be re-elected.
And it's not just Langara residents who will recall with ill feeling Vision's "in the pocket of developers" ethos.
Mount Pleasant residents mounted a vigorous opposition to the Rize Development at Kingsway and Broadway, and lost;
Grandview Woodland residents decried Vision's plan for massive tower complexes at both Clark Drive and Commercial Drive, six storey townhouses along Nanaimo Street, stacked townhouses along East 1st Avenue, and increased heights along East Hastings Street;
Hastings Sunrise residents won't soon forget Vision Council's decision to block Park Board from taking control of Hastings Park, in order that a "massive $310.5 million redevelopment" of the park might continue. You can bet that there aren't going be a great number of Hastings Sunrise residents who'll being casting a vote for Vision in 2014.
Whether you live in Kitsilano, where Vision Vancouver sought to pave large portions of Kitsilano Beach and Hadden Park.
Or you're a West End resident who was opposed to STIR (the city's wildly unpopular Short Term Incentives for Rental Housing programme, a giveaway to developers), which resulted in the tearing down of a church at 1401 Comox (originally slated for park space), putting up a 22-storey tower in its place, while at the same time adding a sixth tower to the Beach Towers complex, to name just a couple of examples of Vision development plans that met with West End neighbourhood opposition.
Or you're a former resident of the Downtown Eastside who lost their affordable housing when Vision Vancouver failed to respond to adamant opposition to Wall Corp's proposal to build a massive condominium complex at 955 East Hastings — which, when it was approved by a thoughtless Vancouver Council, displaced 200 longtime DTES residents.
Or, you're one of the residents of the Fairview neighbourhood's affordable housing development, Heather Place, who will be displaced as a consequence of Vision Vancouver's decision to redevelop the site as a "market rental" development — effectively doubling tenants' rents ...
You can bet that with the litany of secretive, wrong-headed, non-consultative, anti-neighbourhood proposals that became fact over the course of Vision Vancouver's six years in power that "Vancouver is a great city, badly run" will almost certainly emerge as the devastatingly powerful and understated meme of the 2014 Vancouver civic election campaign, a constant, daily reminder by Kirk LaPointe, and his Non-Partisan Association colleagues, that Vision Vancouver is not a municipal political party that is on your side, or was ever on your side, that indeed Vancouver was a great city, but under Vision Vancouver our city has been unforgivably badly and terribly run, and not run for you, but rather in the interests of developers.
"Vancouver is a great city, badly run" offers cogent, reflective comment — and a devastating indictment of Vision Vancouver's six years in power, and a reminder that with Vision Vancouver gone from the municipal political landscape come the evening of November 15th that under a revitalized Non-Partisan Association municipal administration (members of the NPA would suggest), Vancouver might once again become a truly great city.
September 4, 2014
A knock-out sizzler, pulling you in to the 33rd annual Vancouver International Film Festival
The 2014 Vancouver International Film Festival is much-changed.
Oh sure, there are the same folks involved this year as in recent years, the venues will be the same as they were last year, but the films that will be screened at this year's Festival (more A-listers than in years!) ... and the utter loveliness that is newly-installed Executive Director Jacqueline Dupuis. And let's not forget about that knockout 'sizzler' VIFF prelude video above, created by the folks at post pro media (I mean, like wow, wow, wow!).
As I have written previously, Alan Franey stepped down from the day-to-day running of the Festival, just after last year's Festival came to a close. Alan, and Festival staff with whom I was in contact last autumn, insisted that there was a succession plan in place — and lo and behold, the successor was right in their midst, in the form and person of Jacqueline Dupuis, who had already worked with the Festival for a couple of years, in a (perhaps?) more 'restricted' Executive Director capacity.
In 2014, Ms. Dupuis has put her stamp on the festival, emerging very much as the reigning intelligence of VIFF 2014. Who'da thunk? Certainly not me, if you read last autumn's October 13th VanRamblings column.
(By the way VIFF folks, mea culpa — I was wrong)
VIFF Executive Director Jacqueline Dupuis talking with VIFF Media Manager, Justin Mah
What were the chances that Jacqueline Dupuis, arriving from Calgary three years back, would find a family in the programmers and staff at VIFF, and in 2014 would emerge as the eminence gris of the Festival? In person, Ms. Dupuis possesses the charm and lack of guile you would find in a 22-year old, an openness to experience, and an almost wide-eyed wonderment in the living of a life encompassing the hours of her day — and here she is now, today, the matriarch of the Festival — lovely, strong, bright and principled, the leader in whom festival staff have vested their faith.
For those who are not familiar with the staff of the Vancouver International Film Festival, let me tell you about my observations: there is about the folks who work with VIFF an uncommon kindness, integrity and humanity, as well as an intelligence matched with an unerring sense of purpose.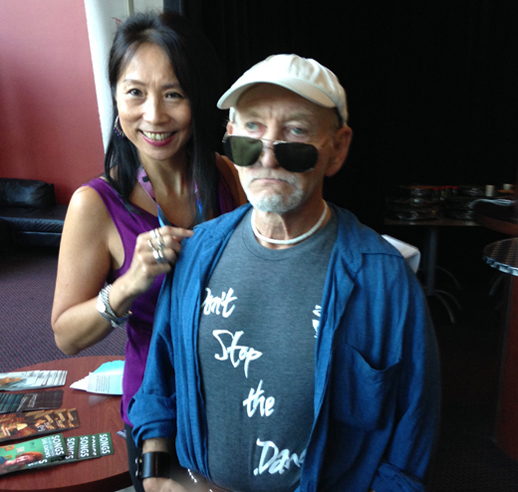 VIFF Programme Manager PoChu Au Yeung, and retired broadcaster, J.B. Shayne
There is amongst the fine folks who work with the festival, a feeling that is palpably shared among all those who are associated with the festival, of a higher purpose, a humanity and warmth and caring — not just for the city, or for those of us diehard cinephiles who live for our festival-by-the-sea each and every autumn, but for one another, full-time and part-time administrative staff, and volunteers. VIFF may be possessed of the most functional administration of any arts organization on the continent.
There is the quiet, zen-like presence of the festival's Director of Programming, Alan Franey, right on through to Alan's longtime second-in-command PoChu Au Yeung (a relationship of equals that has sustained for years), through to this year's kind and generous programme guide editor Curtis Woloschuk, as well as longtime Canadian Images programmer Terry McAvoy, the entirely magnificent Shorts International programmer Sandy Gow — about whom we wrote a couple of years ago — with longtime VIFF stalwart Jack Vermee back from France for another go-round, and Vancity programmer Tom Charity very much a part of the family, all of whom share a common sense of purpose, but more, oh so much more.
As per the title of this blog post, you probably want to know how it is that VIFF33 is different from all of the previous VIFFs. Okay, here we go ...
It would appear that with the Toronto Film Festival engaged in a dispute with the Telluride Film Festival, the Vancouver Film Festival has snuck in and snagged a record number of A-list Hollywood films — a welcome departure in programming orientation from years past.
From Jean-Marc Vallée's Wild — starring Reese Witherspoon, Laura Dern, Gaby Hoffmann — the Opening Gala film at VIFF 2014 (the film played to raves at Telluride, and is also on the TIFF schedule), to the closing Gala Film, Whiplash — the breakout film at Sundance earlier in the year, and also on the TIFF schedule — through to certain Oscar nominee, Bennett Miller's incredibly well-reviewed Foxcatcher — débuted at Cannes, just screened at Telluride, and screening at TIFF; Olivier Assayas' Cannes stunner, Clouds of Sils Maria; David Cronenberg's Maps to the Stars; Jason Reitman's much-anticipated Men, Women & Children; Xavier Dolan's Mommy; to the five-star, scalp-prickingly scary It Follows, the 33rd annual Vancouver International Film Festival will be a festival to be savoured and appreciated.
Second, in all the years I've covered VIFF, I've never heard Alan Franey wax as poetically enthusiastic about as wide a range of the films that are scheduled to screen at VIFF. When video of Alan's address to the VIFF Launch / Media Conference is made available (apparently, a week Monday), I'll post it on VanRamblings. Believe me when I write that Alan's "guide" to VIFF33 could very well prove to be the definitive guide to this year's Fest.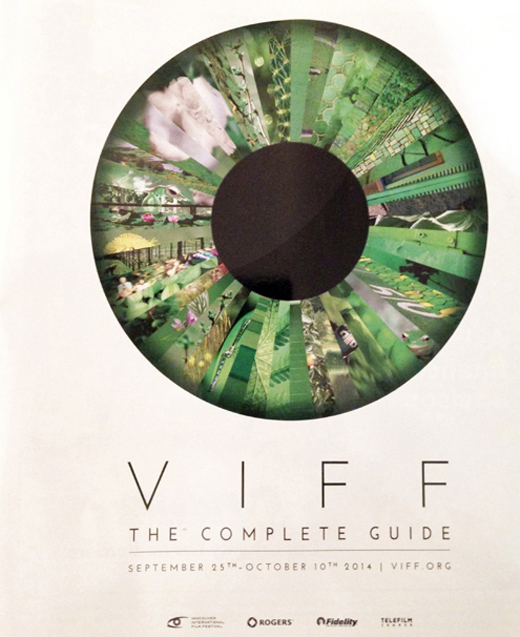 This year, for the first time, the VIFF guide will be FREE (yes, you read that right: free). The guide is glossy (forgive the photo above — the guide is actually a brilliant white), may be found at your favourite video store or book store, at libraries and all around town, as well as at the Vancity Theatre, and is available now, at least a couple of weeks earlier than usual, just as valuable as ever, and an absolute must cinephile acquisition.
What is the same about this year's Festival, compared to previous years?
Fabulous, mind bogglingly beautiful films, a great team of VIFF administrative staff and volunteers, incredible venues (The Centre for the Performing Arts is back again this year!), and the best (if, often, most challenging) time you'll have in a darkened cinema all year long, as well as a window on our diverse world that provides a par excellence experience.
What is different?
Well, I'd say a brighter, more contemporary, more business-like and almost aggressively engaging spirit that is just going to draw you in like never before, incredible 'of this age' sizzler videos that will drive business to the Festival like mad (I'll post them as they become available), a renamed and focused VIFF Industry Conference (more on this in the days to come), a raft of new sponsors, that great new free VIFF programme guide — and more, of course, but you're just going to have to check it out for yourself.
Tickets are now available online, and as of September 13th will be available in person at the Vancity Theatre box office, from noon til 7pm daily.
On the weekend, I'll write more about the specific VIFF 2014 series and films, will post more video, provide more information on venues, and will publish much much more. This is gonna be a great festival — see ya there!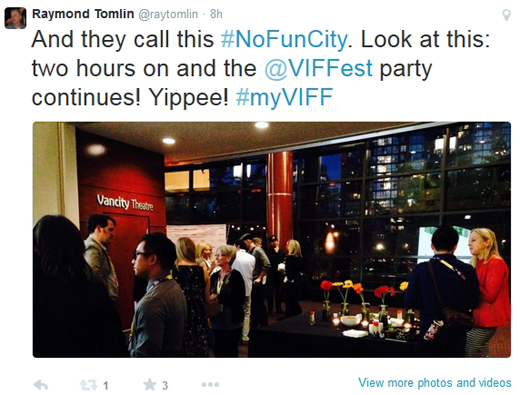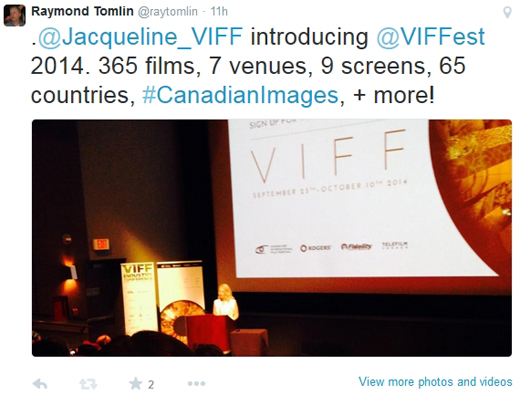 August 27, 2014
Reprinted with the permission of the author of the article, Tim Louis.

Mr. Louis was a two-term member of Vancouver City Council, and will be a 2014 Coalition of Progressive Electors candidate for a Council nomination. COPE's nominating conference will be held Sunday, September 7th.
In politics, as in our personal lives, sometimes we need to revise our expectations. Other times, we have to admit we are wrong; we are required to concede that we simply did not do enough.
In the case of Vision Vancouver's highly touted and infinitely flexible promise to end homelessness, it appears that a rather shady third option is taking place. Rather than admit fault, Vision is redefining the terms to distract the public while keeping developers as its main allies.
Since its inception in 1937, the NPA (Non-Partisan Association) has been the developer's party.
For the NPA, an attitude of "everyone should enjoy the fruits of their labour" means that a developer's application for rezoning is rarely turned down. Under the old NPA and relative newcomer Vision, Vancouver has been governed to maximize developer profit, not public well being.
In 1968, COPE (Coalition of Progressive Electors) was founded as an alternative to the developer's party.
Today, the political landscape consists of not one developer party, but two: NPA and Vision. As such, COPE has always run at a disadvantage because the NPA is lavishly funded by developers, as is Vision.
Although both of the developer-backed parties make showy presentations of their dedication to free enterprise and good business practice, it is COPE that actually practices truth in advertising.
COPE candidates are pledged to uphold the policy positions democratically adopted in open meetings, unlike the developers' parties, who enjoy the fruits of developing their platform behind closed doors by a chosen few.
Vision Vancouver is a version of the NPA with bicycle lanes. Some observers refer to Vision as NPA Lite.
Meanwhile, COPE is sticking to the principles of social justice and offering an unambiguous alternative to these developer parties.
COPE is the only party offering a clear and concrete proposal to address the crisis of homelessness. With the creation of a Vancouver housing authority, COPE proposes to build thousands of units of subsidized and affordable housing which would be owned and operated by the city.
Instead of following a plan to produce results, Vision has played games with the issues of housing affordability and homelessness.
Here is one example of Vision game playing. Vision simply redefines the term "affordable housing" to include any rental housing so that when a developer applies for rezoning, the bylaw that requires a certain number of units to be affordable is meaningless. Permits are issued because any rental units, no matter how expensive, are being considered affordable when there are actually very few who are able to pay the rent.
Earlier this year, the Metro Vancouver Homeless Count revealed that homelessness has increased in our community. Vision's 2008 campaign promise to end homelessness by 2015 has been a failure. Scrambling to save face, Vision has changed the message to claim that what they actually intended to do was end street homelessness.
Although someone who uses a shelter may not be considered street homeless, they must still be counted as a person without a home. Anyone staying in a shelter is required to leave in the morning and stay scarce until evening is essentially homeless during the day.
A home is more than a place to sleep.
Vision arbitrarily changes the meaning of terms at will, in a dazzling example of what the great English satirist George Orwell called "Newspeak" in his classic study of tyranny, 1984. Rumours that the book's character Big Brother is now on stipend to write press releases for Vision cannot be confirmed at this point, but remain plausible.
Regardless, Vision's underhanded revisions of language are the party's attempt to convince the public that they are standing firmly on some sort of platform rather than tumbling with the lint in developers' pockets.
Don't we want a city council that positions itself firmly outside the fiscal influence of developers?
It's COPE that has the real plan to address the important issues of homelessness and affordable housing.
August 21, 2014

The folks in the Cedar Party are at it again, telling us stuff that we already know. Like how there was only one bidder — WestBank Corp, owned by Mayor Gregor Robertson's bestest pal and big time Vision Vancouver supporter, Ian Gillespie — on the property where the much-touted Gesamtkunstwerk Vancouver House will be built. We say, so what? If the Mayor wants to gift his good friend Ian with 'special favours', so be it.
But are the noisome folks in the Cedar Party prepared to leave it at, "That Ian Gillespie fella, he has this in with the Mayor, and with Vision Vancouver, you see, and there's just something a little unsavoury about the whole circumstance where there was only one bidder allowed on the Vancouver House site, and don'tcha know that bidder was Ian Gillespie, and doesn't it somehow seem wrong to you that Ian Gillespie 'was allowed to tie up this property for several years without paying for it until final approvals were granted, which only occurred recently?" Nope. They just can't leave it alone!
That Glen Chernen fella — you know, he's the Mayoral aspirant for the Vancouver Cedar Party — and his hearty band of civic miscreants — I mean, really, who are they to be asking questions of our esteemed Mayor and his fabulous gang of demogogues at Vancouver City Hall, the once and forever Vision Vancouver party that will rule over us for our own good, whether we like it or not, for generations to come — where does the Cedar Party get off having the temerity to ask a question like, "How can the interests of Vancouver residents be seen to be looked after if our local government gives itself the unilateral right to sell off city-owned land without even passing consideration being given to the notion of competitive bidding for the sale of our precious, 'belongs to the people of Vancouver', property?"
Who do the folks at the Vancouver Cedar Party think they are? Heck, you'd think they live in Vancouver, and have a dog in our 2014 civic electoral fight.
Oh, you mean, these Vancouver Cedar Party folks, they do actually live in Vancouver, and they're running candidates to defeat Vision Vancouver this November 15th. Good luck to them, those newby civic electoral naïfs — as if that's going to happen, given the millions of dollars that developers have poured into Vision Vancouver coffers these past six years, and more!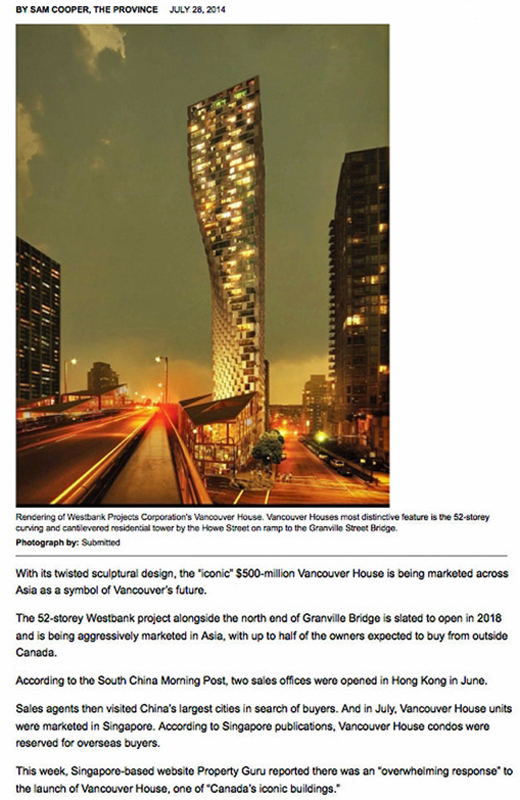 And to top it off, Chernen and his bothersome, irksome group of detectives go about quoting a July 28, 2014 Sam Cooper article in The Province newspaper — but three weeks late, cuz Green Party of Vancouver Council candidate Pete Fry had already written a blog post about the 52-storey Westbank project at the north end of the Granville Bridge.
And, just like the folks at the Cedar Party, Pete Fry goes and sticks his nose where it don't belong, and casts aspersions on the character of the Mayor and his Vision Vancouver colleagues, in having approved the Vancouver House development (you remember Vancouver House, with that annoying 'star' architect Bjarke Ingels on our TV every night, endlessly overselling just how wonderful Vancouver House will be once it's finished) — not that anyone in Vancouver will be able to afford to live there, but like who cares anyway, except maybe the Cedar Party, and Pete Fry, both of whom point out that Vancouver House is being marketed exclusively (an allegation since corrected) to wealthy overseas buyers — replete with (gosh, wouldn't it be nice?) "special absentee owner concierge services and a fleet of luxury BMWs on reserve". But there you go again, with those annoying Cedar Party folks, and Fry, chiming in with a quote from Cooper's article:
"According to the South China Morning Post, two sales offices were opened in Hong Kong in June ... (with units) marketed in Singapore ... reserved for overseas buyers ... (meeting with an) overwhelming response."
As we say, looks like folks from Vancouver won't be able to afford Vancouver House, anyway — well, certainly not you or me.
Like, so what, eh? The folks who live in Vancouver have bigger things to worry about — will the kids be back in school on September 2nd, or when to set aside some time to go to the PNE, and important stuff like that.
Who does that Pete Fry guy think he is, anyway, questioning his betters — I mean, Geoff Meggs and Andrea Reimer, they done got themselves elected to Council, and the folks who live in Vancouver put their trust in them, and now youse got this Pete Fry fella askin' questions, like somehow he's got a right to ask questions of his betters. Gosh, we think not. Heck, you'd think that there was an election going on, or sumptin' like that there.
And, don'tcha know — probably under a threat of a lawsuit — The Province pulled the original story, and all readers can find now is this correction.
Thank goodness the Non-Partisan Association seems to think that the Vancouver House skullduggery is just fine, with nary a peep from NPA Mayoralty hopeful Kirk LaPointe — although, one supposes, these are early days in Campaign 2014. LaPointe will certainly have to enunciate a position on development once the civic election campaign begins in earnest.
Let us hope that the NPA narrative on development in our city differentiates itself from the Vision Vancouver development narrative, which is ...
"Hey folks, it's only development we're talkin' about here. You should let your betters make decisions on your behalf, cuz we know what we're doing, and you don't. Honest, there's nothing to see here folks, just move along. Don'tcha know, the PNE is on, and there's this darn teacher's strike that's happenin', you don't want to worry your pretty little heads with something as stupid and arcane as development. Ewww, that's yucky stuff — you're not really interested in that. Oh look — a bright shiny object. Pretty, isn't it?"
And thank god, too, that the naïfs and ne'er-do-wells over at COPE headquarters could give a good goddamn about secretive and unsavoury development in our city — gosh, they're only concerned with turning our city into a communist paradise. Me, I can't wait til they issue the drab grey uniforms that we'll all have to wear when COPE takes over — gosh that'll be no fun, and don'tcha know that's exactly what COPE wants, for all of us to live under the yolk of COPE oppression. Gosh, that oughta be great!
And best of all, thank God we've got such a subservient media, who wouldn't say shit if their mouths were full of it. Well, it is Vision Vancouver, after all, and who in the media would dare to question the majority party that has reigned supreme at Vancouver City Hall these past six years?