November 8, 2017
As results from Tuesday's U.S. elections rolled in last evening, progressive voters across the United States witnessed history as Democratic party candidates made gains in once-conservative districts and majority GOP state legislatures, turning the tide majority blue in one state after another.
Makes no mistake, the results of Tuesday's U.S. election do not portend well for President Trump, and the do-nothing Republican party of which he is the nominal head, all but derailing GOP chances in the 2018 mid-terms.
The Democratic Party's crowning success of the night came in Virginia, where Lt. Gov. Ralph S. Northam, an understated physician and Army veteran, won a commanding victory for governor, overcoming a racially charged campaign by his Republican opponent and cementing Virginia's transformation into a reliably Democratic state largely immune to Trump-style appeals. The Washington Post called Northam's victory, a triumph of "decency, civility and moderation over fear, dread" and the barely veiled racist coding of his opponent, in a welcome rebuke to Trump intolerance.
In the most heartening event of the evening, Virginia's 13th District Democratic candidate Danica Roem smashed a barrier on her way to becoming the first openly transgender person elected to a seat in a U.S. statehouse, defeating her Republican opponent Robert Marshall, who referred to himself as the state's "chief homophobe" and, earlier this year, introduced a "bathroom bill" referencing transgender individuals. Roem's victory brought tears to the eyes of seasoned advocates on Tuesday night.
Roem was one of three transgender persons elected to office on Tuesday. As Sarah McBride tweeted out last evening ...
And in a three-for-three victory for transgender persons, Tyler Titus, a clinical psychologist and a Democrat, won one of four open seats on the Erie, Pennsylvania School Board Tuesday evening, the first openly transgender person ever elected to public office in the Quaker state.
Virginia now has a Democratic governor, as does New Jersey, where Phil Murphy beat out Chris Christie's Lieutenant Governor, Kim Guadagno, in what proved to be a comfortable win for the Democrats. And Philadelphia's new Democratic district attorney, Larry Krasner, has been called the "most progressive, reform-minded District Attorney of any major city in America."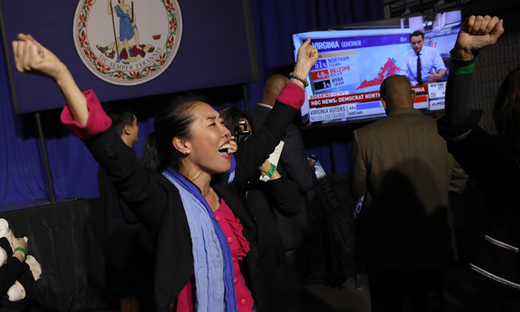 Anyone who believes in equality among all genders, ethnicities, and social and economic classes, witnessed a great many wins for progressives across the United States on Tuesday evening, where (for instance) two black, Democratic Lieutenant Governors — Virginia's Justin Fairfax and New Jersey's Sheila Oliver — were elected. Fairfax is a member of Planned Parenthood of Metropolitan Washington's Board of Directors and has defended women's reproductive rights in the past. Oliver has vowed to invest more in affordable housing, higher education and new industries. "Democrats are going from zero to two black lieutenant governors tonight," Washington Post reporter Dave Weigel tweeted out on Tuesday evening.
In other United States Tuesday night election news ...
The victory of Democratic governors in Virginia and New Jersey will bring an end to Republican gerrymandering in those two states;
Maine voters approved a ballot measure on Tuesday to allow many more low-income residents to qualify for Medicaid coverage under the Affordable Care Act. The vote was a rebuke of Gov. Paul LePage, a Republican who has repeatedly vetoed legislation to expand Medicaid. At least 80,000 additional Maine residents will become eligible for Medicaid as a result of the referendum;
In the highest-profile Washington state legislative race in years, Democrat Manka Dhingra held a 10-point lead over Republican Jinyoung Lee Englund Tuesday night for the 45th District state Senate seat. Ballot counting will continue throughout the week, with the next update coming Wednesday afternoon. At present, a Republican-led coalition holds a one-vote majority in the Senate, while Democrats control the House and the governor's office. Tina Podlodowski, chairwoman of the Washington State Democratic Party, told the Seattle Times that a victory by Dhingra will flip the state of Washington completely blue, becoming the last brick in the big blue wall up and down the West Coast;
And then there are the small victories such as the one that occurred nearly 10 months after New Jersey Republican legislator John Carman shared a meme on Facebook asking if the historic Women's March would be "over in time" for its participants to "cook dinner," the response of newfound Democratic candidate Ashley Bennett to the "social media mocking and belittling people who are expressing their concerns about their community and the nation" resulting in Bennett soundly defeating and taking Carman's seat on the Atlantic County Board of Freeholders, a nine-member governing body that oversees politics in the South Jersey county. Bennett was one of thousands of women across the United States to dive into politics after Trump's victory last year. Hallelujah;
On Tuesday evening, two powerful, veteran House Republicans announced they would not seek re-election next year, the latest conservative lawmakers to commit to leaving office under President Trump. Representatives, Frank A. LoBiondo of New Jersey and Ted Poe of Texas, made their announcements within hours of each other and added their names to a growing list of Republicans bowing out before the mid-term elections. The rush of retirements — 29 House Republicans have left office or announced plans to leave within the past year, compared to only 7 House Democrats — has led some, particularly eager Democrats, to believe that the House of Representatives could look very different in 2019.
Though it's true Americans elected Trump just one endlessly long year ago, 2017 Election Night might be proof that politics and ideologies are shifting — and that those who want change are acting on the desire by voting.
November 3, 2017
Every year in late September thru mid-October, for 36 years now dating back to 1981, for 16 magnificent days the Vancouver International Film Festival brings the best of world cinema to our shores, offering as it has for so very long a humane, engaging window on our often troubled world.
But what of the remainder of the year?
Where will cinéastes find the best in world cinema over the remaining 50 weeks of the year? The answer is simple: the comfy-as-all-get-out 175-seat Vancity Theatre located at 1181 Seymour Street at Davie, designed by Hewitt and Kwasnicky Architects, and opened in September 2005 just in time for that year's tremendous-as-always annual Vancouver film festival.
Yes, the year-round venue of the Vancouver International Film Festival (VIFF) is a warmly inviting not-for-profit cinema, operated by the film festival society on a site leased to VIFF at a nominal rate by the City of Vancouver, the City extracting from the developer, the Amacon & Onni Group (in exchange for greater height of their two Brava condominiums), a community amenity contribution that led to the construction of one of Vancouver's most important year-round cultural resources, The Vancity Theatre — for which construction contribution you would have to think the late, celebrated Vancouver City Councillor Jim Green played a pivotal role.
br>The comfy year-round VIFF venue, the 175-seat Vancity Theatre on Seymour, at Davie
Unlike the Toronto equivalent of The Vancity Theatre — The Bell Lightbox Cinema — which is losing money and contributing to the many woes of the Toronto International Film Festival, our Vancity Theatre is doing just fine.
Globe & Mail Arts Editor Barry Hertz and Molly Hayes have reported ...
Audiences aren't showing up for screenings at the Lightbox building on King Street West, designed to provide a headquarters for TIFF year-round and serve as a draw for both local film lovers and tourists.

Conversations with more than 40 current and former TIFF employees, and two dozen other individuals close to the organization, present a picture of an institution whose vision is unarticulated and whose current business model appears to diverge with industry and audience trends.
Why is the Vancity Theatre doing so well in the era of streaming sites such as Netflix & Amazon Prime, which has viewers shifting their focus towards Dolby 7.1 surround-sound all-the-bells-&-whistles QLED home theatres?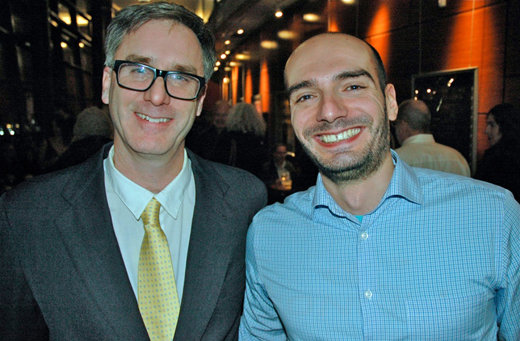 br>Vancity Theatre's Tom Charity, left, with the Italian Cultural Centre's Giulio Reccchioni
Two words: Tom Charity, who then VIFF Director Alan Franey (currently VIFF's Director of International Programming) identified as a potential saviour of a Vancity Theatre which had fallen on hard times audience-wise. Since 2012, the utterly calm and phenomenally astute Mr. Charity has tapped into the unconscious consciousness of every demographic of film lover who resides across the Metro Vancouver region, and programmed The Vancity Theatre to a dizzyingly captivating and undreamed of success.
The new film from acclaimed Australian director Benedict Andrews, Una (just click on the preceding link for dates and times) — which given the current, righteously angry #MeToo furore couldn't be more timely, given the film's sexual trangression subject matter, stars Rooney Mara, Ben Mendelsohn and Ruby Stokes in what can only be described as a challenging, transgressive film — opens today at The Vancity Theatre. There are only 7 screenings between this evening & Una's final screening, Saturday, Nov. 11th, so you'll want to purchase your tickets soon.
The Divine Order, one of VanRamblings' 5 favourite films at VIFF 2017, and Switzerland's Best Foreign Language Film Oscar nominee, opens two weeks from today, on Friday, November 17th. The Divine Order is simply a knockout, providing a gentle, humane, slice-of-real-life insight into the plight of Swiss women prior to 1971, when women were not allowed to vote, and were little more than chattel. The Divine Order, though, is as far as you could get from dour, this suffragette feminist film embracing hope, with a good deal of warmth and humour in the mix. We'll write more about Petra Volpe's The Divine Order on its opening day at The Vancity Theatre.
Click on this link for a full listing of all the films Tom has booked into The Vancity Theatre between now and December 3rd. Tom always books a rockin' holiday season programme (one could almost live at The Vancity Theatre from early December through early in the new year, and be all the better for it). The Vancity Theatre. Make a commitment to yourself: attend VIFF's year-round venue this month or next. You'll be mighty glad you did.
November 2, 2017
br>Newly-elected leader of the federal NPD speaks to the party's enthusiastic Vancouver supporters, in a speech given at The Imperial on Main, Wednesday night, November 1st
Young, energetic, articulate and clearly very bright, self-assured yet humble, charismatic, caring, Canada's first non-white federal leader, representing generational change, fearless, embraced by NDP party activists across the land, hopeful, thoughtful and decidedly not halting in his speech, necessarily possessed of a clear sense of social-justice goals based on egalitarian principles, a dapper young politician who currently represents an urban, ethnically mixed riding in the Ontario legislature and — maybe, just maybe — Canada's next Prime Minister, Jagmeet (pronounced Jugmeet) Singh made his way to Vancouver on Wednesday evening, introduced by NDP stalwart Constance Barnes, for a meet-and-greet at The Imperial on Main with a cross-section of party supporters.
Celebration. Good cheer. Singh = much-need change for the better, for all.
More Celebration

My friends, neighbours and NDP compatriots Bill Tieleman and Shirley Ross celebrated their 25th wedding anniversary this week, for which event VanRamblings wishes them a heartfelt congratulations on lives well-lived, and loved, and the respect, admiration and love of your many friends.
br>Shirley Ross and Bill Tieleman celebrate their 25th wedding anniversary at Bishops
More Cause for Celebration (on a somewhat less salutary note)

What did we do before the advent of streaming video on Netflix? Were we actually truly living life without the ready access Netflix affords to 5600 movies of quality and 3500 TV shows, all for as little as $10 a month?
br>Dee Rees' Sundance winner, starring Garrett Hedlund, Jason Mitchell & Carey Mulligan
One of the best reviewed films of the year, a smash hit at the Sundance Film Festival way back in January, and fortuitous for ye, me and thee, as it is set for a day-and-date release — which is to say, Mudbound will be available both at your local multiplex and on Netflix — on Friday, Nov. 17th.
Otherwise, there's Godless — a 7-episode oater from Oscar winning director Steven Soderbergh, set in 1880s La Belle, New Mexico, a town mysteriously made up entirely of women. Stars Downton Abbey's Michelle Dockery, Jeff Daniels, Jack O'Connell, Scott McNairy and a cast of hundreds.
Or, how about the fifth and final season of the peerlessly involving Longmire television series. Or, Birdman or (The Unexpected Virtue of Ignorance), Alejandro Gonzàlez Iñàrritu's 2015 multiple Oscar winner. Or, Logan — another in the Marvel Wolverine series, which sees Hugh Jackman reprising his signature role. Or Gold, starring a less than hirsute Matthew McConaughey, which proves to be a surprisingly involving watch.
Then there's the début of Spike Lee's update of 1986's She's Gotta Have It. Should you watch the New to Netflix in November video above, you'll find much, much more on offer from Netflix in the month of November.
Final tip: if you haven't watched Kornél Mundruczó's 2014 Cannes' Un Certain Regard award-winning masterpiece, White God (VanRamblings' favourite film this decade), you oughta. The Los Angeles Times says ...
This small, touching fable about a girl and her dog becomes an adrenaline-pumping thriller about animals against humans in Hungarian filmmaker Kornél Mundruczó's exhilarating radicalization allegory White God. By turns Dickensian, Marxist and dystopian, it's a movie as deliriously unclassifiable as it is expertly focused in its desire to provoke and entertain.

The films opens with beautifully dreamlike shots of 13-year-old Lili bicycling down the empty streets of Budapest until scores of dogs careen around a corner, their bodies in full, magnificent motion. Are they following her? Or chasing her? By the time Mundruczó returns to that scene as something literal, it's a powerful, pure-cinema reminder that the iconography of freedom and uprising needn't only belong to humans.
And, yes, White God is on Netflix — you'll want to add it to your list now.
November 1, 2017
br>Bike lanes are a big vote-getter for Vision Vancouver with their cyclist coalition
Following a fifth place showing for Vision Vancouver by-election Council candidate Diego Cardona — not to mention a by-election loss of one seat (now down to 3 trustees) at School Board, with Vision finding themselves all-but-wiped-out at Park Board in the 2014 municipal, hanging on to only one seat — much has been written about the pending demise of the now 12-year-old municipal party that has held power at City Hall since 2008.
Veteran reporter and longtime Vancouver Courier municipal affairs columnist, Allen Garr, has even speculated about a possible, informal left-of-centre alliance involving OneCity Vancouver, the Greens and COPE ...
... with a Vision Vancouver 2018 Council ballot that would give room to the other parties. And that would likely mean at least one slot for OneCity, Judy Graves, for example; possibly Jean Swanson with COPE's blessing; and two slots for the Greens, including incumbent Carr. As well, Vision has apparently (in early negotiations) already promised a slot for their by-election sacrificial lamb, Diego Cardona.
Yawn. As if OneCity has any intention of forming an alliance with a "developer party like Vision," with much the same refrain commonly heard from most members of COPE and the Vancouver Greens. Could happen, but at this point in time such a left-of-centre alliance seems highly unlikely.
Even with the recently-announced provincial imposition of new municipal electoral finance reform limiting donations to $1200 per person, Vision Vancouver still maintains a distinct advantage as we head into next year's municipal election — by a wide margin, VanRamblings would suggest.
Why? Coalition and identity politics, the latter defined as "voters going to the polls in their own self-interest, based on issues such as Union membership, gender identity and LGBTQ+ issues, and generational issues" — think bike lanes, loved by the young, and the health conscious.
Unions. The new provincial legislation will not prevent Unions from across Metro Vancouver from operating dozens of phone rooms to get the vote out for Vision, with literature provided to the 45,000 Union members who reside in Vancouver reminding them that the last NPA administration locked workers out at City Hall for three months, as the Sam Sullivan administration attempted to gut CUPE's contract.

Union members will be reminded that for the past decade Vision Vancouver has signed a series of Union contracts at 4% a year (including benefits), setting the standard for municipal bargaining across the province, and during the years of the Campbell-Clark Con-Liberal provincial government that had set a zero-zero-zero mandate, had moved the government off of that so-called mandate, the provincial government eventually signing Union contracts at 2% annual wage increases (plus increased benefits), all of which had a salutary effect on the non-unionized sector of the population, as well.

Pocketbook politics. What are the chances that any Union member voting in Vancouver will cast their ballot for a return to the hoary old days of the NPA, particularly when there's a far-right-of-centre movement afoot to take over the NPA (as if the party wasn't right wing enough), with an eye to trashing workers rights on every possible level?

Cyclists. If the Union vote for Vision Vancouver is a lock, you know for certain that the 20,000+ strong cyclists' coalition will make their way to the polls in droves to support the only civic party in Vancouver in favour of active transportation, and bikes and bike lanes in particular.

The more the right-of-centre folks whine about the "imposition" of bike lanes, or start thoughtlessly stupid anti-bike lane petitions, the more gregarious the voting cyclist population in Vancouver becomes, as they work to ensure their families get to the polls to cast a ballot for Vision Vancouver. Good on the NPA supporters for coming out against bike lanes — you may consider every whiny social media post against bike lanes as another sure vote for Vision Vancouver come October 20, 2018.

LGBTQ+ community. In the 2014 Vancouver municipal election the West End vote for Vision Vancouver was 73%. If Unions are working overtime to ensure their members cast a ballot for Vision Vancouver, and the cyclist coalition in our city are doing the same thing, neither of the groups can hold a candle to the power of the LGBTQ+ community to get the vote out for Vision Vancouver — who will turn out in droves for their favoured civic party, in each and every neighbourhood across the city.
The 2017 Vancouver by-election — for the most part — was an outlier vote, and in the greater scheme of things Vancouver-municipal-vote-wise means absolutely nothing as any kind of vote predictor for the next civic election.
Vision Vancouver — and the Union, cyclist and LGBTQ+ coalition — all-but-sat-out the 2017 Vancouver by-election, realizing there's a fair bit of voter hubris for the reigning municipal party, as is generally true in by-election voting when it comes to a political party that's been in power for 10 years.
br>The Trudeau government, John Horgan's provincial government and Vision Vancouver will announce thousands of new housing co-op homes under construction in 2018
And let us not forget, either, that with three progressive governments in power at the federal, provincial and municipal levels — for the first time in 45 years — Vision Vancouver finds itself in the catbird seat in the lead-up to the next civic election.
Housing? You can bet with recent Vision Vancouver City Councillor Geoff Meggs in place as Premier John Horgan's Chief of Staff, and Vision Vancouver supporter / Vancouver-Point Grey MLA David Eby sitting as a key member of the NDP government's Housing Cabinet Committee that a big time housing announcement involving the construction of thousands of genuinely affordable (mostly housing co-operative) homes will be announced either late next spring, or in early September — that pending announcement, at least in part, meant to bolster Vision's chances for re-election. The Trudeau government will also want to get into the housing announcement as a major funder, in order that by the time the 2019 federal election is underway, Mr. Trudeau can point to thousands of homes under construction thanks to funding from his government.

Transportation / Broadway Corridor
. As much as VanRamblings would like to see light rail down the Broadway corridor, all three levels of government are wedded to the idea of a high-speed subway down the Broadway corridor, with all the preparatory work now complete. You can bet dollars to donuts that Prime Minister Trudeau, Premier John Horgan and Mayor Gregor Robertson will make a joint announcement in the lead-up to the October 20th, 2018 election confirming that funding is in place, and construction of the Broadway corridor high-speed, underground transportation line / subway will be underway by mid-year 2018.
Hallelujah, and save the day. Thousands of new affordable homes under construction in Vancouver, and a rapid transit line down Broadway also under construction — all due to the fine negotiating skills, don'tcha know, of our perspicacious and once-and-forever Mayor, Gregor Robertson!
The October 20th, 2018 Vancouver municipal election will be a whole other kettle of fish: Vision will put all the resources at their command into getting out the vote, their bike lane and cyclist supporter coalition will get out to the polls in droves, and Unions will be working overtime to ensure that the 45,000 Vision Vancouver Union-vote remains rock solid. And since attack politics worked so well for the BC NDP in the May 19th provincial election, you can bet that Vision Vancouver will pull out all the stops to ensure their progressive voter coalition sweeps them back into power a year from now.
October 31, 2017
On Monday evening, October 30th, in one of the most touching political inauguration ceremonies VanRamblings has ever had the privilege of witnessing, an utterly serene, ever-so-bright and warmly articulate, becomingly genuine and humble, and surprisingly humourous second term Green Party of Vancouver Board of Education trustee, Janet Fraser, was elected as the new, well-supported Chair of the Vancouver School Board.
Present for the inauguration of the new Board were ...
The families of the newly-elected trustees. It was all that the youngest daughter of NPA trustee (may we say, the incredibly fabulous) Lisa Dominato could do not to run up to her mom during the inauguration ceremony to sit on her mom's lap, while newly-elected Vancouver School Board Chair Janet Fraser made comment during her opening address as the new Chair that her two children were present for the inauguration ceremony, stating (with a becoming degree of wry levity) to the many well wishers gathered in the Board Room that she trusted her children had managed their time well, and completed their homework.
Past Vancouver School Board trustees. COPE's (now OneCity Vancouver's) Al Blakey was present, as was COPE / now OneCity Vancouver's Ruth Herman, Vision Vancouver City Councillor and early 21st century Vancouver School Board trustee, an absolutely radiant Andrea Reimer, and recent School Board Chair (still one of VanRamblings' favourite people on Earth), Christopher Richardson were all present to wish the new Board well in their endeavours.
Politicos galore. The NPA's generational leader Sarah Kirby-Yung, the principled John Coupar, and the gloriously humane and friendly Casey Crawford were present representing Park Board, as was VanRamblings' nemesis (?), the Green Party of Vancouver Park Board Commissioner, Stuart Mackinnon. Green Party Councillor Adriane Carr was sitting right behind us, next to Green Party Executive Director, Jacquie Miller. Failed NPA School Board candidate Rob McDowell was present (wondering why he wasn't elected, yet still beatific — next time, Rob, next time).
Senior Vancouver School Board administrative staff were also present, looking nonplussed, wondering what the heck kind of Board the public had just elected. As a public service, VanRamblings did our best to assure administrative staff that the incoming Board was a calm and respectful group, entirely focused on serving the needs of students in a decidedly non-political and non-confrontational manner, and that all was good — admin staff still seemed somewhat querulous as to what lays ahead.
Trustees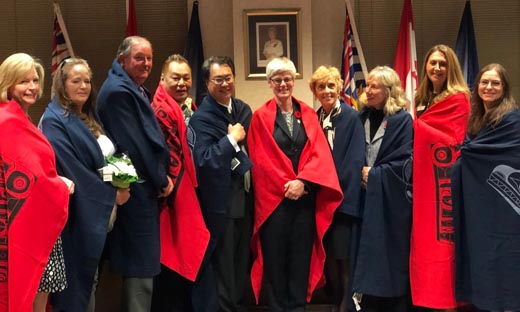 br>Newly-elected Vancouver School Board trustees take office at their inauguration, a moving part of which involved an indigenous ceremony wishing the new trustees well.
Green Party of Vancouver trustee Estrellita Gonzalez was, by far, the best dressed of the trustees, subtle, low key, gorgeous, and ready to settle down to business. Now, you could take an unlimited budget and dress and coif VanRamblings to the nines (as past NPA Mayoral candidate Kirk LaPointe would like to do with us), and we would still not look 10% as business-like and utterly fabulous as was the case with Ms. Gonzalez — very much a woman with whom to contend, from all appearances.
The NPA's Lisa Dominato was utterly charming (and, perhaps, the only person in the room who was glad to see us). Carrie Bercic's presence at the Board table all but had VanRamblings in tears — we're not sure if we've ever met a kinder, warmer, and more authentically humane and values driven person than Ms. Bercic. Fraser Ballantyne was friendly and came over to say hello to Christopher Richardson and VanRamblings — now, if there's a person who has every right to want to tear us from limb to limb, it's Fraser ... instead, he was friendly, welcoming and utterly charming.
If Janet Fraser has any competition in the calm and serene department, it would be Vision Vancouver trustee Joy Alexander — who simply radiates joy in her very demeanour, her warm smile creating an aura of safety (no mean feat, that). Ken Clement brought a warmth and humane consciousness to the proceedings on Monday evening. What was missing from the last Board? The humane presence of Ken Clement, who Patti Bacchus told us she missed more than words can express on the last Board. Of course, the entirely tremendous Allan Wong was present — the single most calming presence at the Board, an utterly dedicated Board of Education trustee, serving the interests of all Vancouver students.
SFU's Dr. Judy Zaichkowski was also present, a quiet but authoritative presence on the new Board, who during the reception following the inaugural ceremony made a point of greeting as many of the good folks gathered in the Board cafeteria as was humanly possible, a reassuring presence who in her very demeanour seemed to radiate a commitment to respectful democratic engagement.
br>Vancouver School Board inaugural meeting, before Janet Fraser was elected as Chair
Sources within Vision Vancouver told VanRamblings on Monday evening that the once majority party on the Board had decided this past weekend to support the candidacy of Green Party trustee Janet Fraser as the new Chair, as must be the case with OneCity Vancouver's Carrie Bercic — given that only Ms. Fraser and the NPA's Lisa Dominato were nominated as Chair (we're not entirely sure Ms. Dominato even voted for herself in the secret ballot that was held). VanRamblings predicts the time will come when Lisa Dominato serves as Vancouver School Board Chair, not as a person of division but as a unifying political force with an unerring social conscience.
VanRamblings was told Monday evening Dr. Fraser has already offered the position of Vice-Chair of the Board to one of her fellow trustees, this information passed on with a glint in the eye of the individual who gave us this bit of news. We could have pushed to find out who — but we'll wait.
For the next year, Dr. Janet Fraser will be the able, calming, incredibly hard-working and democratically-engaged Chairperson of the Vancouver School Board — VanRamblings couldn't be more thrilled!
As per the press release issued by the Vancouver School Board ...
In the coming days, trustees will be assigned to standing committees in consultation with the Board Chair, as liaisons to specific schools and as Board representatives to other committees and other organizations.

Dianne Turner, who had served for the past year as official trustee, now begins her role as special advisor to the Board.
At inaugural ceremony's end, Dr. Fraser announced the next meeting of the new Board of Education will take place on Monday, November 27th.
October 30, 2017
br>The British Columbia Cabinet of NDP Premier John Horgan, sworn in on July 18, 2017
When Vancouver-Point Grey MLA David Eby was sworn into government on July 18, 2017 as British Columbia's 36th Attorney General, members of the recently de-throned B.C. Liberal party government (and their supporters) targeted David Eby with a vicious take down campaign, in one of the biggest political blunders ever conducted by an 'out of government' political party. Vancouver City Councillor / B.C. Liberal farm team activist Melissa De Genova was assigned the role of conducting the 'take down David Eby' social media campaign, focusing on a 9-year-old letter from the Vancouver Police Union President, Tom Stamatakis, in which he declared that Mr. Eby "never let the facts or context" interfere with a "smear campaign" of Vancouver Police. The issue, at the time, was the August 13th 2007 police shooting of 39-year-old Paul Boyd, who had been shot eight times.
In a July 19th article in the Globe and Mail, newly-elected Liberal MLA Jas Johal elaborated in a statement: "David Eby has a long history of criticizing law-enforcement officials and making misleading statements about women and men in uniform.

David Eby wrote a book on how to sue the police, criticized police activities at the 2010 Olympics, and his anti-police activism has drawn sharp rebuke from the head of the Vancouver Police Union.

Now [Premier] John Horgan has put someone with a long track record of fighting the police in charge of upholding the law."

Mr. Eby, who was just turning 40 when the B.C. Liberal / NPA-generated brouhaha began had stated in an April interview with The Globe and Mail that he welcomed the combative approach Mr. Horgan brought to politics.
Tch, tch, Mr. Johal and Ms. De Genova — you know not what you do.
For, you see, over the course of the past four years — since first being elected to government — David Eby has emerged as one of the most trusted and beloved political figures to ever grace the hallways of the B.C. Legislature. As such, he has proven to be all but immune from the politics of personal destruction as played by a louche political opposition party. The phony mid-July "David Eby controversy" generated by the B.C. Liberals died almost as quickly as any notion that Donald Trump is somehow "presidential" — no one bought the B.C. Liberals' grievous line of malarkey.
br>David Eby & his lovely bride, with inauguration attendees in Victoria, July 18th, 2017
So what has the indefatigable David Eby been up to since being sworn into cabinet on Tuesday, July 18th — aside from introducing electoral finance & lobbyist reform legislation, vetting all government legislation that makes its way onto the floor of the British Columbia Legislature, and doing yeoman's work as the Minister Responsible for ICBC — he'll wrestle those premiums down, in keeping with the mantra of the John Horgan government to keep life affordable for all British Columbians — and Minister Responsible for gaming policy and enforcement, and liquor control and licensing, announcing plans for an autumn 2018 referendum on proportional representation, working with stakeholders to reform B.C.'s justice system, and seeking (and achieving) intervener status in the current court case against Kinder Morgan, among a myriad of other successful endeavours?
For those of us fortunate enough to reside in the riding of Vancouver-Point Grey, we know — cuz David, and his able constituent support team posted a newsletter to us this past weekend.
Which is great for us, but not-so-great for those of you who do not live in the most westerly part of our wonderful city of Vancouver (and, no, not all of us who reside in Kitsilano / Point Grey are zillionaires — there are a great many students who live in the riding, as well as longtime renters who reside in affordable accommodation, and seniors, just like VanRamblings, who live on a small fixed income in a toasty warm housing co-operative).
Do you want to read David Eby's October newsletter? Yep — we thought you did. All you have to do to read the newsletter is click on the 'Read More' link just below, and VanRamblings will present to you the October 2017 David Eby Constituent Newsletter. Read it — you'll be glad you did!
Read More...
October 26, 2017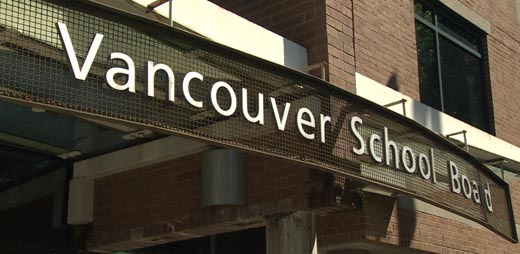 At 7pm this upcoming Monday, October 30th in the main Board room of the Vancouver School Board — located at West Broadway and Fir Streets (your attendance is encouraged) — nine newly-elected Board of Education trustees with be sworn in to sit as our elected VSB representatives through until the next Vancouver civic election, set for less than a year from now, on Saturday, October 20th, 2018. The following nine novice and experienced trustees were elected by a bitterly small turnout of the voting electorate, with only 10.99 per cent of eligible Vancouver voters turning up at the polls on by-election voting day, held on Saturday, October 14th.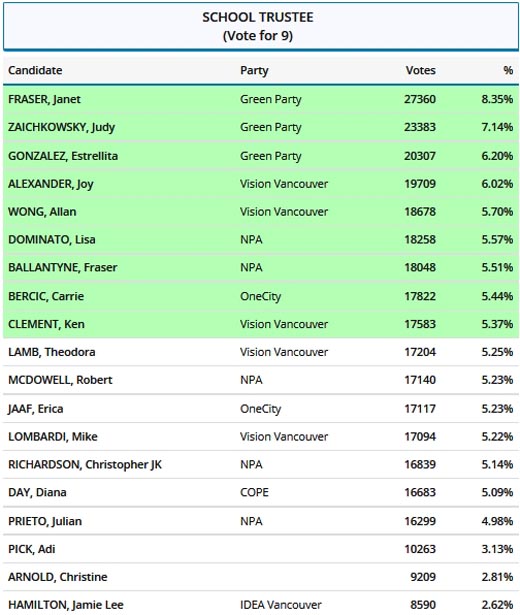 The Vancouver School Board by-election was necessitated arising from the decision of the previous B.C. Liberal Minister of Education, Mike Bernier, and then Premier Christy Clark's administration to fire the Board for failing to pass a budget (which they were going to do on the evening they were fired by the Minister — but that's politics for ya as practiced by the previous, now ousted anti-public-education B.C. Con-Liberal government), and the campaign commitment by Premier John Horgan's newly-elected provincial administration to hold a Vancouver School Board trustee by-election at the earliest possible opportunity in his new administration.
PART THREE: THE VANCOUVER SCHOOL BOARD
In today's column, the final by-election wrap-up column (be forwarned, it'll be lengthy, indeed) — sure to please no one, least of all the Green Party of Vancouver — where today we will attempt to provide insight into the exigencies of the by-election, and what the VSB by-election results will mean for all of us over the course of the next year, and into the future.
br>Green School Board trustees Janet Fraser, Dr. Judy Zaichkowski & Estrellita Gonzalez
The Green Party, municipal, provincial or federal, is less a "party" than it is an amalgam of opportunists possessed of no overriding philosophy, other than supposedly being the "environmental party" — and, let's face it, they even have a hard time living up to that claim, given that the Greens believe in moral suasion over legislative inducement for corporations to "do better". Although most of the folks affiliated with the Green Party mean well, given that the Greens don't stand for anything in particular, what you have with the Greens is a rugged group of generally non-political neoliberal (for the record, VanRamblings hates that epithet), almost libertarian, iconoclasts.
Somehow, though — because Vancouver voters generally like federal Green Party leader Elizabeth May, and Vancouver City Councillor Adriane Carr — the Green Party manages to secure the votes of a goodly portion of the electorate at the polls: members of the naïve left who believe the Greens are progressive (they're not), and right-of-centre folks who see the Greens as some form of Liberal / Red Tory alliance (which is closer to the mark).
All of which explains why Green Party candidates, including recently fired and even more recently re-elected Vancouver School Board trustee Janet Fraser, emerged as the top vote-getters in the recent by-election.
Janet Fraser. The unassuming person in the picture above may, or may not be the incoming Chair of the Vancouver School Board, who up until mere hours before publishing today's column VanRamblings believed would be acclaimed in that position by all nine of the new Board of Education trustees, at the first meeting of the new Board next Monday, October 30th. We are no longer quite so certain — politics at the Board, as would seem to be the case at present, so thick and morbid as to fell a horse in mid-stride.
At no point during the recent Vancouver School Board by-election did VanRamblings endorse Dr. Fraser, nor for that matter any of her Green Party colleagues. We do not believe Dr. Fraser to be a particularly vocal proponent of public education — unlike the five Vision Vancouver by-election candidates, the two One City candidates, or COPE's Diana Day.
Not for no reason did Dr. Janet Fraser support 2014 NPA-elected school board trustee (and the lowest vote-getter) Christopher Richardson as the new Chair of the Vancouver School Board, and six months later when Dr. Fraser demanded that the very same Mr. Richardson step down, chose to vote for his NPA colleague, right-of-centre trustee Fraser Ballantyne (who, even as you read this, is doing his level best to stab Dr. Fraser in both the front and back) as the new Chair, her vote putting the "not at all advocates for public education" NPA in charge at the Vancouver School Board.
Still and all, Dr. Janet Fraser may become the new Chair of the Vancouver School Board. What would that mean for parents with children enrolled in the Vancouver school system, the children / students themselves, and for all those who consider themselves to be advocates of public education?
VanRamblings believes that with Janet Fraser at the helm, public education advocates would find they have a bloody-minded, take no guff, even-handed, largely non-political, dedicated and incredibly hard-working (let's repeat that: incredibly hard-working) Chair of the Vancouver School Board.
br>Rob Fleming, B.C. Minister of Education, and Mable Elmore, MLA, Poverty Reduction
With Janet Fraser at the helm, there'd be no politicking when it comes to negotiating with Rob Fleming, British Columbia BC NDP Minister of Education, and Vancouver-Kensington MLA Mable Elmore, who has been put in charge of the important poverty reduction file by Premier John Horgan. Negotiations for a speeded-up seismic upgrading / school replacement programme would be straightforward and uncomplicated, with Chairperson Janet Fraser making no untoward demands of the Minister. The same would be true with MLA Mable Elmore when it comes to funding of breakfast programmes in Vancouver's inner-city schools: the negotiations between Chairperson Fraser and MLA Elmore would be straightforward and in the best interests of children enrolled in the Vancouver school system.
Janet Fraser is no flaming radical, nor is she a desk thumper. Rather, Dr. Fraser is even-keeled and thoughtful, with a strong tendency towards evidence-based decision-making. Clearly, Vancouver voters got things right when they cast their ballot for Dr. Janet Fraser as both a balm, and the glue who will hold a somewhat tattered Vancouver School Board together.
Still, as you read this, the NPA is seriously considering supporting second term Vision Vancouver trustee Joy Alexander as the new Board of Education Chair of the Vancouver School Board, Fraser Ballantyne's ignoble hatred and disdain for Janet Fraser so acute and abiding as to perhaps cause him to do the unthinkable: support a Vision Vancouver trustee as Board Chair.
With Dr. Joy Alexander at the helm of the Vancouver School Board, trustees would find they have a calm, reasoned, reassuring and generally non-partisan (or non-political, if you will) trustee at the helm, a calming presence who would listen to all voices at the table and in the community, and who would be a staunch advocate for public education — which would satisfy incoming OneCity Vancouver trustee Carrie Bercic's demand that whoever is chosen as Chair be both a progressive and a vocal public education advocate — and a Chairperson that all trustees, Board administrative staff and the provincial government could both respect and work with in support of a thriving public education system in Vancouver.
Dr. Judy Zaichkowski (pictured above): Newly-elected Green Party of Vancouver Board of Education trustee. Experienced. University professor of marketing in the Beedie School of Business at Simon Fraser University, five year member of SFU's Board of Governors and Associate Dean of SFU's Dean Beedie School of Business. Possesses a Bachelor's degree in home economics. Educator who taught at Vancouver's Point Grey and Templeton Secondary schools. Suffers from a bad case of foot-in-mouth disease.
When VanRamblings attended the Vancouver Green Party by-election campaign kickoff, we heard Dr. Judy Zaichkowski give one of the most bizarro, intemperate speeches we'd ever heard a political figure make to a crowd of supposed sympathizers (and, no, we're not going to report what she said). Say senior Green Party officials, "Yes, we heard what Judy had to say at the campaign kickoff, and we spoke with her immediately after she gave her speech, strongly expressing our concerns to her. During the by-election campaign period, we worked with Judy to be more thoughtful in her remarks in a public setting and give thought to how the audience might receive her words, encouraging her to be more temperate in her remarks."
Now, we realize how odd it is that VanRamblings might be seen to express a concern about foot-in-mouth disease, given that VanRamblings has a well-known penchant for intemperance — several times in the course of a day, and more often than not requiring surgical intervention. Still. Chances that Dr. Zaichkowsky will make an off-putting, concerning and intemperate remark at the School Board table, causing her fellow trustees to look upon her aghast? VanRamblings would suggest that it's only a matter of time.
Says the Green Party, "We can only hope her professorial nature kicks in."
Estrellita Gonzalez. Founder / Director / President / small business person in charge at Vancouver's seemingly lauded westside Derma Bright Clinic (no mean feat, that). Self-styled "Queen of Living Clean." Has a son enrolled at Eric Hamber Secondary School. Graduate, Distance Education Programme, Thompson Rivers University, with a Bachelor of Business Administration in Human Resources Management. And the newly-elected Vancouver School Board trustee VanRamblings feels most sorry for.
Does Ms. Gonzalez have any idea what she's gotten herself into by being elected to the Vancouver School Board as a Board of Education trustee?
Where Vision Vancouver school board candidate Theodora Lamb brought vast community organizing experience to her candidacy, not to mention years of Board experience with the VanCity Credit Union, an organization where Ms. Lamb is Chair of the Governance Committee, and a member of the Audit and Digital Strategy Committees (not to mention her involvement with the BC Co-operative Association), and whose husband is Kurt Heinrich, a former Public Relations Manager with the Vancouver School Board (who knows where all the bodies are buried, so to speak), we can find no such community involvement or Board, Council or Committee work in Ms. Gonzalez' résumé. Don't even get us started on newly-elected NPA School Board trustee, Lisa Dominato: mother of a daughter in Grade One at a Vancouver elementary school, Chairperson of the The Kettle Society Board of Directors, an educator with 10 years experience teaching in Vancouver, and most recently the Director, Integrated Services and Safe & Healthy Schools, British Columbia Ministry of Education. In other words, qualified.
Does Ms. Gonzalez have any idea what she's gotten herself into? Says an official with the party Ms. Gonzalez ran as a candidate with ...
"We in the Green Party believe that elected office should not be the personal preserve of those who have dedicated their lives to achieving elected office. As can be seen in the recent elections in Barcelona — which unseated a municipal government that had been in power for 30 years — the Green party is a Commons-based coalition of ordinary citizens, the Green Party — as is the case with Ms. Gonzalez' candidacy, and election to the Vancouver School Board — represents an authentic departure from business as usual in the political sphere. It isn't enough just to win elections; we have to change the rules of the game."
Still, we ask again: does Ms. Gonzalez have any idea of what to expect when she finds herself seated as a Board of Education trustee next Monday at the offices of the Vancouver School Board? We have no doubt about Ms. Gonzalez' capacity to learn, nor her work ethic — given that, as representatives from the Green Party were wont to point out to us, that Ms. Gonzalez made a huge contribution of time and energy to her run for office: there wasn't an activist 'meet the voter' street campaign she wasn't involved in, an all-candidates meeting that she didn't assiduously prepare for, nor a commitment to her party or the voter she didn't meet. But ...
Ms. Gonzalez should know that most trustees, on average (for the $20,031 she'll earn as a trustee) will put in 35 - 40 hours a week meeting the demands of her new job, according to a broad cross-section of current and former trustees with whom we've spoken, a trustee's duty including ...
Attendance at the bi-weekly Vancouver School Board meetings, which involves not only attendance at the Board meetings, but participation in the in-camera preparatory meeting that takes place in the two hours prior to the start of the public meeting, and the two hours afterwards. Not to mention, Ms. Gonzalez will be gifted with a thick binder of background information on all the issues to come before the Board, information (taking hours to read and digest) she will be expected to know.
Committee work. There are five standing committees — Management Co-ordinating, Planning and Facilities, Education and Student Services, Personnel and Staff Services, Finance and Legal — one of which she'll likely Chair, and another committee on which she'll be expected to sit, those committees comprised of Board administrative staff, members of the Parent Advisory and District Students' Councils, the two teachers' associations, the professional administrative staff association, CUPE union locals 15 and 407 and representatives of the International Union of Operating Engineers, Local 963, and both the Vancouver Elementary Principals' and Vice Principals' Associations and the Vancouver Association of Secondary School Administrators. As you might well imagine, these meetings take awhile, tend to be contentious (with a great many competing agendas), and require of the Board trustees a vast knowledge of the issues. There are those strange folks who love meetings (of which VanRamblings is one, as long as those meetings are run respectfully and democratically, and each participant is provided an open and welcoming opportunity for input). Ms. Gonzalez is in for quite an education over the next year.
Liaison. With 55,500 students enrolled in kindergarten to Grade 12, and over 3,000 adult students in adult education centres, with 18 secondary schools and 91 elementary schools in the Vancouver School District, each trustee is assigned as a liaison to at least ten elementary schools and two secondary schools, where they're expected to participate as the Board liaison to the Parent Advisory Committees, not to mention which attendance at the occasional teacher meeting is always a good idea. On top of that, trustees are the liaison between not only the teachers but the administrators at the schools to the Board — which means that trustees must develop an abiding relationship of respect and advocacy for student, parent, teacher and administrator concerns.

And let us not forget, either, that the Board assigns a liaison to the Vancouver Library Board, and any number of the citizen advisory committees at Vancouver City Hall. Tired yet?
Make no mistake, sitting as a Board of Education trustee on the Vancouver School Board is nothing less than a full-time job.
For all those citizens in the community who whine about our elected officials, believe us when we say: there is no higher calling than elected office, and no matter the party or political affiliation, all dedicated elected officials (VanRamblings knows not one who doesn't throw themselves into the work, whether at Park Board, School Board, City Council, provincially or federally) give their lives over to public service, and the public interest.
In terms of time commitment, making matters even worse for Ms. Gonzalez and her fellow elected trustees: from the moment each trustee takes their seat around the Board table, they're going to be in election mode. With the 2018 Vancouver municipal election set for next October 20th, all of the trustees will find themselves spending an inordinate amount of time on the hustings, attending party functions, raising money, working closely with school trustees in other Metro Vancouver school districts (and around the province) — so as to further raise their public profile — writing opinion pieces for The Straight, the Vancouver Sun and other mainstream media, and making regular appearances on our local radio and TV stations, speaking to educational (and other) issues at the Vancouver School Board.
The next Board year will prove to be an exemplary model of vox populi.
(Click on Read More for much more School Board by-election coverage)
Read More...