August 27, 2014
Reprinted with the permission of the author of the article, Tim Louis.

Mr. Louis was a two-term member of Vancouver City Council, and will be a 2014 Coalition of Progressive Electors candidate for a Council nomination. COPE's nominating conference will be held Sunday, September 7th.
In politics, as in our personal lives, sometimes we need to revise our expectations. Other times, we have to admit we are wrong; we are required to concede that we simply did not do enough.
In the case of Vision Vancouver's highly touted and infinitely flexible promise to end homelessness, it appears that a rather shady third option is taking place. Rather than admit fault, Vision is redefining the terms to distract the public while keeping developers as its main allies.
Since its inception in 1937, the NPA (Non-Partisan Association) has been the developer's party.
For the NPA, an attitude of "everyone should enjoy the fruits of their labour" means that a developer's application for rezoning is rarely turned down. Under the old NPA and relative newcomer Vision, Vancouver has been governed to maximize developer profit, not public well being.
In 1968, COPE (Coalition of Progressive Electors) was founded as an alternative to the developer's party.
Today, the political landscape consists of not one developer party, but two: NPA and Vision. As such, COPE has always run at a disadvantage because the NPA is lavishly funded by developers, as is Vision.
Although both of the developer-backed parties make showy presentations of their dedication to free enterprise and good business practice, it is COPE that actually practices truth in advertising.
COPE candidates are pledged to uphold the policy positions democratically adopted in open meetings, unlike the developers' parties, who enjoy the fruits of developing their platform behind closed doors by a chosen few.
Vision Vancouver is a version of the NPA with bicycle lanes. Some observers refer to Vision as NPA Lite.
Meanwhile, COPE is sticking to the principles of social justice and offering an unambiguous alternative to these developer parties.
COPE is the only party offering a clear and concrete proposal to address the crisis of homelessness. With the creation of a Vancouver housing authority, COPE proposes to build thousands of units of subsidized and affordable housing which would be owned and operated by the city.
Instead of following a plan to produce results, Vision has played games with the issues of housing affordability and homelessness.
Here is one example of Vision game playing. Vision simply redefines the term "affordable housing" to include any rental housing so that when a developer applies for rezoning, the bylaw that requires a certain number of units to be affordable is meaningless. Permits are issued because any rental units, no matter how expensive, are being considered affordable when there are actually very few who are able to pay the rent.
Earlier this year, the Metro Vancouver Homeless Count revealed that homelessness has increased in our community. Vision's 2008 campaign promise to end homelessness by 2015 has been a failure. Scrambling to save face, Vision has changed the message to claim that what they actually intended to do was end street homelessness.
Although someone who uses a shelter may not be considered street homeless, they must still be counted as a person without a home. Anyone staying in a shelter is required to leave in the morning and stay scarce until evening is essentially homeless during the day.
A home is more than a place to sleep.
Vision arbitrarily changes the meaning of terms at will, in a dazzling example of what the great English satirist George Orwell called "Newspeak" in his classic study of tyranny, 1984. Rumours that the book's character Big Brother is now on stipend to write press releases for Vision cannot be confirmed at this point, but remain plausible.
Regardless, Vision's underhanded revisions of language are the party's attempt to convince the public that they are standing firmly on some sort of platform rather than tumbling with the lint in developers' pockets.
Don't we want a city council that positions itself firmly outside the fiscal influence of developers?
It's COPE that has the real plan to address the important issues of homelessness and affordable housing.
August 21, 2014

The folks in the Cedar Party are at it again, telling us stuff that we already know. Like how there was only one bidder — WestBank Corp, owned by Mayor Gregor Robertson's bestest pal and big time Vision Vancouver supporter, Ian Gillespie — on the property where the much-touted Gesamtkunstwerk Vancouver House will be built. We say, so what? If the Mayor wants to gift his good friend Ian with 'special favours', so be it.
But are the noisome folks in the Cedar Party prepared to leave it at, "That Ian Gillespie fella, he has this in with the Mayor, and with Vision Vancouver, you see, and there's just something a little unsavoury about the whole circumstance where there was only one bidder allowed on the Vancouver House site, and don'tcha know that bidder was Ian Gillespie, and doesn't it somehow seem wrong to you that Ian Gillespie 'was allowed to tie up this property for several years without paying for it until final approvals were granted, which only occurred recently?" Nope. They just can't leave it alone!
That Glen Chernen fella — you know, he's the Mayoral aspirant for the Vancouver Cedar Party — and his hearty band of civic miscreants — I mean, really, who are they to be asking questions of our esteemed Mayor and his fabulous gang of demogogues at Vancouver City Hall, the once and forever Vision Vancouver party that will rule over us for our own good, whether we like it or not, for generations to come — where does the Cedar Party get off having the temerity to ask a question like, "How can the interests of Vancouver residents be seen to be looked after if our local government gives itself the unilateral right to sell off city-owned land without even passing consideration being given to the notion of competitive bidding for the sale of our precious, 'belongs to the people of Vancouver', property?"
Who do the folks at the Vancouver Cedar Party think they are? Heck, you'd think they live in Vancouver, and have a dog in our 2014 civic electoral fight.
Oh, you mean, these Vancouver Cedar Party folks, they do actually live in Vancouver, and they're running candidates to defeat Vision Vancouver this November 15th. Good luck to them, those newby civic electoral naïfs — as if that's going to happen, given the millions of dollars that developers have poured into Vision Vancouver coffers these past six years, and more!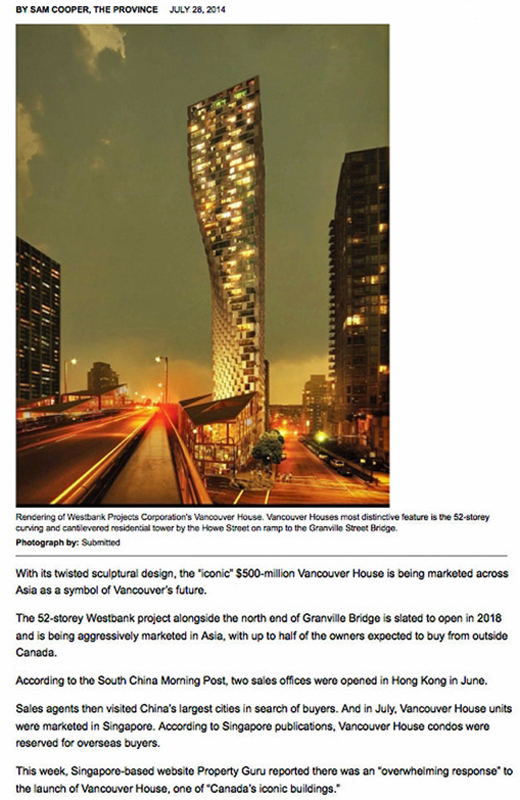 And to top it off, Chernen and his bothersome, irksome group of detectives go about quoting a July 28, 2014 Sam Cooper article in The Province newspaper — but three weeks late, cuz Green Party of Vancouver Council candidate Pete Fry had already written a blog post about the 52-storey Westbank project at the north end of the Granville Bridge.
And, just like the folks at the Cedar Party, Pete Fry goes and sticks his nose where it don't belong, and casts aspersions on the character of the Mayor and his Vision Vancouver colleagues, in having approved the Vancouver House development (you remember Vancouver House, with that annoying 'star' architect Bjarke Ingels on our TV every night, endlessly overselling just how wonderful Vancouver House will be once it's finished) — not that anyone in Vancouver will be able to afford to live there, but like who cares anyway, except maybe the Cedar Party, and Pete Fry, both of whom point out that Vancouver House is being marketed exclusively (an allegation since corrected) to wealthy overseas buyers — replete with (gosh, wouldn't it be nice?) "special absentee owner concierge services and a fleet of luxury BMWs on reserve". But there you go again, with those annoying Cedar Party folks, and Fry, chiming in with a quote from Cooper's article:
"According to the South China Morning Post, two sales offices were opened in Hong Kong in June ... (with units) marketed in Singapore ... reserved for overseas buyers ... (meeting with an) overwhelming response."
As we say, looks like folks from Vancouver won't be able to afford Vancouver House, anyway — well, certainly not you or me.
Like, so what, eh? The folks who live in Vancouver have bigger things to worry about — will the kids be back in school on September 2nd, or when to set aside some time to go to the PNE, and important stuff like that.
Who does that Pete Fry guy think he is, anyway, questioning his betters — I mean, Geoff Meggs and Andrea Reimer, they done got themselves elected to Council, and the folks who live in Vancouver put their trust in them, and now youse got this Pete Fry fella askin' questions, like somehow he's got a right to ask questions of his betters. Gosh, we think not. Heck, you'd think that there was an election going on, or sumptin' like that there.
And, don'tcha know — probably under a threat of a lawsuit — The Province pulled the original story, and all readers can find now is this correction.
Thank goodness the Non-Partisan Association seems to think that the Vancouver House skullduggery is just fine, with nary a peep from NPA Mayoralty hopeful Kirk LaPointe — although, one supposes, these are early days in Campaign 2014. LaPointe will certainly have to enunciate a position on development once the civic election campaign begins in earnest.
Let us hope that the NPA narrative on development in our city differentiates itself from the Vision Vancouver development narrative, which is ...
"Hey folks, it's only development we're talkin' about here. You should let your betters make decisions on your behalf, cuz we know what we're doing, and you don't. Honest, there's nothing to see here folks, just move along. Don'tcha know, the PNE is on, and there's this darn teacher's strike that's happenin', you don't want to worry your pretty little heads with something as stupid and arcane as development. Ewww, that's yucky stuff — you're not really interested in that. Oh look — a bright shiny object. Pretty, isn't it?"
And thank god, too, that the naïfs and ne'er-do-wells over at COPE headquarters could give a good goddamn about secretive and unsavoury development in our city — gosh, they're only concerned with turning our city into a communist paradise. Me, I can't wait til they issue the drab grey uniforms that we'll all have to wear when COPE takes over — gosh that'll be no fun, and don'tcha know that's exactly what COPE wants, for all of us to live under the yolk of COPE oppression. Gosh, that oughta be great!
And best of all, thank God we've got such a subservient media, who wouldn't say shit if their mouths were full of it. Well, it is Vision Vancouver, after all, and who in the media would dare to question the majority party that has reigned supreme at Vancouver City Hall these past six years?

August 18, 2014
A couple of weeks back, in an interview with The Straight's Carlito Pablo, former three-term Coalition of Progressive Electors (COPE) City Councillor David Cadman predicted that Vision Vancouver would likely win a third consecutive majority term in office at City Hall come this November 15th.
"I'm not a betting person but I would think, and I haven't seen any of the polls, but I would think...that they will get another majority, yeah."
As it happens, VanRamblings concurs with Mr. Cadman's prediction. Let's take a closer look at Vision Vancouver's prospects for re-election in 2014.
Vancouver Civic Election: The Mayor's Race, Robertson vs LaPointe
Vision Mayor Gregor Robertson, the NPA's Kirk LaPointe, and the Cedar Party's Glen Chernen
In the 2014 Vancouver civic election, Mayor Gregor Robertson would seem to have another win at the polls, come November 15th, virtually in the bag.
In 2011, Mr. Robertson took 53.17% of the vote, as 77,005 electors cast a ballot for the sitting Mayor, almost 10,000 more votes than were cast for him in 2008. Meanwhile, in 2011, the opposition Non-Partisan Association garnered only 58,152 votes, or 40.15% support. In order for Kirk LaPointe, the NPA's mayoralty candidate in 2014, to triumph on the evening of November 15th, the Mayor's popularity would have to drop by almost 10,000 votes, with a concomitant rise in popularity for the NPA. What are the prospects that the Mayor will lose 10,000 votes, while Mr. LaPointe transfers Mr. Robertson's lost votes into the winning column for the NPA?
VanRamblings' answer to that question: bloody unlikely.
For all the kvetching of the opposition poli parties about City Hall secrecy, development run amuck, Vision's failure to build affordable housing, and the utter collapse of the Mayor's commitment to end homelessness by 2015, a recent Justason poll indicates that the Mayor maintains the support of 59% of the electorate, an almost insurmountable lead in popularity over the NPA's Kirk LaPointe, who registers only 41% support from the electorate.
Opposition parties don't win elections; the party in power loses government, generally arising from scandal, utter incompetence, in-fighting within the party, or a weariness among the electorate. None of those latter attributes apply to Vision Vancouver, who would not only appear to have maintained the support of the electorate, but have, as well, an experienced, well-funded, and professionally-run electoral machine that has won majority government twice, and means to win a third majority mandate in 2014.
As we've written previously, in 2002 the NPA lost office at Vancouver City Hall when City Councillor Jennifer Clarke succeeded in a party coup to dislodge popular three-term sitting Mayor Philip Owen, much the same circumstance as occurred in 2008, when NPA City Councillor Peter Ladner defeated sitting Mayor Sam Sullivan to run — in what proved to be a losing bid — as the NPA mayoralty candidate. Both times the party was trounced at the polls. As we say, the electorate simply doesn't like party in-fighting.
In 2005, the Non-Partisan Association was once again able to gain a win at the polls, when the Coalition of Progressive Electors (COPE) — the sitting civic government of the day — found itself rent with division.
What could cause Mayor Robertson to lose in 2014? Character issues, or evidence of financial impropriety. Rumours continue to abound about indiscreet behaviour involving the Mayor. Meanwhile, there are rumours afloat about the Mayor's involvement in financial / development transactions where the Mayor and / or his friends have unduly, or 'illegally', benefited.
VanRamblings' perspective on these politically-inclined rumours: political partisans opposed to the Mayor's re-election are dreaming in technicolor.
At this point, there are only three Mayoralty candidates, other than the Mr. Robertson, who've announced their intention to seek office at Vancouver City Hall: the NPA's Kirk LaPointe, the Vancouver Cedar Party's Glen Chernen, and independent candidate for Mayor, Colin Shandler. COPE, as well as TEAM, had been rumoured to be running mayoralty candidates, but that prospect seems to have dimmed in recent months.
The Non-Partisan Association is the only civic party, other than Vision Vancouver, that has the funding necessary to mount a winning campaign for office. For all that the Cedar Party's Glen Chernen is a fine fellow, his party is underfunded and understaffed, with little or no history of involvement on the civic scene — as such, Chernen's potential for success at the polls is remote, his role in a bid for civic office that of spoiler, most probably as it relates to the prospects of the NPA's mayoralty candidate. Colin Shandler's prospects for a win are nil — he'll just not find himself in the conversation, however much of a decent guy he may be.
All is not necessarily lost for the NPA's mayoralty candidate, though.
In Kirk LaPointe, the Non-Partisan Association has a handsome, informed, articulate, grounded and charismatic candidate, a mayoralty hopeful who thinks on his feet, writes well, connects in a palpable manner, and has staked out firm positions on the issues that have arisen over the summer.
Unfortunately, Mr. LaPointe would seem to be suffering from Left Foot Syndrome — which is to say that Mr. LaPointe would seem to favour that particular appendage for regular placement in his mouth (at least it's not both feet!). It's difficult to disagree with what Green Party of Vancouver Park Board candidate Stuart Mackinnon has to say when he writes ...
"While I'm not a fan of the current regime at City Hall and agree that we need change, I think Kirk LaPointe should choose his examples a little more carefully. All three examples he uses — Aquarium, tankers and Granville Island ownership — are very important civic issues. The Aquarium because it sits on public park land and leases this from the Park Board, tankers because even one mishap could have irreversible consequences for Vancouver, and Granville Island because what happens there has great effect on the City as a whole.

There are many examples to show why we need a new government in Vancouver, these 3 are not amongst them."
VanRamblings believes the points Mr. Mackinnon raises to be unassailable.
Even if Kirk LaPointe hasn't proved to be too much the politician to this point in the civic electoral race — why would he take a position on a hot-button issue like the Aquarium, and risk alienating a goodly portion of the electorate who don't agree with his enunciated position of 'Park Board should leave well enough alone, things are fine at the Aquarium'? — these are early days in Campaign 2014 for elected office in the City of Vancouver.
As much as Vision Vancouver aims to emerge victorious at the polls come November 15, 2014, Kirk LaPointe and his ready band of NPA colleagues are just as intent in securing a majority victory on that very same evening.
In 2014, Vancouverites may just find themselves witness to an honest-to-goodness civic election campaign that engages the hearts and minds of the electorate. In the coming days, VanRamblings will publish analyses of the Councillors' race for elected office, as well as Board of Education and Park Board. Welcome back. Nice to have you reading VanRamblings again!
August 8, 2014
Approximately one week ago, Vancouver Magazine columnist Frances Bula casually asked me why I was covering Vancouver's civic election scene on VanRamblings — stating that, "I don't recall you doing that much before."
Now, Frances' query was framed as a simple question — she was curious, and given that we'd been corresponding, and I turned up at the NPA breakfast meeting with Kirk LaPointe on July 14th (unusual for me), the question seems a valid one, and deserving of a reply. Because the question Frances poses is a question that has been asked of me by many (not the least of whom was COPE's Sarah Beuhler), I'll use this forum to respond.
The primary reason VanRamblings revived itself on June 15th to commence in-depth coverage of the current civic election cycle was to create an alternative narrative to the one most often expressed by Vision Vancouver.
On VanRamblings, I want to hold Vision Vancouver to account for their decision-making, practice and conduct over the course of the past almost six years, and to remind VanRamblings' approximately 17,000 weekly readers of Vision Vancouver's position on a number of issues: development, community consultation, the arts, parks as well as green and environmental issues, affordable housing, and transit — and of how what Vision Vancouver says (or said in the past), and what Vancouver's majority municipal party actually does in practice are often two very different things.
As I've also written on VanRamblings many, many times before, I believe Vision Vancouver to be the worst municipal government that Vancouver has had since the hoary days of Tom 'Terrific' Campbell — and, what I've set about to do on VanRamblings is back up that contention with dogged research, and the regular breaking of stories on this blog, commencing with intensive coverage of Vancouver's civic scene some eight weeks ago.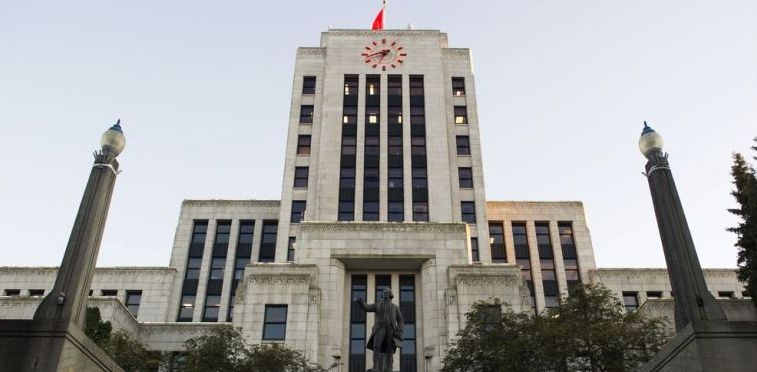 Now, to the second part of Frances' query (before returning to a continuing answer of the initial question): while it is true that VanRamblings has not had a history, over the past decade, of providing intensive coverage of the civic scene, as the last PoliSci / Anthropology / Sociology graduate from Simon Fraser's old PSA department, I can tell you that my interest in the art of politics captured me whole in the early days of my young adulthood.
At Simon Fraser University, where I undertook two undergraduate degrees throughout the 1970s, I developed an overweening interest in politics that was honed and academically informed through the guidance of professors and activists of political conscience. I was privileged to continue a process of a refining of my political understanding as I undertook a Master's degree in Policy Administration, again at Simon Fraser University, in the early 1980s.
The allure of politics, and of democratic engagement and empowerment dates back even earlier, to the first part of the 1960s when I marched with my father on postal workers' picket lines, on strike after strike after strike.
As I've written previously, I worked on my first political campaign in 1963, volunteering on NDP MP Harold Winch's Vancouver East campaign for re-election to federal office, and from those days until now, the allure of politics and democratic engagement has held a pull and a fascination for me, as part of a lifelong endeavour that has consumed me, as a good portion of my life has continued in dedication to building a fairer, more just and truly democratic society, an interest that sustains me until this day.
In additional answer to the query, although I've not covered civic politics to distraction on VanRamblings (I'll explain why in a moment), I have consistently covered the federal and provincial political electoral scene: for instance, in my Decision Canada coverage of federal elections, and last year's intensive Decision BC 2013 coverage of our BC provincial election.
As to why I turned up at the NPA breakfast meeting with Kirk LaPointe, or attend press conferences for the other municipal political parties? I've asked to be placed on the press contact list, and the various civic parties have kindly acceded to my request. I'm retired, I've got the time, I have the interest, and I have the forum — VanRamblings — to publish. Yes, we live in a new and different age. We now have citizen journalism on the web!
While it is true that there's not been all that much coverage of civic issues, on a regular basis, on VanRamblings, and certainly not intensive coverage of Vancouver's civic scene, there's good reason for that ...
During the course of the 2005 election, I was a member of Vancouver's Board of Variance. Given that the BoV is an independent, quasi-judicial body, I believed that it would have been unseemly for me to pronounce publically on civic election affairs — which doesn't mean that I, and other members of the Board of Variance on which I sat, didn't stump for and support civic parties running in the 2005 election; rather, it was that such engagement was quieter, and reflective of the position of trust we held as members of the Board.

During the course of the 2008 and 2011 Vancouver civic elections, I worked as a co-campaign manager on Tim Louis' campaign for office, designed, created and posted to his campaign website, and worked assiduously on the COPE campaign, as a whole, to elect members to Vancouver City Council, Park Board and School Board.

In 2008, given that I had a relationship of some longstanding with Aaron Jasper, I worked as a campaign organizer on the Vision-COPE Park Board slate (both at the request of COPE, and at Aaron's request, and with the support of Vision). Throughout both campaigns, I was busy working on Tim's / COPE's campaign for office, as well as engaging in grassroots campaigning, going door-to-door campaigning for COPE.
So, as you see, my interest in civic politics was always present — I have chosen in 2014 to direct that involvement in the life of our society, online.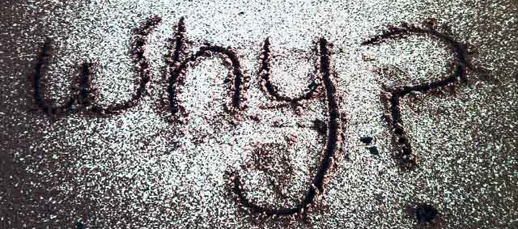 Back to the implicit question contained in Frances' initial query: why you, Raymond, why now — and, perhaps, how is your voice a valid one?
The answer is simple: although I have not previously acted as a journalist covering Vancouver's civic electoral scene, I believe I am in a unique position to cover the 2014 Vancouver municipal election: which is to say, I have a personal relationship with, and have had a personal relationship, with almost every civic politico in town, dating back a decade and much longer.
For instance, for a year-and-a-half, commencing in early 2012 through until the autumn of last year, one Sunday every month, I met with a group of progressives in COPE to help develop a framework for COPE policy — as such I was "inside" the process of decision-making for one of Vancouver's four main political parties. During that time I was afforded the opportunity to get to know Tristan Markle, Stuart Parker, Kim Hearty, and the nine others who sat around Dr. Penny Parry and Tim's Louis' dining room table.
I also worked closely with COPE Executive Director Sean Antrim, and was very much involved in various aspects of the COPE planning process.
Board of Education Chair, Patti Bacchus, and NPA BoE candidate, Christopher Richardson
Given my gregarious and curious nature (and much to the chagrin of my COPE colleagues), I have also come to develop a close rapport, verging on friendship, with a number of folks involved in the Non-Partisan Association.
For instance, for the past year and a half, I have met once a month with current NPA Council candidate Rob McDowell (one of my very favourite politicos in town, and my favourite of the NPA candidates for Council). As the Park Board watchdog (so named by The Courier's Sandra Thomas), in addition to speaking regularly with the Vision Vancouver Commissioners on Park Board — Chair, Aaron Jasper, Constance Barnes, Niki Sharma, Sarah Blyth and Trevor (each of whom I both like very much, and for whom I have much respect and admiration) — I have also had the privilege of speaking and meeting with the two NPA Park Board Commissioners, John Coupar and Melissa DeGenova. I like, admire & respect both John & Melissa, very much.
If I am over the moon about Rob McDowell (and I am), my regard for current NPA Board of Education candidate Christopher Richardson knows no bounds — he's not just one of the finest politicos I've ever met, Christopher is one of the best people I've ever met, period; it is a privilege to have the opportunity to speak with both Rob and Christopher.
In addition to Rob McDowell and Christopher Richardson, I've come to hold NPA Board of Education candidate Sandy Sharma, and NPA Park Board candidate Erin Shum in the highest personal regard. My admiration for NPA Council candidate Ian Robertson also knows no bounds — I think he's the smartest politico in town. I've also become more familiar with NPA Councillor George Affleck, and have long known NPA Councillor Elizabeth Ball, dating back to the days when I was the de facto arts and entertainment editor for a number of community newspapers, and regularly met with Elizabeth, in her capacity as Managing Director of Granville Island's Carousel Theatre.
That I believe that each of these candidates for the Non-Partisan Association to be principled, honest and humble, and deserving of the public's support at the polls should be considered a given — truth to tell, though, these are early days, and I have not as yet determined the list of candidates I will endorse in the final week of the current civic election cycle.
For Council, I can tell you that COPE's Sid Chow Tan and Tim Louis will be on my final endorsement list, as will the Vancouver Cedar Party's Nicholas Chernen. Clearly, the NPA's Rob McDowell and Ian Robertson are at the top of my list for Vancouver's natural governing party.
At this point, I can't imagine not endorsing Vision Vancouver's Andrea Reimer and Niki Sharma (tough, incredibly bright, principled women) — regardless of my somewhat untoward coverage of Vancouver's majority party at City Hall. And, of course, current Green Party City Councillor Adriane Carr, and her running mate, Pete Fry (about whom I feel as equally strongly as I do Tim Louis, Rob McDowell, Ian Robertson, Sid Chow Tan and Nicholas Chernen) will likely be on my final endorsement list.
Still, as I say, it's early days — the final civic election candidate endorsement list is three months away from publication date.
All of the above is by way of saying, I believe that the perspective I offer on Vancouver's civic scene to be fetchingly humane and idiosyncratic, as well as informed to a degree unusual among those who cover the civic scene.
Given my relationship of long duration with politicos from across the political spectrum, and based as well on my work with many of Vancouver's most activist politicos, I have most certainly developed a more intimate rapport than most reporters would allow to be the case, all of which provides me with a unique insight into the character of those who are running for office, and those mounting and backing the various municipal political campaigns.
As such, VanRamblings can, and will, offer a warmly idiosyncratic (and we hope, as well, often amusing) take on the civic scene, in the days, weeks and months leading up to the November 15th municipal election.
An aside, if I might, on two issues concerning VanRamblings ...
Humour. You'll notice above that I employ the phrase "natural governing party" to describe the Non-Partisan Association. Allow me to point out that use of such phrase does not constitute an endorsement of the NPA, nor is it meant to suggest in any way, shape or form that I am "in the tank" for the NPA — I am simply having a little fun (mostly at the expense of some of the folks in COPE, it would seem, although that was never my intention). Readers should know, as well, that I have fun with the headlines / titles of the various articles: surely, having read VanRamblings for awhile now, you must know that I indulge my penchant for hyperbole at almost every opportunity that is afforded; sometimes after I've finished writing a column, and read it back to myself, I laugh out loud at how outrageous and over-the-top my "seeming endorsement" of a candidate would be to the casual reader. That a good many of my readers read some of my writing as amusing (as is intended) is heartening for me; that the converse is also true is, well, unsettling for me — doesn't mean I'm going to stop from composing headlines that, as I wrote a couple of days back, are designed to "engage, enrage and misdirect (challenging the reader to actually read through the commentary below the 'meant to outrage' title)."

Pejorative attack: Although I believe that the politics of personal destruction is the modus operandi for both Vision Vancouver and Stephen Harper's federal Tories (an electoral strategy that has proved successful for both political parties, thus far), on VanRamblings you will never read an attack on someone's character. Ever. There's no one on Vancouver's civic scene that I dislike (I have some personal favourites, and some quite not-so-favourites) — I am admiring of those who are engaged in the civic political scene, & in service of the public interest.
Yes, it is true that I've had some fun at the expense of Vision Vancouver's campaign team, but let me tell you that not for one moment do I ever forget that a person I am writing about is someone's son, daughter, husband, wife, companion, beloved uncle or aunt, someone's father or mother, brother or sister, or cherished friend.
I do not, and will not, deny someone's humanity.
When I write about the Mayor's Chief of Staff, Mike Magee, I do not forget who he is as a man, as a husband and a father and a friend, in addition to his work as a politico of stature and much accomplishment. You will never see me going after someone personally on the VanRamblings blog — sure, I'll take Vision Vancouver to task, but you will never read personal invective or ad hominem personal attack on this website.
Today's post constitutes only the first part of my answer to the question posed by Frances; there's more that I have to say — but not today.

This is my pre-birthday week. This coming Monday, August 11th, is my — as a neighbour suggested to me — "Beatles birthday". I will be 64.
I may have one more post before, or on (or after) my birthday (nothing political), after which time I'll take a break from VanRamblings for one week, before commencing with posting once again on Vancouver's civic scene. I look forward to your return on Monday, August 18th, for VanRamblings' continuing coverage of the upcoming 2014 Vancouver municipal election.

August 5, 2014
For VanRamblings, for 30+ years now, the première cultural event of our calendar year sustains as the annual Vancouver International Film Festival.
Earlier today, we ran into Curtis Woloschuk — VIFF programmer, publications editor, and programme logistics co-ordinator (each title of which deserves capital letters) — at the Starbucks at Davie and Seymour, nearby the VIFF offices. Curtis, along with all the other adventurous, dedicated staff of VIFF, is working hard at it, preparing for VIFF 2014, as has been the case for many months now. Curtis was saying that today, VIFF will post its first VIFF 2014 programming announcement, the 2014 Cannes highlights and award winners that will arrive at our VIFF in 2014 — which, of course, can only cause VanRamblings to whoop with joy!
Imagine, Leviathan is on its way! And Bennett Miller's Best Director winner at Cannes, Foxcatcher, which is certain to emerge as not only one of the prestige pictures of the year, and a certain Best Picture Oscar contender, but as well, as an all-but-certain Best Actor Oscar nominee in Steve Carell.
Alice Rohrwacher's Grand Prix winner, The Wonders — the Cannes winner to which we were most looking forward, and the picture we prayed to the Gods (and to Alan Franey) to please, please bring to 2014's Vancouver International Film Festival — will arrive at VIFF 2014. Yippee! VanRamblings absolutely loved Rohrwacher's début film, 2011's exquisite, resonant, melancholy, tremendously lovely, authentic, quiet and beautifully observant Corpo Celeste. The Wonders in Vancouver — we are in heaven!
Read all about the remaining 2014 Cannes highlights, and winners, that will arrive in Vancouver in late September and early October — and you will, as does VanRamblings, find yourself more than a little bit over the moon.
Mid-afternoon, VanRamblings was pleased and surprised to find an e-mail in our iPhone inbox announcing the revamping of the VIFF focus, and the ascension of Jacqueline Dupuis to the position of VIFF Executive Director.
Last autumn, indulging our penchant for hyperbole and titles for articles that are meant to engage, enrage and misdirect (challenging the reader to actually read through the commentary below the 'meant to outrage' title), we published what we felt to be a warm tribute to longtime Festival Director, Alan Franey (who, by the way, remains with VIFF 2014 as its chief programmer) that, much to our surprise, met with some foul reception by the good folks at VIFF. Thank God VanCity programmer Tom Charity, and longtime VIFF Board of Directors member Colin Browne, intervened to quell concerns, lest the ire felt by some VIFF folks might be maintained for many years to come, forever prejudicing VanRamblings' relationship with VIFF.
Which is all by way of saying that VanRamblings loves the Vancouver International Film Festival, has always loved the Vancouver International Film Festival, and believes that long, long, long into VIFF's salutary future that we will continue to love the Vancouver International Film Festival.
Today, VanRamblings welcomes the news of the appointment of Jacqueline Dupuis as the new leader of the Vancouver International Festival Festival, allowing us the opportunity to say that we are thrilled with her appointment (Ms. Dupuis, against all rationale thought, has always treated VanRamblings kindly and well, in each of our engagements — for which we remain most grateful and appreciative) as the de facto Chief Executive Officer of VIFF.
No tumult here, as the Vancouver International Film Festival moves from strength to strength to strength. Congratulations, Jacqueline Dupuis!
(Please find below, the press release issue by VIFF, on Tuesday afternoon)
Vancouver International Film Festival, New Leader & New Direction
In its 33rd year, the VIFF Society Makes A Bold Transition
Change is a good thing — especially when it is built upon a foundation of past success and positioned to take an organization to the next level. Marking its 33rd year, the Vancouver International Film Festival Society has gone through a leadership transition, naming Jacqueline Dupuis as Executive Director.
With over 10 years of leadership experience with various international film festivals, Dupuis brings a strong focus on strategic business planning, policy development and fundraising to the VIFF Society. Prior to joining VIFF, Dupuis served as the Executive of Director of the Calgary International Film Festival (CIFF) and was a former member of the CIFF Board of Directors where she headed up CIFF's (first-ever) strategic planning initiative. Dupuis's leadership during this initiative resulted in the financial turnaround of the organization, building CIFF's destination value by differentiating the Festival from others around the world.
"We are so proud of the cultural impact that VIFF has created over the past three decades," says VIFF Society Board Chairman David Hewitt. "As we enter our 33rd year, we are looking to grow and take the organization to the next level. Our goal is to make the Society not only a cultural icon of cinematic intrigue but also a leader in industry and the business behind entertainment. Jacqueline is the perfect person to do this. Her private sector background, along with international film festival experience, makes her the ideal candidate to transition the VIFF society to realize its potential."
"I'm honoured to be taking the reins as Executive Director of an organization that is so well respected both in Canada and the cinematic community around the world," says VIFF Society's Executive Director, Jacqueline Dupuis. "I will be working with its three year-round business units; the Vancouver International Film Festival, VIFF Industry and the Vancouver International Film Centre."
In 2013, prior to the official leadership transition, Dupuis launched the VIFF BC Spotlight programme, which featured 12 BC-made feature films, a dedicated marketing campaign and slate of awards, resulting in the highest attended series in the history of the festival. The Georgia Straight lauded the programme "best cheerleading for BC filmmakers".
As part of VIFF Society's go-forward direction with the official leadership transition, Dupuis is focusing immediate efforts on facilitating the business of entertainment in BC and Canada. In 2014 the VIFF Film & Television Forum, a four-day business conference that takes place during the festival, is rebranding to VIFF Industry.
Some elements of the expanded focus: in 2014, VIFF Industry will have:
An increase of 20% in industry guests and speakers attending from LA to leverge Vancouver's unique proximity to Hollywood
A greater focus on the local BC service industry, as it is a large driver of our economy and ends with
An expansion from film and television to broad-based screen entertainment recognizing the strategic importance and growing contributor visual effects, animation and gaming, provides to BC's screen-based economy (it is the 3rd largest production centre of this kind in the world).
Dupuis replaces Alan Franey who has served as CEO and Festival Director for the past 26 years. Franey, who has played an instrumental role in making VIFF Society the iconic cultural organization it is today, will remain involved with the Festival as Director of Programming.
About VIFF Society
The Greater Vancouver International Film Festival (VIFF) Society is an established not-for-profit cultural society that produces year-round programming at the Vancouver International Film Centre in addition to the 16-day International Film Festival, and four-day VIFF Industry Conference.
The VIFF Society is a charitable not-for-profit arts and cultural organization, employing over 100 staff and 750 volunteers in British Columbia, with an annual operating budget of approximately $5.0 million. Its mandate is to encourage the understanding of other nations through the art of cinema, facilitate the meeting of entertainment professionals from around the world and to stimulate the motion picture industry in BC and Canada.
In its 33rd year, VIFF welcomes the world to Vancouver from September 25 - October 10, 2014. VIFF gratefully acknowledges the generous support of our major partners: Rogers Communications, Fidelity Investments Canada, and Telefilm Canada. VIFF also extends its thanks and appreciation to the Province of British Columbia through the Ministry of Community, Sport, and Cultural Development's Community Gaming Grants program, as well as the Government of Canada through the Department of Canadian Heritage's Building Communities through Arts & Heritage.
About Jacqueline Dupuis
Prior to joining VIFF, Jacqueline served as the Executive of Director of the Calgary International Film Festival (CIFF) for 3 years and former member of the CIFF Board of Directors for three years. Jacqueline took the reins of CIFF after enjoying a very successful 10-year career in business development and management in the high tech sector working for companies such as Xerox and Sun Microsystems where she won numerous awards and accolades.
Throughout her career, Jacqueline's passion for volunteerism and community support led her to organizations such as the United Way, The Mustard Seed, Theatre Calgary, Betty's Run for the Cure and the Children's Cottage, & most recently the Vancouver Downtown Business Improvement Association. Jacqueline is also a proud recipient of the Downtown Vitality Award from Downtown Calgary (Business Revitalization Zone) and recent participant of Executive Lab leadership program at Vantage Point.
An experienced arts administrator with a strong focus on strategic and business planning, policy development and fundraising, Jacqueline's goal is to leverage her private-sector background and world-class training in business development and management, to enhance quality of life and advance opportunities for creative expression through the proliferation of screen-based media.
August 4, 2014
Now, it's not that we want to turn VanRamblings into the official blog of the Vancouver Cedar Party — any more than we want to turn this blog into the official organ of the NPA, COPE, the Green Party, Vancouver First, TEAM, heaven forbid Vision Vancouver, the A Better City party, Neighbourhoods for a Sustainable Vancouver, IDEA, the Work Less Party, or any one of the other municipal parties running in the 2014 Vancouver municipal election.
We do, however, appreciate that in the Vancouver Cedar Party, there's a civic party that's out there digging, doing research, not engaged in bitter internal warfare, that's keeping its eyes focused on the goal (ousting Vision Vancouver come November 15th), and creating an effective (yet polite) narrative respecting our majority civic party at City Hall, Vision Vancouver.
The problem that the Vancouver Cedar Party has, though, is that the mainstream press pretty much doesn't want to cover them.
That's where VanRamblings comes in, we suppose. We like the consistency of the Cedar Party narrative — that Vision Vancouver is a secretive, non-consultative, arrogant and high-handed, overly-friendly-to-developers (at the expense of the livability of our city) municipal political party.
On Sunday evening, the Vancouver Cedar Party issued a press release with the headline, Communities Won't Be Listened To When Developers are Managing City Hall from Inside (the edited text of which you'll find below), pointing to a member of Vision Vancouver's Board of Directors — a woman, a longtime ally of the Mayor, an individual who has an ownership position in Core Real Estate, who also maintains close ties to the Mayor's svengali, Joel Solomon, Chairman of Renewal Partners, the millionaire philanthropist who, since 2008, has emerged as a major funder of Vision Vancouver.
That yawn you hear? Yes, that would be the mainstream media in town, and every member of the political class who has known for ages of the Mayor's close ties to Hollyhock, the Tides Foundation, Renewal Partners, Joel Solomon, and Carol Newell, Rubbermaid heiress and founding principal of, surprise surprise, Renewal Partners. Yes, that's right — it's old news.
You know what they say, though — there's no news like old news.
Well, maybe there's no one that says that — but you know what, it never hurts to remind the Vancouver electorate, who seem to have such short memories, about Mayor Gregor Robertson's ties to folks who, maybe, just maybe, have interests that may conflict with yours and mine, and the voting public across the 23 neighbourhoods that comprise Vancouver.
Without further ado, then, the latest Vancouver Cedar Party Press Release:
Communities Not Listened to When Developers Manage City Hall from Inside
Vision Vancouver: Developer on BoD, Another with Intimate Ties to Mayor
Illustration courtesy of CityHallWatch magazine — "engaging citizens in decision-making"
The majority party at City Hall, Vision Vancouver, has a 30 year+ real estate development veteran on its Board of Directors, Martha Burton. Ms. Burton has a long and close working relationship with Mayor Gregor Robertson.
A native of Tennessee, Martha Burton joined the Solomon Development Company in 1982, becoming a partner in 1984. In addition to being a member of Vision Vancouver's BoD, Ms. Burton states that her real estate expertise is available for hire in the real estate development process.
Martha Burton is an investor in many businesses including a real estate development firm, through her partnership position in Vancouver based investment firm, Renewal Partners.
This week, Metro's Emily Jackson reported that a City of Vancouver Real Estate Department manager told her that the sales and demolition of the Granville bridge off-ramp and rebuilding / relocation of the Aquatic Centre arose resultant from unsolicited offers from foreign and local developers.
Who were the foreign or local developers that made unsolicited offers encouraging The City of Vancouver to put the Granville off-ramp for sale?
Who is making it a "High Priority" to move the Vancouver Aquatic Centre to the soon-to-be former Granville Street bridge off-ramp location?
Communities won't be listened to with Vision developers in charge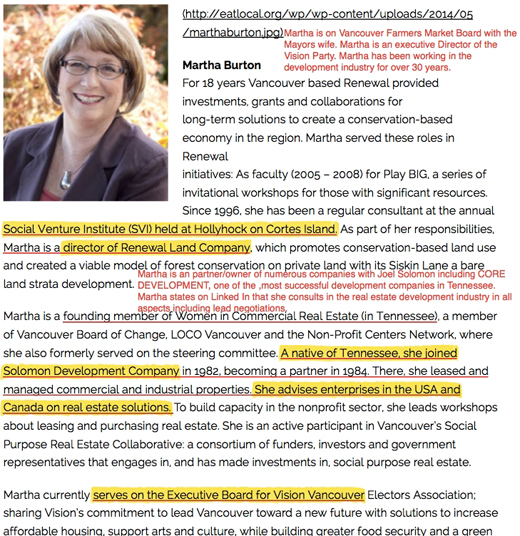 Is Martha Burton one of the foreign developers that was involved in creating the secretive and sudden sale / demolition / relocation process for the Granville off-ramp / Aquatic Centre? Did she and Joel Solomon turn it into a "High Priority" from within Robertson's Vision party or was it another foreign or local developer? Does it not appear the Mayor or his Chief of Staff have not been very open to the electorate with the fact that they were so close to, or receiving guidance from, two developers? Having an active developer advising the Mayor from within his Board is a serious problem.
Through investment firm Renewal Partners, Martha Burton has an ownership position in Core Real Estate, one of the most successful developers in Tennessee, along with Joel Solomon another 30 year+ plus Tennessee developer.
Along with several others, Joel Solomon and Martha Burton also have an ownership position in successful Tennessee real estate Brokerage firm Village Real Estate. Mr. Solomon apparently owns a larger position on his own, but together they own a partnership interest through their jointly owned investment firm, Renewal Partners.
Through Renewal Partners, Ms. Burton and Mr. Solomon have given the Mayor's Vision Vancouver municipal party more cash donations than any other corporate entity.
Mayor Gregor Robertson's Chief of Staff, Mike Magee, and Mayor Robertson have had a close working relationships with developers / investors, Martha Burton and Joel Solomon, for well over a decade. They all worked together for Mr. Solomon before they decided to help elect Mr. Robertson as Mayor of Vancouver, and appoint Mr. Magee as his Chief of Staff.
Martha Burton's LinkedIn profile lists her profession as a real estate consultant with 30 years experience in real estate development, including detailed negotiations (Read her offerings under the experience subject). She is also an Executive Board member of Vision Vancouver, a position which typically acts in an advisory role to the Mayor. In addition to her Board position, Ms. Burton was also the party Treasurer until recently.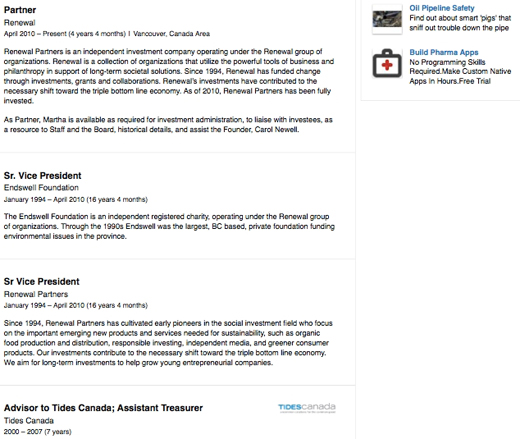 Communities will never be listened to when developers are in charge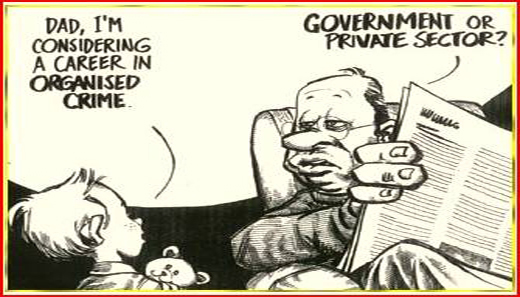 Have any companies that Martha Burton or Joel Solomon have an investment interest in consulted for any developers in Vancouver that are subject to approvals or special consideration from their old co-workers, Gregor Robertson and Mike Magee?
Too often plans such as the Granville Bridge off-ramp sale are discovered at a more advanced stage when the community has too little time to organize and raise their voice. Not this time.
We are finding out before a development application has even been produced. However, that is not good enough. Somebody thought they could set the dominoes falling (in secret) with the sale of these lands. We found out about their plans.
Secretive City of Vancouver real estate transactions must stop.
Residents need to be listened to for a change. The needs of our community must come before the mad desires of real estate developers.
Written and researched by Glen Chernen, and a village of volunteers.

August 2, 2014
Kirk LaPointe is the mayoralty candidate for the Non-Partisan Association, Vancouver's oldest municipal political party.
In the past 24 hours, arising from the publication of an unsigned article on the Broadbent Institute's online publication Press Progress — the article titled Does Vancouver's conservative mayoral candidate still find picture of gay men kissing distasteful? — a visceral and destructive online controversy was created, the tenets of which was captured by The Straight editor Charlie Smith, in a commentary he published online on Friday afternoon.
In the past, VanRamblings has written about the tendency to viciousness of the Vision Vancouver campaign team, and their penchant (and, seemingly to date, winning strategy) for engaging in the politics of personal destruction, which in 2014 with the emergence of an articulate, relatively charismatic opposition candidate in the form of Kirk LaPointe, bodes ill for those of us who would much prefer that the upcoming Vancouver municipal electoral campaign would be focused on policy over personality.
If wishes were horses, one supposes.
At any rate, please find below Kirk LaPointe's well-reasoned and thoughtful response to the online provocation of the Broadbent Institute.
Kirk LaPointe | The Vancouver I Want | When context is everything
A campaign is usually nasty. I've watched a few dozen of them as a journalist and now I get to experience one from a different place.
I have taught journalism for a decade, where we emphasize that context is everything: when you use a quote, it needs to be fair-minded within wider information and reflective of the overall tone.
I was sideswiped Friday by a story and social media that would have garnered a failing grade in my class.
The Broadbent Institute started the ball rolling with a story based on a 1999 column I wrote as editor of The Hamilton Spectator that branded me a "conservative" mayoralty candidate who might have been and still might be queasy about seeing two men kiss. It raised questions about my commitment to inclusiveness and equality. It pretty well called me a homophobe, and if it didn't, then the Vision Vancouver clan followed up with Tweets that did.
Before we get any further, let me reproduce the salient part of the weekly column on newsroom decisions so you can understand what was torqued:
"An analysis of what a newsroom covers would show about 30 per cent of it is staged for us: news conferences, photo opportunities, seminars, and other sessions to introduce arguments, ideas, and products.
Another 60 per cent involves events to which we must respond: disasters, breakthroughs, games, reports, and the like.
Only about 10 per cent involves material of our own creation and initiative: the ideas our journalists bring to the job or come upon in the course of their work. They decide there's a story there and begin to pursue it.
I'm not pleased with this balance, but we're not alone. That percentage — give or take five points — would hold for every newsroom I know. We are investing heavily in original work and encouraging our reporters to explore. But we spend way too much time covering and not enough time uncovering.
What's more, we can't cover nearly as many things as many people and organizations in our communities would like.
Trouble is, what we cover is so often designed purely to appeal to our basic needs for a photo. Stories are helped immensely by illustrations.
A couple of tricky cases this week involved one we decided to publish and one we didn't.
The new Web site from the Interbrew beer company, appropriately titledbeer.com, staged a media photo opportunity and news conference at SkyDome in Toronto by arranging a zillion beer caps into the shape of its logo on the field.
We went for the bait. Made for a neat photo. Got a reasonable story. But we were used. A novelty photo opportunity lured us into providing valuable space.
Score one for them.
A picture we chose not to publish arose Thursday at a "kiss-in" organized at McMaster University as part of Gay Pride Week.
As it turns out, only one couple kissed for the cameras. We took a few photos of the two men but didn't run one.
In this case, we determined the event was a basic stunt, and not a significantly attended one. The image itself would be offensive to a number of our readers.
If we are going to risk offending readers — as we have to do from time to time — it should be for exceptional events. On pure news value, this wasn't one of them.
Our new columnist, Susan Clairmont, wrote extensively on the Mac event. Her words were descriptive enough to help readers understand what happened.
We do not take a hostile view to homosexuality. Our editorial policy has been sensitive, and our portrayal of gays and lesbians has aimed to be informed. But this was a provocative gesture. We were, in effect, dared to not cover the kiss. We decided no."
So, there you have some context.
There is no sense, as some of the trolls suggest, that I would have found the image distasteful. That is a manufactured word, and anyone without access to the original article would have been easily misled.
I know all about the theories of media manipulation; the people who constructed this were rank amateurs, as were the folks who commissioned it.
By the way, the Broadbent Institute has some meaning in my life. Most probably unlike the anonymous author of the piece about me, I happen to have known Ed Broadbent.
I covered him as a reporter and news editor in his years as NDP leader and beyond. I interviewed him dozens of times and was a friend of many of his MPs, too. He always had a grounded point when he rose in the Commons, he was a figure of integrity, and I cannot recall ever calling him out on slipshod information. I think he'd find disgraceful what his institute produced Friday. (In his highly understandable French, he would have cried: "Je suis outré!")
Of course, there is much more behind the production of this. As the Georgia Straight reported, the Vancouver-based director of strategic partnerships for the Broadbent Institute is an integral Vision advisor. This piece didn't happen by chance. It was orchestrated as a tandem job. The institute was merely the vehicle.
That the piece arrived during Pride Week was no coincidence, either. I know enough of the media bag of tricks to realize it was manufactured to scare people and distort my character at a critically newsworthy time as the city learns about me and demonstrates its inclusiveness.
Fear, as those in the LGBT community know, is a remarkable motivator.
The Tweets that followed were intriguing, in that some came from youth executive members of a political party I have long respected for its inclusiveness. The father of its current leader is without doubt the most iconic politician I covered, and I doubt the leader would believe that his ranks should be indulging in such graceless attacks. If I get a chance to see him in town this weekend, I would like to ask him if he condones something like this.
I am not naive about campaigns. All involved have much power and resources to gain and lose from the result, so I will concede people aren't always at their finest in fighting for the victory. And quite interestingly, I am learning that politicians often don't do the bidding themselves but conscript others to enter the line of fire. Third-party clamour, particularly in the social media age, is extensive.
I will Tweet and blog in this campaign, but I suspect I will be the only one doing so.
These are early campaign days, but I am starting to experience that form of personal attack that I sought to quell at the outset, and it's increasingly apparent my opponents have little intention of civil discussion, inquiry or reflection. They have an army of helpers who spread a form of hate. They're known in the business as trolls.
I feel sorrow and some compassion for these people, because I doubt in their hearts they really believe what they say. They are paid to do it or they are volunteers with hopes of one day entering the inner circle. I don't suspect they construct their lives with such hostility. I hope they don't see the world in such black-and-white frames. I give them the benefit of those doubts.
And I recognize it sounds naive, too, when I call for some civility. Our NPA campaign is an uphill battle against a very powerful, well-resourced machinery that spends a lot of money and time constructing a compelling front end in part to disguise what is behind the curtain.
For instance, I would like my opponents to sign a code of conduct to avoid personal attacks. Haven't heard anything from them on it.
Instead, the response is that smears have started. And, to create plausible deniability, not one political figure has commented in three weeks of campaigning. Only the hired hands and trolls are doing the dirty work.
Let's be entirely clear: We do not permit intolerance in our association. We are resolute about it.
When our association expelled two elected officials for their assertions on a school board LGBT policy, it sent a clear signal of our way forward. When I criticized Vision Vancouver for expelling one of its candidates for her expression on sexuality, it also sent a clear signal that her candidacy would be welcomed with us.
We were maligned for a private email that Vision chose to made public. I was unhappy about that email and made it quite clear it would not be countenanced as I moved into the mayoralty campaign.
I grew up with bullies all around, so I am used to the attacks and have compassion for those who experience discrimination, anger, shame and exclusion. Those who know me know my heart and mind are open.
Let me also be clear for those (like councillor Tim Stevenson, it seems) who missed the Tweet on Monday: I missed, with regret, the proclamation ceremony Monday for Pride Week. I didn't have information about it, wasn't happy I didn't have that information, and let people around me know so. As a newcomer, in an organization that doesn't have party status or vast machinery, I'm not privy to every last bit of information out there. We are still assembling our team. So I was sorry I didn't get there. Didn't "skip" it, didn't "choose" not to go, as the Tweeps charged. "Missed" it and regret so. If you think there is a community event I should attend, my email is kirklapointe@gmail.com. Happy to hear from you.
The more pernicious matter involves the decision on the Kiss-In. An editor has an obligation to reflect community standards, even if at times it is against his own views, and it was clear to me 15 years ago that my own tolerance of the image was not generally supported among our newspaper's leadership or among our audience. Would it be different today? Of course. Society has thankfully evolved. Some describe leadership as making tough decisions, which is true, but leadership also involves knowing when to take advice.
I left The Spectator for CTV, where I created its first Diversity Initiative, then became the newspaper representative on the Canwest Diversity Initiative when I moved to Vancouver. As a CBC ombudsman, several of my decisions involved findings of offensive and inappropriate language and depiction. I am happy to provide those digging with such fervour into my past a list of contacts on my work in those veins, but I somehow doubt they'll ask.
An aside on this issue: the only reason anyone was able to write about this today was that I was transparent about the dilemma at the time. I wrote a weekly column on difficult decision-making, just as I am now. I believe in discussing how you decide when you are given responsibility. I didn't hide those dilemmas, nor will I, and I wish I could say the same about our city government.
In being transparent about these challenges, I don't pretend there are simple solutions. And when I have regrets, I say so. I'd like our current leaders to adopt these approaches, too, but instead they send their people out to distort my life and record. I don't like playing against the bare-knuckled crowd. But when it attempts to manipulate vulnerable victims of discrimination in order to persuade them there is one more person against them, I have to get my elbows up on my behalf and theirs.
I have proposed a much more open government that shares its decision-making with the public, reveals its spending, identifies its plans and sends a message of trust to those it serves. Unlike my opponents, I will be online and accessible all campaign and, if I have the confidence of the voters, beyond November 15.
I won't be using a ghostwriter or a team of public relations people that feign authenticity.
When some of the Vision clan can tear themselves away from Twitter and from commissioning substandard journalism, I'll be happy to hear their response to this.
Meantime, I am privileged to have the opportunity to march in the Pride parade Sunday. It will be one of the great honours of my life, and I am grateful to be part of the celebration of who we are as a community.