December 25, 2015
November 10, 2015
Justin Trudeau meeting with his new caucus for the first time, following the 2015 federal election. Photo credit: Adrian Wyld, The Canadian Press.
On election night 2011, newly-elected Québec MP Ruth Ellen Brosseau was ridiculed for being out of the country on election night, celebrating her 27th birthday in Las Vegas. Moreover, Ms. Brosseau was attacked in the media and by opposition MPs for never having stepped foot in her Berthier-Maskinongé riding during the entirety of the 35-day election campaign, for being a unilingual English-speaking 'paper candidate' — a 'poteau' in French slang — in a riding that was, and is, almost universally French speaking.
A 2011 op-ed in the National Post criticized Ms. Brosseau's inexperience, writing that she was "an extreme example of what happens when people sign up to run for a party with little or no expectation of actually winning." Yet, despite all, on election night 2011, Ms. Brosseau handily defeated incumbent Bloc Québécois Member of Parliament Guy André, former provincial Liberal MNA Francine Gaudet and three other candidates, winning a plurality, with 22,484 votes, representing 39.3% of all the votes cast.
Ruth Ellen Brosseau was recognized by her fellow MPs in 2014 as Parliament's hardest working MP. Ms. Brosseau, representing the riding of Berthier-Maskinongé, was elected to a second term in office on October 19th, 2015. Photo credit: Globe and Mail.
Yet, even given all of the above, and what many in the political class considered to be Ms. Brosseau's "sordid past", at the conclusion of 2015's ruinous for the NDP 78-day election campaign, Ruth Ellen Brosseau — the failed university student and vegetarian single mother turned MP — upped her vote over 2011, raking in 42.24% of the vote, handily defeating all comers, as she secured a second term as MP for Berthier-Maskinongé.
No mean feat that, when the New Democrat Party caucus in Québec was all but decimated, crushed on election night October 19th 2015, as the NDP Québec caucus was reduced from 58 seats out of the province's 75 seats, to only 16 Québec seats out of 81 seats, of which Ms. Brosseau's was one.
"I was tagged the 'Vegas girl', and hoped from day one that I would lose that identity," says the now fluently bilingual Brosseau.

"With my win in the 2015 election, the fact that I not only won my riding for a second term, but that I was able to secure more votes and up my percentage win, demonstrates that over the course of the past four years I have gained the trust of the people I've been elected to serve — through hard work and being present in my riding for all of my constituents, as their champion and liaison to government, that through my continuing dedication to the people I serve — who like myself, live and work and raise their families in the riding — while working with a first-rate constituency team, together we have been able to accomplish much, to build on our successes, which makes me so, so very happy."
On the day of Prime Minister Justin Trudeau's first meeting with his mostly newly-elected 184-member caucus — 156 MPs were elected for the first time — just one day after the Prime Minister and his cabinet were sworn in at Rideau Hall in Ottawa, the Liberal party leader told his party's MPs ...
"I need each and every one of you to remember one thing. Regardless of the committees you're on, the roles you have, regardless of party demands, and the partisanship that will continue to exist in this House ... your one job, that you cannot ever forget, is to be a strong voice in service of the people who sent you here from your constituencies."
And so it is. As the newly elected rookie MPs, from all parties, set about to get a handle on just what it means to be a member of Parliament, Ruth Ellen Brosseau's story should become the instructive story of merit, that through it all, through all of the partisanship in the House of Commons and on the Hill, the prime directive always is to "serve your constituents well", for that is what is going to get you re-elected to a second term in office.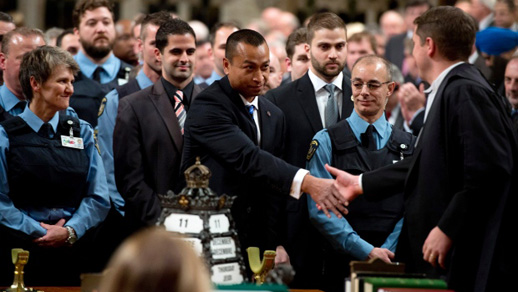 Last December, MPs paid tribute to the House security team for their efforts during the October shooting on Parliament Hill. Photo credit: Adrian Wyld, The Canadian Press
For rookie MPs, the transition to life as a federal politician will no doubt prove 'educational', if more than a little daunting, overwhelming and, as they burn the midnight oil, stressful. For rookie MPs must hire staff — both in Ottawa, and in their riding — sign a lease for a constituency office, find a place to live in the nation's capital, sign up for remuneration and benefits, be briefed on parliamentary protocols, and try not to get lost in the Centre Block in search of the bathroom, among other immediate tasks.
All told, there are 214 new MPs (of which 17 are former MPs but weren't sitting in the last Parliament) in the 338-seat House of Commons.
Deputy House of Commons Clerk Marc Bosc (seen here in his office) has a few tips for new members of Parliament. Photo credit: Wayne Cuddington, Ottawa Citizen.
Last week, the newly-elected MPs participated in an administrative orientation session, the first of two being held for new MPs. A second session on parliamentary procedures will be held shortly before the House of Commons sits on December 3rd.
"It can all be quite daunting. There's a lot of information to absorb. It's not easy for them to arrive here with all the things happening to them all at once," said Marc Bosc, acting Clerk of the House of Commons, in an interview with Ottawa Citizen Parliament Hill reporter, Jason Fekete.

"The burden is very heavy. Members' time is spoken for almost from the minute they arrive here. If it's not caucus, it's committee work, or foreign travel, or constituency work. It's a 24-hour-a-day, seven-day-a-week job if you let it control you to that extent. There's no limit to the amount of work you can do."
A multi-party panel of three long-serving and former MPs — re-elected Conservative MP Gordon Brown (Leed-Grenville), former Liberal MP Ted Hsu (Kingston and the Islands), and re-elected New Democrat MP Carol Hughes (Algoma-Manitoulin-Kapuskasing) — held a session last week with the rookies to share their experiences and provide advice.
One of the areas the veteran and former MPs addressed was maintaining a proper work-life balance. Parliament Hill, for many years, has been rife with broken marriages and personal struggles. In the interview with Mr. Fekete, Marc Bosc told the reporter that if he were to offer one piece of advice to new MPs, it would be: Don't neglect yourself.
"It's easy when you get here to forget about self care. It's important to have a good work-life balance, and a lot of MPs have to pay attention to that because it's easy to get sucked into the vortex of receptions and events, and lose sight of what's important in your life, whether it be exercise or your family or both," Bosc said. "Those members who are most successful obviously do a lot of constituency work but they also have some balance and carve out time for themselves and their families."
Steep learning curve, long days, a committee workload on Parliament Hill (and all that reading) will no doubt cause some of the new MPs to wonder what they've gotten themselves into. Some will burn out — which, one would have to think, played some role in the NDP's loss of 42 seats in Québec — while others will take to their new life as a swan takes to water.
Liberal Leader Justin Trudeau, holding his son Hadrien, as his wife Sophie and two children Xavier, left, and Ella-Grace wave to a crowd of supporters during a rally Sunday, October 4, 2015 in Brampton, Ontario. Photo credit: Paul Chiasson, The Canadian Press
Generational change in Ottawa, gender parity in the new Liberal cabinet, 25,000 Syrian refugees — 47% of whom will be children — on their way to Canada (perhaps, even before year's end), a new climate change policy, the long overdue end of the war on soft drugs, a new system for electing MPs to Ottawa on the near horizon and certainly in time for the next federal election in 2019, a programme for the realization of new light rail transit infrastructure in our cities, and the promise of an open, transparent and responsive government in Ottawa that will serve the interests of all Canadians — make no mistake, this is an exciting time in Canada's history, in the lead-up to the 150-year anniversary of our country, in 2017 (the celebration of which has been tasked to Trudeau confidante, Mélanie Joly).
This blush of first love, honeymoon period in the political life of Canada that we're all experiencing is, for all but the most dour of critics, nothing less than intoxicating. There is governing to be done, and a Canada to be transformed, so that we may recognize, once again, Canada as she is as a nation — recapturing who we once were and who we will be again and will remain, what we stand for as a nation, and the values we hold most dear, not just as a nation but in our warm, collective relations with one another.
We are our sisters and brothers keepers — let us hope and pray that the 214 MPs newly-elected to Ottawa from all parties, as well as the 124 returning Members of Parliament, work together in service of us all, in their constituencies, and in the House of Commons and on Parliament Hill.
For this is our Canada we want to reclaim — for each & every one of us, in every age group, from every ethnic community, from old stock Canadians to immigrants old and new, for every person along the gender variant spectrum, for every woman, man and child for whom Canada is home.
November 8, 2015
Left to right, top to bottom, 2015's front-running Oscar contenders: Spotlight, The Martian, Room; Son of Saul, Bridge of Spies, The Revenant, Mad Max: Fury Road; Joy, Brooklyn, Steve Jobs; The Danish Girl, Carol, Inside Out, and Youth.
As is the case each year, the chill weather of late autumn and early winter brings on the year's most prestigious films, an opportunity for Hollywood to prove that it's not just all about the sanguinity of the bottom line, but that from studio heads through to directors, actors, producers, screenwriters, cinematographers, and all the other 'crafts' who pour their lifeblood into making films, cinema is more about celebrating the rousing, transformative filmic experience, over the more prosaic concerns of the fiscal imperative.
Tom O'Neil's Gold Derby surveys you & the critics to predict the Oscar award winners
Each autumn for more than a decade, from mid-autumn through until the evening of the Oscar ceremony, David Poland — the founder of the film news "blog", MovieCityNews — sets about, weekly, to survey the informed opinions of Hollywood's top Oscar prognosticators, from recent U.S. Weekly film critic Thelma Adams, to Hitfix's Gregory Ellwood, The Hollywood Reporter's Scott Feinberg, the Toronto Star's Peter Howell, Fandango's Dave Karger, and IndieWire's Anne Thompson, among a host of others, on what films, and which directors and actors have emerged, in any given week, as the odds-on favourites to make the final cut when — in 2016, on Thursday, January 14th — the Oscar nominations are announced, and on February 28th, 2016, Oscars are awarded to the previous year's best films, performances, screenplays, producers & craft work of outstanding calibre.
Hollywood Elsewhere's Jeffrey Wells predicts the Oscar nominees in his Oscar Balloon
For those who do not follow the perambulations of the "Oscar race" (for us, it is not dissimilar to following & commenting on an "election race" — with much less on the line, of course), VanRamblings will be here each weekend to update you on which films are worthy of your time, providing as well early insight into the potential career-altering & enhancing Oscar winners.

An amalgam of Gurus of Gold film critics predict the Best Picture Oscar nominees.
This week, Poland's Gurus of Gold Oscar panel has highlighted the riveting journalistic thriller Spotlight (opening in Vancouver next weekend) as their runaway number one film of the year, followed by Ridley Scott's humanistic science fiction film, The Martian (which has garnered box office gold in its first five weeks of release, its international and domestic take currently sitting at a pristine $458 million), the independently-financed Canadian-
Irish co-production of Emma Donaghue's gripping New York Times best-seller, Room, Steven Spielberg and Tom Hank's Bridge of Spies, the upcoming Christmas Day release films, The Revenant (directed by Alejandro González Iñárritu, and starring Leonardo DiCaprio), as well as Joy (the latest film from the irascible David O. Russell, starring Jennifer Lawrence in a certain-to-be-nominated Oscar performance), the wonderful and incredibly moving Saoirse Ronan-starrer, Brooklyn, and rounding out their top 10, the Aaron Sorkin-scripted Steve Jobs, Cannes' Best Actress winner (for Rooney Mara) Carol, and Disney's animated classic, Inside Out.
Six of the Gold Derby film critics weigh in on probable Best Picture Oscar nominees
Todd Haynes' Carol will open in Vancouver on Friday, December 11th, and as indicated above, both David O. Russell's Joy and Alejandro González Iñárritu's The Revenant will open Christmas Day across Metro Vancouver, with Spotlight opening in Vancouver this coming weekend, and Inside Out already available on DVD or On Demand for your home theatre system.
The spectacularly affecting Brooklyn (VanRamblings' favourite film this year) opens in Vancouver on November 20th, while Room, Bridge of Spies, Steve Jobs, and The Martian are currently screening at cineplexes across Metro Vancouver. Lots of time left for you to see the very best Hollywood has to offer, all in preparation for the gala, gala "do" that is the annual dressed-to-the-nines, "look how gorgeous her gown is" end of February Oscar ceremony. Bring on the buttered popcorn and Oscar party snacks!
November 6, 2015
This past Wednesday, there was something vaguely romantic, a nostalgia-inducing cinematic, neo-realist quality to the proceedings that occurred when Canadians were able to see Justin Trudeau, his wife Sophie Grégoire, their two older children, Ella-Grace and Xavier, by their side, and the thirty new, incoming cabinet ministers strolling in behind the Trudeau family, all of them ambling together down the driveway toward Rideau Hall, Canada's government house, blessed by the sun and the 3500-strong throng of supporters, on an unseasonably warm mid-autumn Ottawa morning. And then, when young Trudeau son Hadrien, just a year old, ran towards his father, jumping into his arms, seeing his father and mother light up with smiles ... well, you couldn't help but tear up at this most human scene.
Contrast the above warmly inviting familial scene with the 2006 first capturing of Stephen Harper with his two children heading off to school on the day after Mr. Harper became our 22nd Prime Minister — stiff and unyielding, formally shaking his son Ben's hand as if he'd never met him before, with no hug for his then six-year-old tow-headed daughter, Rachel.
Make no mistake, dear and constant reader, Camelot has come to Canada.
If the scene described in the first paragraph above was captured in a Hollywood movie, you'd likely be caused to reflect about the unreality of it all — but, Canadians, this is in point of fact our new human-scale Canada, the new activist Canada, as Dominic LeBlanc, Liberal Party house leader and boyhood chum of the Prime Minister, constructed the early days of "Trudeau the younger's" sunny ways incoming federalist administration.
The National Post's John Ivison lauded "the positive symbolism" of the incoming Trudeau administration, "the atmosphere providential and full of possibility, and a powerful antidote to the severe, austere Harper years."
As was to be expected, the first question in the scrum held on Parliament Hill following the swearing-in ceremony and the first meeting of the Trudeau cabinet, referenced the election commitments of the Liberal party on proportional representation, and a time frame for the regulation and legalization of marijuana — both commitments remain at the top of the government's agenda, Mr. LeBlanc said, reinforcing to the assembled reporters that the Liberal government would move both pieces of legislation within the first 18 months of the new Trudeau administration.
The very next day, two of Canada's more powerful ministers of the Crown — Minister of Innovation, Science and Economic Development Navdeep Bains, accompanied by Minister of Families, Children and Social Development, Jean-Yves Duclos — set about to announce to Canadians that the new government would reinstate Statistic Canada's long-form census.
"We need good, reliable data," stated Mr. Bains, in a media scrum. "We know the history of the last government, who were very much focused on ideology," he said. "In contrast, the Liberal government is very much focused on sound, evidence-based policies, which will ensure that policy development in Canada will be driven by good evidence and quality data."
Activist, indeed, and we're all the better for it, with much more to come.
Jody Wilson Raybould, Justice Minister and Attorney-General of Canada. In the picture above, the then B.C. Regional Chief — at a high-stakes meeting between Prime Minister Stephen Harper, working with a delegation of First Nations leaders — successfully argued last January for an update on Canada's policy on comprehensive aboriginal claims.
Much of the media focus in the first couple of days of the new Trudeau administration focused on two newly-appointed cabinet ministers hailing from British Columbia, Justice Minister and Attorney-General of Canada, and Member of Parliament for the newly-created riding of Vancouver-Granville, Jody Wilson-Raybould, and Harjit Sajjan, Canada's new very able and well-experienced Defence Minister, a very real Canadian braveheart.
A CBC archive video, referencing Ms. Raybould-Wilson when she was a child, and making the rounds on social media on Thursday, focused on a 32-year-old exchange between First Nations leader Bill Wilson, the father of the newly sworn-in federal Justice Minister, and then prime minister Pierre Elliott Trudeau, the father of Canada's newly sworn-in PM, Justin Trudeau.
Meanwhile, Mr. Sajjan, in broad and supportive media coverage in the first 48 hours of the new governmental administration has emerged in the eyes of many as a Canadian hero, reporters and members of the opposition alike waxing poetic about the new minister as a "true badass" whose work in the military in Afghanistan yielded crucial intelligence on the Taliban defences.
Harjit Singh Sajjan is a decorated Lt Colonel in the Canadian Armed Forces who has served four tours of duty in Bosnia and Kandahar, Afghanistan.
A defeated opposition weighs in on Canada's new government
Contrast the first impressions of the new government, the conduct of a newly accessible Prime Minister, and cabinet ministers prepared to answer all questions put to them by the media, with yesterday's coverage of the increasingly dour and hard-hearted leader of Canada's third-party, the New Democratic Party's Tom Mulcair — who could never pull off the kind of hope and change message the new government embodies. All the bearded one had to say was that it was the NDP who are the progressive party of change, not the Liberals, and it was he and his shadow cabinet who held the Harper government to account, while Mr. Trudeau went "gallivanting" across Canada, an "absent figure" on Parliament Hill. True — but who cares? Yawwnnn ... yesterday's news. Mr. Mulcair: you lost the election — a little humility might be in order, if not a statement of outright mea culpa.
NDP leader Tom Mulcair at his first post-election press conference, readying himself to sing his favourite tune by The Beatles, "I'm A Loser".
You could hear, as well, in Thursday's NDP rhetoric what the tone of the first day of a New Democratic Party administration might have been, not "sunny ways", but rather rhetoric focused on statements not dissimilar to, "Ewww, the books are way worse than we expected. We're going to have to hold off on that change-y thing we were talking about. Not to mention, it's a cruel world out there — maybe we oughta rethink our position on repealing Bill C51." With the NDP it was always thus, dark statements devoid of hope, and a seeming inability to capture the public's imagination.
Ain't exactly "sunny days" for Canada's new leader of the official opposition, and interim Conservative Party leader, the virtually unilingual Rona Ambrose.
Meanwhile, the Conservatives have elected Ayn Rand-loving Rona Ambrose as their interim leader, and leader of Her Majesty's loyal opposition, hardly a departure from what came before (i.e. the secretive Stephen Harper), who took only two questions when the announcement of her new position was made public, the "scrum" cut short when Ms. Ambrose's faltering, and hardly up to par, French became all too evident, as she couldn't answer questions put to her in Canada's "other" official language — one can just imagine how many questions in French will be placed to Ms. Ambrose in the House in the days to come; it ain't gonna be pretty, folks.
The takedown has already begun
From Andrew Coyne's ludicrous, regressive column in the National Post, taking Mr. Trudeau to task for appointing a cabinet that had as one of its goals gender parity, to Christie Blatchford's takedown of the positive coverage of Trudeau's "ascension to the throne" in the same, right-wing rag, reporters across all media have proved more than cynical about the opening days of the Trudeau administration, from the "pageantry" of the opening day, to the news that five of the female ministers in the Trudeau cabinet are not, in fact, full-fledged ministers but "junior" ministers of state who must report to senior ministers to sign off on legislation.
On the latter issue above, a spokesperson for the Trudeau government stated emphatically that although it is, at present, contrary to the Act that governs such things, the appointed ministers of state will become, and are to be considered by Canadians to be full-fledged ministers of the crown in the Trudeau cabinet, rather than junior ministers, that each new minister will be compensated as such (note: ministers of state receive $60,000 per year on top of the $167,000 MP salary, while full ministers receive $80,000 — looks like legislation to enforce the claims of the spokesperson will be on the legislative agenda when Parliament resumes on December 3rd).
In the early days of the new Justin Trudeau-led Liberal government, expectations have been set impossibly high — no government, not even that of the affable and approachable Mr. Trudeau, could possibly live up to the expectations for the ...
"... most open, transparent and consultative government in Canadian history, a government that will act upon the wishes of all Canadians for a fairer and more just Canada, where child poverty will once and for all be eradicated, where equality of opportunity for all Canadians will carry the day, where Canadians will feel safe and secure within our borders in a too often uncertain world, a Canada where there will be a focus on the environment and the taking of very real measures to reduce the effects of climate change in Canada and across our globe, where the war on drugs will finally come to an end, and where the voices of Canadians will be heard and felt at the ballot box as Canada moves forward to an electoral system based on proportional representation, where every Canadian's vote will count. These, and the more than 300 commitments the Liberal government has made to Canadians will come to pass — patience will be required, but make no mistake, real change is on its way in Canada."
Camelot — a fantastical realm of romance and possibility, in our Canada.
Let us hope, for all our sakes, that the most positive aspects of Camelot come to pass, and not the failed idealism of the Arthurian legend, that change becomes papably real in Canada in the months and years to come, to be reflected in the social and economic experience of all Canadians.
November 4, 2015
Prime Minister Justin Trudeau and his wife, Sophie Grégoire, arrive with his cabinet before their swearing-in ceremony at Rideau Hall in Ottawa on November 4th, 2015.
This morning, just after 7:30 a.m. Pacific Standard Time, at Rideau Hall in Ottawa, Prime Minister Justin Trudeau ushered in a new era in Canadian politics, with a cabinet that is reflective of the country's ethnic diversity, a mix of veteran MPs and former Liberal cabinet ministers and newly-elected, rookie politicians, a cabinet keeps that Mr. Trudeau's promise (as he self-
identifies as a feminist) of gender parity, a federal cabinet of 30 ministers, composed of more women than ever before in Canadian history.
Bill Morneau, a millionaire Toronto businessman and a former head of the C.D. Howe Institute who has not previously held a seat in Parliament, was given the key Finance portfolio, while Chrystia Freeland, a Toronto MP and former journalist, as Trade Minister, and Navdeep Bains, who was an MP from 2004 to 2011, who will be Minister of Innovation, Science, and Economic Development, and Scott Brison, as Treasury Board President, who will be tasked with vetting government spending, constitute the four Members of Parliament, and cabinet, who round out Mr. Trudeau's economic team, working toward setting Canada on a course for prosperity.
Some old hands return to cabinet, including veteran MP Stéphane Dion, the former Liberal leader, as Foreign Affairs Minister. John McCallum, the new Immigration, Refugees and Citizenship Minister, has the difficult task of arranging for resettlement of 25,000 Syrian refugees in Canada by year's end, a commitment made by Mr. Trudeau during the election campaign.
Two newly-elected British Columbia Members of Parliament, Jody Wilson-Raybould, the former regional chief for British Columbia on the Assembly of First Nations and a former Crown prosecutor, and now federal Justice Minister and Attorney-General, and Harjit Sajjan, a retired and decorated Lieutenant-Colonel in the Canadian Armed Forces, who becomes Canada's new Defence Minister, signal Prime Minister Trudeau's intention to take the country in a new direction, both with Canada's indigenous peoples and the diverse communities that comprise the Canadian multi-cultural mosaic.
For now, meet your new team of federal cabinet ministers, led by Prime Minister Justin Trudeau, who also becomes Minister of Intergovernmental Affairs and Youth in the new government.
Please find below, the full list of names of Mr. Trudeau's first cabinet ...
Bill Morneau (Toronto Centre), Finance Minister. Until his federal win, Mr. Morneau was the executive chair of one of Canada's largest human resources firm, Morneau Shepell, a firm founded by his father. He's also a former chair of the economic think-tank, the C.D. Howe Institute. During his career, he was appointed by Ontario Premier Kathleen Wynne to an expert panel to recommend an Ontario pension supplement to the Canada Pension Plan; the panel was led by former prime minister Paul Martin. He also served as one of Mr. Trudeau's senior economic advisers. Mr. Morneau is the co-author of The Real Retirement: Why You Could Be Better Off Than You Think and How to Make That Happen;
Jody Wilson-Raybould (Vancouver-Granville), Justice Minister and Attorney General of Canada. Ms. Wilson-Raybould is a former crown prosecutor, and adviser at the B.C. Treaty Commission and First Nations chief. During her time as regional chief of the B.C. Assembly of First Nations, Ms. Wilson-Raybould focused on the advancement of First Nations governance, fair access to land and resources, and improved education and health. She is a member of the We Wai Kai Nation. Even though Ms. Wilson-Raybould is a rookie MP, it won't be her first time on Parliament Hill; she has made numerous appearances before Parliamentary committees to speak about aboriginal issues;
Stéphane Dion (St-Laurent-Cartierville), Foreign Affairs Minister. Mr. Dion has served as an MP for the Montréal riding of Saint-Laurent (formerly known as Saint-Laurent-Cartierville) for nearly two decades. The former academic stepped down as Liberal leader after a failed bid to carry the party to an election win in 2008.

Mr. Dion's previous cabinet experience includes stints as Minister of Intergovernmental Affairs under Jean Chrétien, and Environment Minister under Paul Martin. Mr. Dion is responsible for introducing The Clarity Act, which laid out terms under which the federal government would enter into negotiations for secession by one of the provinces;

Carolyn Bennett (Toronto-St. Paul's), Indigenous and Northern Affairs Minister. Ms. Bennett has held the seat of Toronto-St. Paul's (formerly just St. Paul's) since 1997. She is a former family physician and professor at the University of Toronto. Ms. Bennett ran for the leadership of the Liberal Party in 2006, but withdrew to throw her support behind Bob Rae. Most recently, Ms. Bennett served as the party's critic for aboriginal affairs and northern development.

Ms. Bennett is also the author of Kill or Cure? How Canadians Can Remake their Health Care System. Ms. Bennett served as Minister of State for Public Health in Paul Martin's government;

Ralph Goodale (Regina-Wascana), Minister of Public Safety & Emergency Preparedness. Mr. Goodale was first elected to the House of Commons as the MP for Assiniboia in 1974 at the young age of 24, a seat he held for five years. He then took a break from federal politics to lead the Saskatchewan Liberal Party, before returning to Parliament in 1993.

He has held the Regina-Wascana seat (previously known as just Wascana) ever since, earning him the nickname "King of Wascana". During that time, he has served as Finance Minister under Paul Martin and, most recently, as Deputy Leader of the Liberal Party;

Chrystia Freeland (University-Rosedale), International Trade Minister. Ms. Freeland, touted as Canada's first female Finance Minister, is a relative newcomer to the Liberal Party, but nonetheless a respected member of Mr. Trudeau's inner circle. An acclaimed former business journalist and winner of the prestigious National Business Book Award following the 2012 publication of Plutocrats: The Rise of the New Global Super-Rich and the Fall of Everyone Else, a New York Times best-seller, Ms. Freeland won an award for most outstanding Canadian business-related book.

Plutocrats was winner of the 2013 Lionel Gelber Prize for non-fiction reporting on foreign affairs. Ms. Freeland is author of the 2000 book Sale of the Century, tracking Russia's journey from communism to capitalism;

Scott Brison (Kings-Hants), Treasury Board President. Mr. Brison was originally elected as a Progressive Conservative for the riding of Kings-Hants in 1997. He sought the leadership of the Progressive Conservatives in 2003, then crossed the floor to join the Liberals days after the party merged with the right-wing Canadian Alliance-Reform party. Mr. Brison served as Minister of Public Works and Government Services in the Paul Martin government. Mr. Brison served as the Liberal Party finance critic in Parliament, dating back to 2010;
Mélanie Joly (Ahuntsic-Cartierville), Canadian Heritage Minister. A close Trudeau family friend, Ms. Joly is not new to the political world. She was the runner-up in the 2013 Montréal mayoral race, losing to Denis Coderre but taking a quarter of the vote. A lawyer by trade, Ms. Joly practiced in Montréal before jumping into communications at international firm Cohn & Wolfe. She also helped organize Mr. Trudeau's Liberal leadership campaign. In 2008, Ms. Joly was named Elle Québec's Woman of the Year, in the "up and coming" category;
John McCallum (Markham-Thornhill), Immigration Minister. A veteran MP and cabinet minister, Mr. McCallum has held a range of cabinet positions over the past 15 years, including National Revenue minister and Veterans Affairs minister in the Paul Martin government, and national defence minister for Jean Chrétien. Most recently, he served as the party's immigration critic.

Before entering politics, Mr. McCallum was an economics professor at McGill and Dean of the Faculty of Arts. He has also worked as the chief economist for the Royal Bank of Canada. In 2001, he introduced a motion to make Nelson Mandela an honorary Canadian citizen;

Jane Philpott (Markham-Stouffville), Health Minister. Ms. Philpott has been a family physician at the Markham Stouffville Hospital dating back to 1988. She also served as the hospital's Chief of the Department of Family Medicine, and is an associate professor at the University of Toronto's Department of Family and Community Medicine. She worked in Niger from 1989 to 1998, where she practiced general medicine and helped develop a training programme for local health workers. Ms. Philpott is the founder of Give a Day to World AIDS, an organization that has raised $4 million for people affected by HIV/AIDS in Africa;
Dominic LeBlanc (Beauséjour), Government House leader. Mr. LeBlanc, son of Roméo LeBlanc, a former Governor General and a cabinet minister in the government of Pierre Elliott Trudeau from 1972 to 1984, was a childhood chum of Justin Trudeau, as their two fathers were old friends who would often take their sons to a fishing camp in Miramichi for summer vacations.

Dominic LeBlanc was first elected to Parliament in 2000 in the riding of Beauséjour, and has held onto the riding ever since. The former lawyer ran for the leadership of the party in 2008, but dropped out of the race to endorse Michael Ignatieff. Mr. LeBlanc most recently served as the Liberal party's house leader;

Judy Foote (Bonavista-Burin-Trinity), Minister of Public Service and Procurement. Ms. Foote has served as the MP for the riding of Random-Burin-St. George's since 2008, running in Bonavista-Burin-Trinity in October due to redrawn boundaries. She took the riding with 80 per cent of the vote. She has held the positions of deputy house leader and, most recently, party whip. Ms. Foote also served as a provincial MHA for 11 years, holding numerous ministerial roles.

Ms. Foote had an extensive media and communications career before entering politics. She hosted the CBC radio show "Here & Now", eventually leaving journalism to work as the director of public relations for former Newfoundland and Labrador Premier Clyde Wells;
November 3, 2015
Former astronaut Marc Garneau is a shoo-in for a cabinet spot. Toronto-based business journalist and author Chrystia Freeland is also high on the list of newcomers.
Only hours from now, Canadians will know the names and personages of the Liberal Party members of Parliament — some veterans, many more first time electeds, at least half of whom will be women — who will constitute the Trudeau government's diverse and unrivaled first Cabinet of equals.
Speculation has run rampant lo these many days. Today, what the pundits think they know. As for the rest of us, we'll know soon enough — on or before 7:30 a.m. PST, Wednesday, while we watch live coverage of change in motion, as Prime Minister-designate Justin Trudeau and his chosen Cabinet alight from the bus that will transport them to Rideau Hall, to be sworn into office by Canada's Governor General, David Johnston.
Justin Trudeau has vowed to ensure that women will comprise fully half of his cabinet. Here are some of the rookie contenders (clockwise from top left): Patty Hajdu, Kate Young, Celina Caesar-Chavannes, Carla Qualtrough, Maryam Monsef, and Mélanie Joly.
First off, read this very fine column by Kate Heartfield in the Ottawa Citizen, a defense of gender parity in the Trudeau cabinet.
For one thing, it is a statement of philosophy. Trudeau is the leader of a party that ... faces a number of challenges in which gender plays a part, from prostitution law to a promised inquiry about missing and murdered indigenous women.

The simplest answer to why women should make up half of Cabinet is, simply, why not?

"One human being out of two is a woman, so it is a question of simple justice that women hold half of political positions," explains Manon Tremblay, a professor at the University of Ottawa who studies gender and politics, in an email. "Since women are subjected to the law, they must have a fair participation in the public decision making process."
And who will be the strong Ministers of the Crown who will sit in Mr. Trudeau's Cabinet, who will develop policy, and transform your lives?
Finance. As we wrote yesterday, Toronto MP Chrystia Freeland seems to be the odds on favourite to become Canada's first female Minister of Finance. Tracking not so far behind her is former Nova Scotia Conservative Party member, and last term, Liberal Party shadow Finance critic, Scott Brison. Late speculation, from CTV News, has first-time elected Bill Morneau (Toronto Centre), "who has a Bay Street background but has never sat in Parliament" taking the position of Finance Minister, where he'll be supported by Université Laval economist Jean-Yves Duclos, who recently won his first federal election, representing Québec City in Parliament.
Environment. With the Paris Climate Change Conference due to get underway November 30th, Prime Minister Trudeau will want to be up-to-speed on environmental issues. Who better to appoint than former Liberal leader Stéphane Dion (and Paul Martin's Environment Minister)? Vancouver Quadra's Joyce Murray, a former British Columbia Environment Minister is also in the running — although late word is that she'll be passed over for cabinet entirely, as the B.C. seats in cabinet will go to three first-timers: Jody Wilson-Raybould, Carla Qualtrough and Pam Goldsmith-Jones.
Cabinet contender Liberal Amarjeet Sohi pulls out a squeaker in Edmonton Mill Woods.
There's speculation that PEI's Sean Casey will become Canada's new Justice Minister. Calgary's Kent Hehr is apparently set to become Treasury Board President, while his colleague, Edmonton City Councillor, Amarjeet Sohi is under consideration for National Revenue or Natural Resources minister. Winnipeg South Centre MP will likely become our next Agriculture Minister. New Brunswick Southwest MP? Why not Karen Ludwig as Fisheries Minister?
Federal Liberal Party MP-elect for Ahuntsic-Cartierville Mélanie Joly, and close friend of the Trudeau family, seems to be a certainty for cabinet, apparently as Heritage Minister.
Then there are the new faces in the Liberal caucus, destined for cabinet: Medical geography professor Kirsty Duncan, the MP for Etobicoke (Science and Technology Minister?); either former Newfoundland cabinet minister, Yvonne Jones (Labrador), or Judy Foote (Random-Burin-St. George's), who held numerous cabinet posts in Clyde Wells' provincial government — but not both; Montréal lawyer (and close Trudeau family friend), Mélanie Joly (apparently slated to become Heritage Minister, as Canada prepares to mark 150 years; Ottawa lawyer and former U.N. legal advisor, Catherine McKenna; and former West Vancouver mayor, Pamela Goldsmith-Jones; not to mention the only BC lock for cabinet, Vancouver-Granville MP, Jody Wilson-Raybould, being touted as Aboriginal Affairs and Northern Development minister; former Manitoba NDP provincial Minister of Industry, Trade and Mines, MaryAnn Mihychuk, looks to be set for Public Works minister; retired Lieutenant Colonel Karen McCrimmon is reportedly a lock for cabinet, as is refugee advocate and medical doctor, Jane Philpott, and from rural Qu&eacutebec, either businesswoman Diane Lobouthillie (Gaspé), or Marie-Claude Bibeau (Compton-Stanstead). Healthcare manager / former University of Toronto Vice-Chair, Celina Caesar-Chavannes (Whitby), is also under consideration. In addition, rookie Ontario MPs — representing the all important 905 area outside Toronto — investment specialist Karina Gould (Burlington), and community organizer Maryam Monsef (Peterborough-Kawartha) stand an outside chance of making the cut in Justin Trudeau's first cabinet.
Late speculation from the Sun chain of newspapers Parliamentary bureau chief David Akin had Hamilton West-Ancaster-Dundas Liberal MP Filomena Tassi making the cut, although Mr. Akin is the first pundit to report Ms. Tassi as a serious contender for cabinet; we'll know Wednesday morning.
Let's be very clear: with only 28 to 30 spots open in the Trudeau cabinet, perhaps only half of those named above will end up making the final cut.
The art of cabinet-making means diversity and regional representation, as well as representation from all creeds and cultures. As such Northern Ontario will have to be represented, most probably by Patty Hajdu (pronounced "high-dew"), the former executive director of Shelter House in Thunder Bay. Southwestern Ontario will have to have a seat at the table, so the chatter is that someone like Kate Young, a former TV anchor and newly elected MP for London West, will get a position.
Of course, old Liberal warhorse Ralph Goodale (Regina-Wascana) — the only Saskatchewan Liberal MP — will find almost certainly find himself in a senior cabinet portfolio, as will one time astronaut and Notre-Dame-de-Grâce-Westmount MP Marc Garneau, who is reportedly under consideration to become Canada's next Minister of Foreign Affairs. Dominic Leblanc (Beauséjour), an old family friend of the Trudeau family, is also all but a shoo-in for cabinet. Kelowna-Lake Country's Stephen Fuhr (Kelowna-Lake Country) to Veteran Affairs? Might be a good fit.
Also, there will be one Sikh minister, most likely Navdeep Bains, a Mississauga MP who played a key role in Trudeau's leadership bid in 2013, who will emerge as a trusted Justin Trudeau cabinet minister.
Hunter Tootoo and Jean-Yves Duclos contenders to make it into Trudeau's cabinet.
Men will hold up half the sky in the Trudeau cabinet, so there's likely room for retired Canadian Forces Lieutenant-General Andrew Leslie — late breaking news: according to the Globe and Mail, he's out , as are former Toronto Police Chief Bill Blair, and Toronto lawyer Marco Mendicino, who turned 40 on election day. Former Manitoba business council head Jim Carr may be headed for cabinet, as is almost certainly the case with Québec City MP, the former head of the economics department at Laval University, Jean-Yves Duclos, who could become Canada's next Human Resources Minister, or take on an economic portfolio. All things being equal, there may be room for former speaker of the Legislative Assembly of Nunavut Hunter Tootoo (likely), but are prospects dimming for retired police and military officer, newly-elected Vancouver-South MP, Harjit Sajjan?
Five things Justin Trudeau can do on day one
Absences from the cabinet list? On the outside looking in? Popular former Toronto City Councillor Adam Vaughan (Spadina-Fort York), who may be given a non-cabinet role related to affordable housing; former defense minister John McCallum (Markham-Thornhill); former cabinet minister Carolyn Bennett (Toronto-St. Paul's); former Solicitor General Wayne Easter (Malpeque, P.E.I), former Minister of Labour Lawrence MacAulay (Cardigan) — the longest-serving MP in the history of Prince Edward Island — former Minister of Fisheries and Oceans Geoff Regan (Halifax West), brother of former Ontario Premier Dalton McGuinty, David McGuinty (Ottawa South), former Secretary of State for Multiculturalism and Status of Women, and long-serving Vancouver Centre MP Hedy Fry, former Minister of Citizenship and Immigration in the Paul Martin government, Judy Sgro (Humber River-Black Creek), and Mark Holland (Ajax), a key organizer of Trudeau's 2013 leadership campaign could be on the outs.
Despite all the post-election speculation about how difficult it would be for Trudeau to choose a cabinet from the "abundance of riches" that Liberals won a majority government and 184 seats in the Oct. 19 election, according to insiders, the job turned out to be surprisingly easy. Trudeau, aided by Liberal co-campaign Chair and the Prime Minister's Chief of Staff, Katie Telford and policy wonk Gerald Butts, went about the process of building a cabinet considering several key factors: gender equity, ethnic diversity, regional distribution and a balance of new and veteran MPs, but leaning to young and generational change, versus old and experienced.
Stephen Harper's cabinet had 39 ministers. The Trudeau cabinet will likely be comprised of 28 to 30 members, the incoming Prime Minister dedicated to a leaner, more efficient cabinet team than his predecessor.
November 2, 2015
Fulfilling a Liberal campaign promise: legalizing and regulating cannabis use in Canada
Although a low priority on the incoming Liberal Party's governmental agenda, there are two iconic election promises — both with broad popular support — which will serve to determine whether incoming Prime Minister Justin Trudeau will be viewed by Canadians as a man who keeps his word, or is a politician who promises a feast, and delivers only thin gruel.
Syrian refugee children in a transition camp, as they await emigration to Canada
Make no mistake, there is a great deal on the incoming government's legislative agenda, promises Canadians will want to see kept: sustaining home mail delivery; resettling 25,000 Syrian refugees by year's end; modifying Bill C-51 (anti-terrorism legislation) to satisfy civil libertarians (and most Canadians), while implementing robust national security oversight; cancelling the delivery of the F-35s in favour of less expensive fighter jets; restoring the retirement age to 65, while working with the Premiers on a reform of Canada's pension plan to ensure no senior lives in poverty; comprehensive reform of Canada's access-to-information process; appointment of an independent, arm's length federal Commissioner to oversee expenditure of monies on advertising, ensuring that the ads are not partisan; and, in addition, establishing an independent commission to organize leaders' debates in time for the next federal election, in 2019.
And let's not forget the $10 billion annual expenditure on new spending on infrastructure — transit and more — a top priority for the new government.
Students attending a residential school in the 1930s. Righting an historical wrong.
As if the above was not enough, Justin Trudeau and the Liberal Party also made election commitments on: reform of the Senate and the Supreme Court appointment process; ensuring free votes for MPs on legislative items other than confidence bills, fulfillment of platform commitments, or "matters pertaining to our shared values and the protections guaranteed by the Charter"; redefining House of Commons' procedural standing orders to prohibit omnibus bills; empowering and enriching Parliamentary Budget Office oversight; restoring the mandatory StatsCan long-form census; establishing "a pan-Canadian framework for combating climate change" within 90 days of the Paris conference that begins on November 30th; renewing Canada's commitment to peacekeeping operations; immigration reform to enhance family re-unification; for aboriginal peoples: enacting the recommendations of the Truth and Reconciliation Commission, adopting and implementing the UN Declaration on the Rights of Indigenous Peoples, closing the aboriginal educational achievement gap, working towards the elimination of the over representation of aboriginal people in custody, ensuring the provision of clean water on reserves and the introduction of a programme to build housing, and the establishment of a federal inquiry into missing and murdered aboriginal women; and, restoring and increasing funding for the arts, as well as for the Canadian Broadcasting Corporation.
All of the "promises" above, to be turned into federal legislation, constitute much less than half of the 180 commitments made to Canadians by Justin Trudeau and the Liberal party during the recent 78-day election campaign.
On Wednesday morning, November 4th at 10:30 a.m. EST, the newly elected Liberal Party of Canada majority will be sworn into Canada's 43rd Parliament as Canada's government, as the Right Honourable Justin Pierre James Trudeau becomes Canada's 23rd Prime Minister, working alongside a Cabinet of trusted colleagues, twenty-eight Ministers of the Crown who will form government, and rule as the governing party of our nation.
Prime Minister-designate Trudeau, in a press conference held last week in the House of Commons Press Gallery Theatre (the first press conference of its kind in more than eight years) told the assembled press, and Canadians, in the moments following the swearing-in ceremony announcements will be made respecting the fufillment of Liberal party election commitments.
Despite the naysayers, both within and outside government, the first commitment to be filled will be the transport of 25,000 Syrian refugees to Canada before year's end, to be housed on the ten Canadian armed forces bases across Canada. There will also be an official announcement that the Premiers of the ten provinces and the Territories, and the leaders of Canada's opposition parties, will accompany the Prime Minister as delegates to the Paris Climate Change Conference, that begins at the end of the month. Mr. Trudeau is likely to announce that the House will be called back into session in the second week of December, for a brief session of Parliament where the government will move to act on its legislative agenda.
At the top of the government's December legislative agenda: implementation of the promised "middle class tax cut", in order that such legislation might become policy, effective January 1, 2016.
Next on the government's agenda: the formation of two Parliamentary committees, both of which are to report out on February 16, 2017: 1) an all-party committee on democratic reform, leading to a recommendation on the implementation of a form of proportional representation to be legislated as government policy governing the 2019 federal election; and 2) an all-party committee to provide recommendations on the implementation of a framework for the introduction of detailed and specific legislation on the legalization and regulation of marijuana in Canada, such groundbreaking legislation to be introduced in the 2017 spring session of Parliament.
Informed pundit speculation has it that Prime Minister Trudeau will announce a mid-winter session of Parliament — as early as mid-February, although that seems early to this writer — at which time the government will announce in the Speech from the Throne their legislative agenda for the term, followed by the announcement of the date for the introduction of the budget by the new Finance Minister (currently speculated to be either Liberal member Parliament for Toronto University-Rosedale, Chrystia Freeland, or recent Liberal Party Finance critic and Liberal member of Parliament for Nova Scotia Kings-Hants (formerly Annapolis Valley-Hants, a rural locale with which VanRamblings is intimately familiar), Scott Brison.
Prime Minister-designate Justin Trudeau holds a press conference in the Parliamentary Press Theatre, the first such press conference to be held in more than eight years.
Prime Minister Trudeau must be seen to be running an open government, and continue to be accessible (he's their best salesman). As above, there are some hopeful early signs: holding an open press conference in the Parliamentary Press Theatre, and announcing to President Obama that Canadians troops will be pulled out of the Middle East before year's end.
Make no mistake, the process of change will be slow, slower than most Canadians would wish, but as was the case with former Liberal Prime Minister Jean Chrétien — who implemented 78% of his promised Red Book agenda early in his first term of office — change will come.
Make no mistake, either, the government's honeymoon will be short-lived as Mr. Trudeau and his Ministers will most assuredly be given a rough ride by the opposition, and by the media. Tom Mulcair, as leader of the New Democratic Party, and whoever it is the Conservative Party caucus chooses as their interim leader this upcoming Thursday, as well as whoever becomes the new leader of the Bloc Québécois, and re-elected leader of Canada's Green Party, Elizabeth May, will hold the government to account, on behalf of and in the interests all Canadians, from sea to sea to sea.
Now is a time of hope, and change. Mr. Trudeau, don't break our hearts.